When she was a student in the 1960s, Evalyn Milman (M.A. '64) lived in Greenwich Village. Every morning, she'd take her guitar with her on the subway ride to Teachers College. She loved to sing and play guitar, so she took whatever music classes she could fit into her schedule.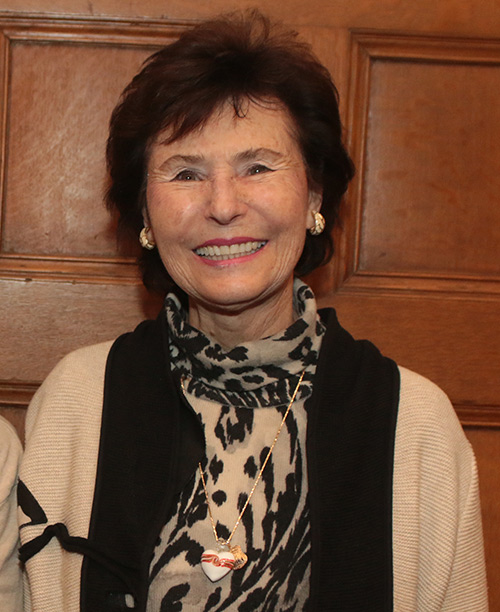 Later, when she taught early elementary school, Milman played guitar and piano for her students. The children sang along and tapped out the beat with tambourines and percussion instruments. After obtaining an additional master's degree in Art History at Hunter College, Milman went on to become a highly successful curator, producer of a television interview program and owner of a cultural tour company, but she has never forgotten that tableau. She is a supporter of New York Philharmonic Young People's Concerts and Philharmonic in the Schools program.
"The children were transfixed by music," she recalls. "They would focus on the rhythm, the tempo, the dynamics. I had some difficult children in my classes, and they responded, too. To a young child, music is a language, a form of expression. It's a magical opportunity for children's imaginations. I feel strongly that children should be exposed to music in school – the earlier the better."
Now the Evalyn Edwards Milman Music Education Fellowship is allowing TC students to teach music in public schools. As with the Literacy Fellowship that Milman created in 2012, the goals are to help under-resourced schools and to help outstanding TC students further their research and practice.
To a young child, music is a language, a form of expression. It's a magical opportunity for children's imaginations. I feel strongly that children should be exposed to music in school – the earlier the better.
Specifically, Milman Education Fellows will play a key role in expanding the innovative music program developed at Teachers College Community School to other schools in REACH (Raising Educational Achievement Coalition of Harlem), TC's network of partnerships with schools in northern Manhattan. At TCCS, the program currently runs from pre-kindergarten through fifth grade, but expands each year as the school, which will eventually serve pre-K–8, continues to add new grades. The progression mirrors students' intellectual, psychological and emotional development. The youngest children focus on movement, singing, playing with instruments and making up songs to stories. By second grade they're learning some music notation and other aspects of music that are representative of broader adult culture. In the third grade, all children learn to play the violin; in the fourth, they sing in a choir and have the option to play in an after-school orchestra; and in the fifth, they take composition and have the option to sing in an after-school choir.
Ayanda Dalamba, the inaugural Milman Music Education Fellow, is now piloting expansion of aspects of the TCCS music program at PS 154. Dalamba, who is earning her master's degree in music education, teaches music there two days a week. Before her arrival, the school had no music program. Like Milman did many years before her, Dalamba sings and plays music with the children.
"After I graduate I want to continue teaching music, so this fellowship is an invaluable experience for me, and I'm grateful to Evalyn for funding it," says Dalamba, who previously taught for several years in the Toronto school system. "The children in my classes are from low-income families and needy neighborhoods. They would not have had music without this fellowship."
[Also read: Connecting Music to Kids' Lives: Ayanda Dalamba, TC's inaugural Milman Music Education Fellow]

Associate Professor Lori Custodero, the creator of the music curriculum at Teachers College Community School, says that part of the work of Fellows like Dalamba will be to learn the culture of the school and its families – a key ingredient for making the curriculum work.
"Our curriculum is like a jazz chart," says Custodero, a co-creator of WeBop at Jazz at Lincoln Center's Jazz Academy, and the Very Young People's Concerts at the NY Philharmonic. "It's got the outlines, it's got the 'head' [theme], but we don't always know exactly how it will play out until we get there and learn about the kids' strengths and needs."
The Milman Fellows will all be mentored by Custodero and other TC faculty. They will also assist classroom teachers in connecting music to other areas such as literacy, math and social studies and will conduct professional development workshops with school staff and teachers.
All of this delights Milman, who recently visited PS 154 to observe Dalamba's class. The fellowship program, she says, will help transform TC students into great music teachers. In her eyes, teaching is a "gift," but having a "feel for children and for music" can be developed with the right training.
"I continue to support TC because I believe in its mission and because Susan Fuhrman is doing such a great job as President," says Milman. "The quality of students at TC is so high that I know the fellowships will help the music program educate the best teachers."