As a doctoral student at Teachers College, Roy Lewicki (Ph.D. '69) worked with the legendary Morton Deutsch (now Professor Emeritus), one of the fathers of the field of conflict resolution.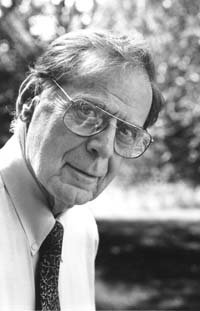 "It was a great time to be studying conflict resolution because there was conflict everywhere in the streets and simulated conflict in the research lab," Lewicki, Irving Abramowitz Memorial Professor of Business Ethics Emeritus at the Fisher College of Business at The Ohio State University, recalled in an interview in 2003. "We spent a lot of time trying to figure out the difference between the two, and then we tried to understand the conflicts driving the civil rights movement and the protests over the war in Vietnam."
Deutsch's research has demonstrated, in situations ranging from personal relationships to dealings between superpowers, that a cooperative mindset and skills lead to the constructive resolution of conflicts, and Lewicki's career has followed those processes. Yet equally important for Lewicki was the way Deutsch conducted himself as a mentor, frequently gathering his students for lunch at the Interfaith Center, two blocks west of TC, where the conversation focused on societal and community change as much as on research. "We were all so influenced by his way of thinking through problems, his approachability and his encouragement of students' creativity as he helped us clarify and critique our thinking. We also absorbed his commitment to action and working for social justice."
[Also read: TC's Coleman: "Strategic Adaptation" Can Help Employees Succeed in Conflict-Ridden Workplace]
In his own work, which includes 37 books, Lewicki has focused on negotiation and trust as key elements of successful conflict resolution, applying his ideas to such diverse contexts as the framing and resolution of environmental disputes to the training of leaders who can transform failing schools. In particular, he has explored the differences between "calculus-based trust," the more intellectually-based, transactional evaluations we make of people during the early stages of a relationship, and "identification-based trust," the deeper, more emotionally-based understanding that can evolve from a sense of shared values and goals.
I'm proud to be helping young people who represent the next generation of leaders in conflict resolution and social justice. And I'm glad to be doing it at the institution that launched the field.
He is also known for his work addressing violation of trust. An article he co-authored in 2016 on the components of an effective apology made major headlines, highlighting the importance of taking responsibility for the violation and offering real reparations for damage done in any trust repair effort. "Talk is cheap. But by saying, 'I'll fix what is wrong,' you're committing to take action to undo the damage," he said when the paper was published.
Now Lewicki, a longstanding contributor to the TC Fund and a member of TC's President's Advisory Committee, and his wife Deborah (M.A. '69), who worked in public schools for years before pursuing a divinity degree, have established the Roy & Deborah Lewicki Scholarship Fund. The gift supports students pursuing a doctoral degree in TC's Social-Organizational Psychology Program. [Click here to find out about how you can create a named or tribute scholarship, or contact Linda Colquhoun at 212 679-8369.]
In October, Roy Lewicki met TC's first Lewicki Scholar, Allegra Chen-Carrel, and looks forward to regular contact with her and future scholars who share Morton Deutsch's values and commitment to a better world.
"I'm proud to be helping young people who represent the next generation of leaders in conflict resolution and social justice," he says. "And I'm glad to be doing it at the institution that launched the field and that helped me launch my career."