The Office of School and Community Partnerships (OSCP) connects TC resources to local schools in order to support public education and enhance faculty and student field-based teaching, research and service activities. OSCP enacts the College's ongoing commitment to the development of the Teachers College Community School and manages the Raising Educational Achievement Coalition of Harlem (REACH), which included six partner schools in 2015-2016. It also houses the Cahn Fellows Program for Distinguished Principals, manages several endowed fellowships, and organizes an annual Performing Arts Series for New York City school children. Among the Office's accomplishments during the past year:
Setting the Tone
Michelle Verdiner, a veteran New York City public school educator and leader, became Principal of Teachers College Community School (TCCS).
Enrolling grades pre-K–4 in 2015-2016, TCCS continued to offer students a vibrant TC-led enrichment program inclusive of STEM subjects, movement, and the arts. Music featured prominently, with 5 of the 14 TC graduate student instructors teaching music across all grades. Building on the third grade strings class launched during the prior year, TC doctoral student Tammy Yi led a newly established fourth grade orchestra to win two awards at the WorldStrides OnStage Heritage Festival competition that took place at the Riverside Church in May. TCCS was the only elementary school to participate, as well as the only school from New York City. Playing Strauss's "Emperor Waltz," a fragment of Bach's "Brandenburg Concerto No. 3," and "Be Thou My Vision," the students took home second place in the middle school instrumental division as well as a bronze ranking among middle school instrumental programs across the East Coast.
$250,000 gift from Evalyn Edwards Milman for a music education fellowship in a TC REACH partner school
Success of the music program at TCCS prompted steady TC alumna and supporter Evalyn Edwards Milman (M.A. '64) to establish a music education fellowship modeled after the Milman Literacy Fellowship, which she previously created. A student selected by faculty in the music education department in collaboration with OSCP will be placed at a REACH partner school (see below) to teach music classes that inspire children to explore, make and love music.
[Also read: Meeting Students Where They Are: At the Teachers College Community School, new Principal Michelle Verdiner is partnering with TC to create a model of tailored instruction]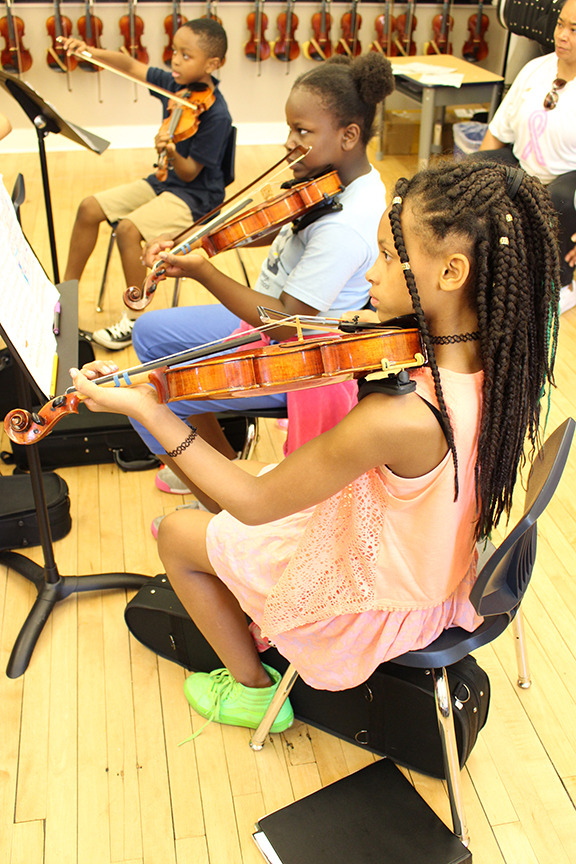 REACHing the Community
In addition to core activities that boost instruction and leadership in partner schools, REACH (the Raising Educational Achievement Coalition of Harlem) views students' wellness and family engagement as essential conditions for academic achievement. OSCP leveraged expertise from Columbia University's schools of public health, social work, nursing, and dentistry, as well as other community partners to build a comprehensive array of physical and mental health supports available for students and parents. Vision and dental screenings, as well as year-round social/emotional assessments and individual and group counseling facilitated by OSCP benefited over 1,000 students from six schools. Two hundred family members participated in health screenings and health education programs at school health fairs and some 300 parents attended family engagement workshops, adult courses, artistic performances and student showcase events organized through REACH.
OSCP's contributions to the well-being of the community were recognized by Community Impact at Columbia University, which presented the David Joyce Award to REACH for its "comprehensive family approach to educational success for public school children in New York City's community schools." Columbia students associated with Community Impact offer adult education classes to parents in REACH schools.
Student-centered Approach
$100,000 Social Justice Scholarship Fund for students working in community organizations or school-based settings
OSCP brought together a coalition of faculty members and departments from across the College and University in service of its interventions in partner schools. In addition to faculty expertise, the most important TC asset that OSCP makes available to New York City Public schools is the College's students. Eighty-nine students representing every TC department and a multitude of degree programs lent a hand in Harlem schools while furthering their experience and studies. They served as instructors, tutors, research assistants, curriculum developers, classroom assistants, fieldwork interns, student teachers and volunteers. OSCP disbursed $608,344 in salaries, stipends, tuition points, and scholarship funds to 75 of the students, with 51 percent of student funding raised by the department, 40 percent from endowed fellowships, and 9 percent in work-study funds. OSCP managed another $180,000 to 18 additional student fellows placed at schools across the city.
OSCP was tapped to manage a new endowed scholarship set up by TC Trustee Dawn Duquès (M.A. '76). Starting in 2016-2017, The Duquès Social Justice Scholarship Fund will support a TC student working for social change and educational justice through community service and outreach in a school-based setting or community organization.
Principals Matter
The Cahn Fellows Program for Distinguished Principals accepted its largest number for the 2016 cohort, with 19 principal fellow/ally teams from New York City and eight principal fellow/ally teams from Chicago, totaling 27 teams in the 2016 program. Since 2003, there have been over 300 principal/ally teams in the program.
With the expertise and guidance from Carolyn Riehl, Associate Professor of Sociology & Education Policy; Ellie Drago-Severson, Professor of Education and Director of the Ph.D. Program in Education Leadership; and Terrence Maltbia, Associate Professor of Practice in the Department of Organization & Leadership, the program held its two-week intensive Summer Leadership Institute in July. All 54 fellows and allies explored ways to bring their leadership skills to the next level and benefit the children and school systems of NYC and Chicago.