Sara Abiola positively brims with ideas about opportunities to shape food policy in her new role as Executive Director of the Laurie M. Tisch Center for Food, Education & Policy.
Topping the list is seizing on what nonprofits and government agencies did right — and wrong — in responding to a health crisis that exacerbated existential hunger and food inequity in underserved communities.
"There are systemic problems that came to the forefront during the pandemic that we need to rework in a permanent way," says Abiola, who was selected to be the Tisch Food Center Executive Director earlier this year.
"The challenge now is to find ways to make programs food-related policies implemented as a result of the pandemic permanent."
It is an outlook shared by U.S. Secretary of Agriculture Tom Vilsack. "What we learned from this pandemic is the linkage between nutrition security and health," Vilsack said in remarks delivered to a Milbank Chapel audience in March.
"It was surprising to me, and maybe it was surprising to you, that two-thirds of Covid hospitalizations have occurred or are occurring are related to obesity, hypertension and heart failure – all diet-related conditions."
Abiola views the alliance of governmental food assistance agencies and nonprofits formed during the pandemic as a cornerstone to forge new NYC partnerships.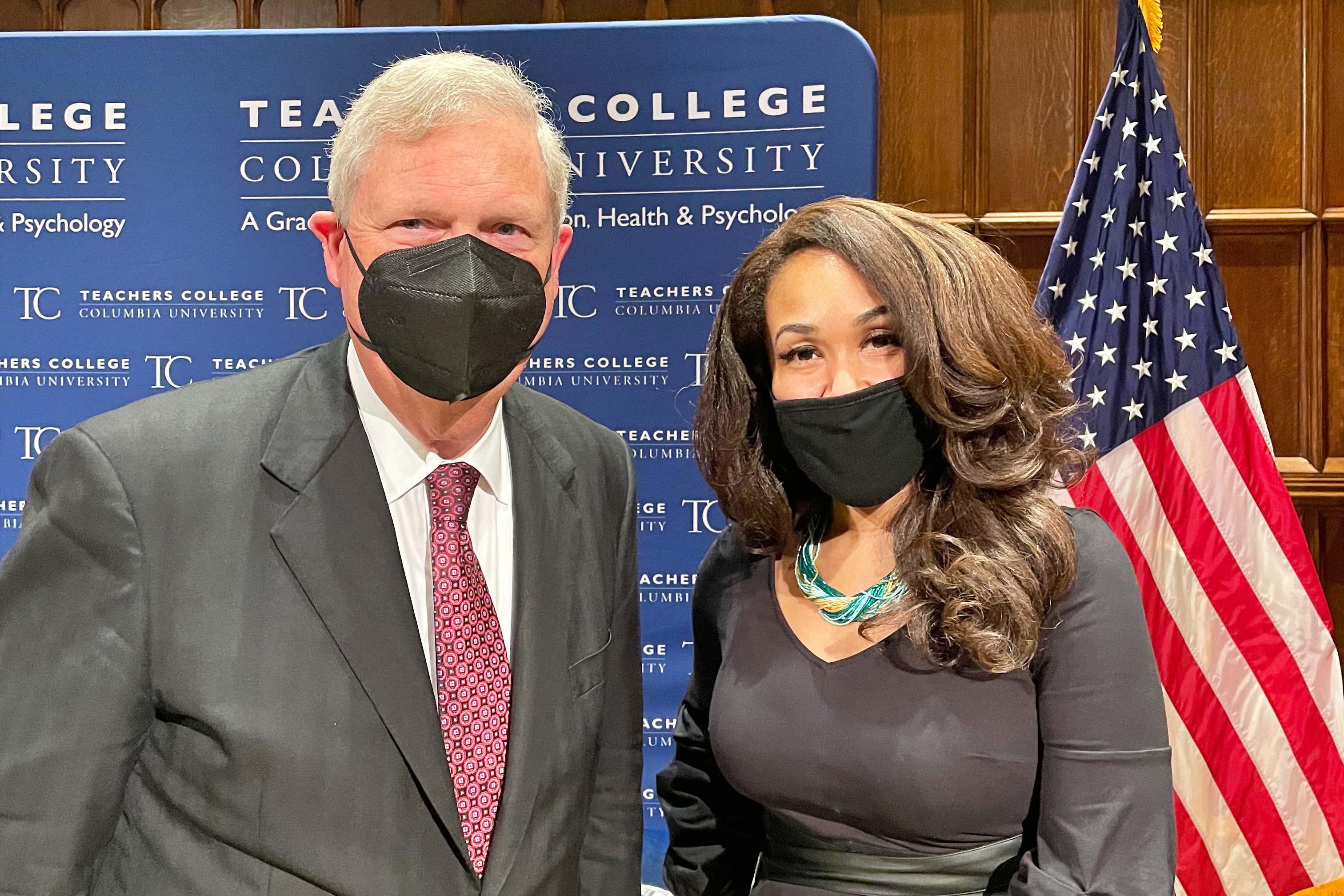 Policy development in the pursuit of equity and social justice has guided Abiola's path from Yale (B.A. in Psychology & International Studies) to Harvard Law to the Harvard Ph.D. in Health Policy that led to an Assistant Professorship in Health Management & Policy with the Columbia Mailman School of Public Health, a position that placed her on the radar of the Nutrition Education program.
"The canon of civil rights and social justice always spoke to me," says Abiola.
Founded in 2012 as a hub for research, policy and outreach that complements the College's own Nutrition Program, the Tisch Food Center is a seamless fit for an academic versed in food and nutrition from the perspectives of health management, law, and policy.
"One of the things we haven't done well in the food policy space is understanding a full measure of racial inequity in food systems," she says.
"By putting a measure or number on it we will have a baseline to get the attention of policy makers and lawmakers."
Abiola moreover sees no reason why Tisch can't expand its scope to broader state and national policy.
"My coming from a policy background really speaks to the future of the Center and the notion that we need to focus on equity concerns across the board," she says. "We need to think about food insecurity in a broader context."
Doubling as an Associate Professor in the Health and Behavioral Studies Department, Abiola can be found in her first TC semester teaching a class on community nutrition, a course in which she has established practicums to explore food access and repercussions when dieticians work closely with residents in specific communities.
Abiola is humbled by the opportunity to be part of a tradition of research, service and teaching that runs from Mary Swartz Rose through the professors who have held the faculty chair honoring the pioneer in nutrition education – a list that includes Rose Professors Emerita Joan Gussow and Isobel Contento to Pamela Koch, the current occupant of the Rose chair.
"There is indeed a legacy," says Abiola. "I just want to make sure we keep walking forward."