Monday, Oct. 10, 2016
Second Language Assessment:
Fred Tsutagawa is a doctoral student in the Applied Linguistics Program at Teachers College, Columbia University. He earned a B.S. in Biology and Japanese from UCLA in 1996, an M.A. in TESOL from Biola University in 2003, a second M.A. in Applied Linguistics in 2009 from York University in Toronto, Canada, and an Ed.M. from Teachers College, Columbia University in 2011. Outside of his studies, he has served on the Japan Exchange and Teaching (JET) Programme, taught mathematics and science for five years in inner city high schools for the Long Beach Unified School District in California, and was an English lecturer at Seikei University in Tokyo, Japan. He is currently teaching language assessment for Hunter College's TESOL K-12 program. His research interests include second language testing and assessment, focusing more specifically on the assessment of pragmatic knowledge and ability.
Intercultural Communication: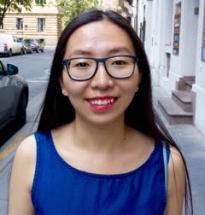 Di Yu is a doctoral student in Applied Linguistics at Teachers College, Columbia University. She also received her M.A. in TESOL and Ed.M. in Applied Linguistics from Teachers College. She has taught English in middle schools in China and ESL for adult learners in the US. Her research interests include media discourse, political discourse, humor, and the use of multimodal resources in interaction.
Faculty