Leading the TC Campaign: A Family Tradition and a Professional Calling
Since spring 2014, Where the Future Comes First has been guided by three dynamic TC Trustees who have deep personal and professional ties to the College and its work.
Campaign Chair Marla Schaefer (M.A. '03) and co-chairs Leslie Nelson and Bill Rueckert represent a wide range of experience in business, education and the philanthropic world. As TC President Susan Fuhrman has said, "They are energized, they know the College and they care deeply about its future."
Marla Schaefer (M.A. '03)
Graduate of TC's Organizational Psychology program
Former Co-CEO of Claire's Stores
Supporter of TC's International Center for Cooperation & Conflict Resolution, Diabetes Education & Management program, the TC Fund, and major capital projects
About TC
"Preparing teachers is obviously a hugely important part of what TC does, but there's so much more to our story. You can go to TC to get a world-class education in clinical psychology, in nursing administration, in diabetes education, in organizational psychology and leadership, in conflict resolution. It's mind-boggling, all these things under one roof. TC has so much to teach the world."
About the Campaign
"It's a campaign whose time has come. It's such an exciting time to be at TC, there is so much innovation going on. So we're rocking and rolling. We've taken this campaign well in hand and will achieve our goal and more."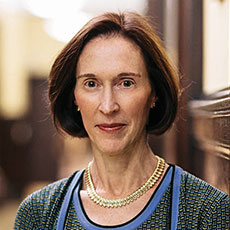 Leslie M. Nelson
Passionate supporter of public schools and volunteer teacher's assistant at PS 198. "It's the most gratifying thing I've ever done other than raising my own children."
Supporter of Teachers College Community School, enrichment programs in music education, the TC Fund, and major capital projects
Continuing a longstanding family tradition of engagement at TC
About TC
"TC has reinforced for me that what students are taught and how they're taught is so important in determining the opportunities they will have for success in life. It's also demonstrated the necessity of trying to educate the whole child. I don't think there is a school of education more qualified to lead this charge than TC, with its outstanding faculty doing groundbreaking research in the fields of education, health and psychology."
About the Campaign
"My grandfather used to say that you have 86,400 seconds a day, like money in the bank. The key is to use each of them selfishly in a way that gives you the greatest happiness, and that intelligent selfishness will make you use many of those seconds to participate in helping others throughout the world. For me, being involved with TC and the Campaign is exactly that."
William D. Rueckert
Co-chair of TC Board of Trustees since 2003
Great nephew of TC founder Grace Dodge
President, Cleveland H. Dodge Foundation
Supporter of early childhood numeracy, math skills research, scholarships, the Rita Gold Center, the TC Fund, and major capital projects
About TC
"Everything the College does, from our work on educational equity to producing the best-prepared teachers, flows from our research. That's the unique advantage we've had from the beginning."
About the Campaign
"This is an opportunity to provide resources for TC to accomplish objectives that are absolutely critical for the future. The goal we've set is totally unheard of for a graduate school of education, but TC is perhaps the only institution I can think of with the wherewithal to reach our target."