Keep the Kids Talking: Shifting from Q&A to Q&D
February 3, 2020 - April 27, 2020
Format: Online (asynchronous)
Audience: Teachers grades 6-12
Registration Fee: $375
NTN@TC Members Discounted Fee: $225
Group/Team Discount (5 or more): 25% off the registration fee, please contact cps@tc.columbia.edu to register
Units Awarded: Participants will receive 20 Clock Hours and 20 CTLEs for this professional development.
Any attendee who is taking this course for CTLE credit for NY State must enter their name exactly as it appears on the TEACH website in accordance with NYSED requirements.
This course is offered through asynchronous instruction with weekly engagement. Participants must complete all assignments and activities within the course dates in order to receive a certificate of participation.
Overview
Questioning and discussion (Q & D) practices that spark and sustain genuine student discussions are critical components of effective classroom instruction. In this course, you will learn targeted instructional strategies that create the conditions for authentic student-driven discussion. You will also discover new ways to bring all voices to classroom discussions, and develop nimble facilitation skills. In addition, you will explore how to use discussion in both formative and summative assessments. Whatever the content area you teach, this course will prepare you to bring classroom discussion to life and to guide your students as they use discussion to engage with their learning.
Learning Objectives
After taking this course, teachers will be able to:
Identify the components of good classroom discussion and the barriers that prevent some students from fully engaging
Design learning experiences that use targeted Q & D strategies
Implement dynamic instructional strategies based on student needs and track progress
Engage with an online community of like-minded educators to share ideas and resources
Key Topics/Modules
Questioning and Discussion

: Identify key components of Q & D and reflect on personal experiences and challenges with classroom discussion. (2 parts)

Discussion and Student Choice

: Dive into the nuances of student choice in classroom discussion and leverage discussion supports that provide access to all voices. (2 parts)

Discussion as Assessment

: Investigate using discussion as formative and summative assessment. (3 parts)

Designing Meaningful Discussions

: Use backwards design to create a framework of instructional supports for students with different needs. (3 parts)

Facilitating Discussion

: Develop facilitation skills for classroom discussions utilizing targeted strategies and differentiated activities to monitor progress over time. (2 parts)
Instructor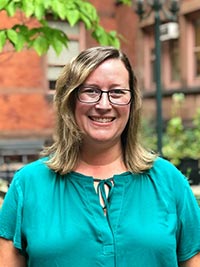 Roberta Lenger Kang
Dr. Roberta Lenger Kang serves as Initiative Director for the Center for the Professional Education of Teachers at Teachers College, Columbia University, which advances global capacities in teacher education, research and whole school reform. Roberta has been a high school English teacher, a curriculum writer, and a professional development coach. As a coach, Roberta has supported schools on instruction, assessment, systems and structures, literacy and accountability mandates. In 2015, Roberta completed her doctorate in English Education from Teachers College with a focus on the impact of mandated assessments on students, teachers and school leaders. In her role as the Initiative Director, Roberta supervises the professional development programs and initiatives projects across the Center. Roberta cultivates partnerships with schools, districts, and organizations, in critical areas such as developing academic rigor, refining literacy in high school, creating meaningful instruction for high stakes assessments, and leveraging city and state mandates for authentic school change.