Rocking the Regents: Analysis and Instruction for the New York State English Regents
February 3, 2020 - April 27, 2020
Format: Online (asynchronous)
Audience: New York State Teachers
Registration Fee: $275
NTN@TC Members Discounted Fee: $225
Group/Team Discount (5 or more): 25% off the registration fee, please contact cps@tc.columbia.edu to register
Units Awarded: Participants will receive 20 Clock Hours and 20 CTLEs for this professional development.
This course is offered through asynchronous instruction with weekly engagement. Participants must complete all assignments and activities within the course dates in order to receive a certificate of participation.
---
This course aims to support teachers who are preparing students for the English Regents to better understand the design of the exam, locate the leverage areas and use relevant data points to develop targeted instruction for students performing at all levels.
By the end of this course students should be able to:
Identify the components of the exam and the skills that make the test difficult for some students
Analyze data from the exam and use the data to inform targeted instruction
Implement dynamic instructional strategies based on student needs and track progress
Engage in an online community of other English Teachers who can share ideas and resources
Course Outline
Introduction the English Regents
History of the exam and the values embedded in the test, and the stakes for not getting the passing grade.
Reading the Regents
In-depth analysis of the exam's three parts: Reading comprehension, Argument Essay, Literary Response
Digging into the Data
Analysis of the Scoring Guides, Rubrics, and Conversion Charts and Student Data Reports
Designing Targeted Instruction
Developing a targeted plan of support for students with different needs through backwards design of macro and micro skills, utilizing the A++ Framework: Access, Agency & Authority
Classroom Instruction & Monitoring Progress
Developing methods for classroom instruction utilizing differentiated instruction and formative assessments to track progress over time.
Instructor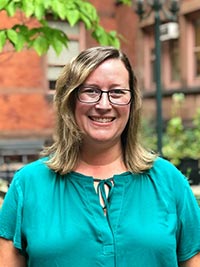 Roberta Lenger Kang
Dr. Roberta Lenger Kang was a high school English teacher for eight years in Denver, Colorado and New York City. She wrote several district wide curricula for Denver Public Schools and the NYC Department of Education before transitioning from classroom teacher to professional development coach in 2006. As a coach, Roberta has supported schools on instruction, assessment, systems and structures, literacy and accountability mandates. In 2015, Roberta completed her doctorate in English Education from Columbia's University, Teachers College with a focus on the impact of mandated assessments on students, teachers and school leaders. In her role as the Initiative Director, Roberta supervises the professional development programs and initiatives projects across the Center. Roberta cultivates partnerships with schools, districts, and organizations, in critical areas such as developing academic rigor, refining literacy in high school, creating meaningful instruction for high stakes assessments, and leveraging city and state mandates for authentic school change.