Featured Work Around the World
Skip to content
Skip to main navigation
Printer-friendly Version
Featured Work Around the World
Faculty
Dr. Ruth Vinz, Morse Professor Teacher Education
Dr. Roberta Lenger Kang, Center Director
Center for Professional Education of Teachers (CPET)
In 2002, Professor Ruth Vinz founded the Center for Professional Education of Teachers (CPET) to provide professional educational opportunities for teachers that deepen their understandings of strategic curriculum design, extend their knowledge of responsive pedagogies and assessments for diverse populations, and consider contextual factors that inform how they navigate educational systems and school structures.
CPET's activities in international education, however, began more informally. When the Center's doctoral students began researching how schools across the world were educating their students to participate in a more global world, the Center began an international initiative that resulted in a three-year research program that focused on a select number of schools in each of six countries—Australia, Canada, Singapore, China, Finland, and the USA. The initiative called for CPET to research what, how and why educators in each of these schools, were developing curricula, assessments, and pedagogy that would encourage teachers and students toward awareness of their roles as "global citizens with global intentions." Instead of conducting what Professor Vinz refers to as remote "data raids," CPET teams visited each of the schools for an extended period of time with the intent of trying to understand the challenges, opportunities, and desired outcomes of each school firsthand. The Center eventually brought all of the research sites together to form the Global Learning Alliance (GLA). The GLA meets every other year and brings together 40-60 delegates from those schools and their partner institutions. Many of the GLA's projects call for collaboration across international sites. These class-to-class projects are intended to foster communication and collaboration on an institutional as well as a global level. In a recent project, for example, GLA/CPET brought together high school students from Scarsdale, New York, Hwa Chong Institution in Singapore, and the Normal Lyceum of Helsinki to examine health and well-being issues that cross-country teams deemed important for study. The students came together to present their research and action plans at the GLA Summit in Helsinki in August of 2018.
As the international professional education projects have continued to expand, CPET began developing a guiding philosophy to address the unique challenges and contexts of working with diverse education systems abroad. Two core tenets of the CPET philosophy continue to be refined in practice: (1) articulate with individual school communities a plan for developing global education priorities in content, pedagogy, and action; and (2) promote professional education for teachers and school leaders that enhances their understanding of ways to nurture theirs and their students' global capacities to take action in the world in critical, creative, and caring ways. In its global consultation work during the past eight years, CPET encounters educational organizations that attempt to implement traditional, standardized Western frameworks with little regard for compatibility with the local school situation or culture. Dr. Kang cautions that these types of "one-size-fits-all" approaches, as research and practice have demonstrated, ignore the importance of taking the time to facilitate shared understanding and collaborative goal-setting developed with a shared vision. With this in mind, CPET consultants facilitate discussions and embed themselves for extended time within a school in order to develop relationships, articulate action plans to support the shared work, and understand institutional goals.
Much of CPET's international work involves partnerships with schools that range from rural to urban, small to more comprehensive, public and private. At the moment, CPET is also working with a network of schools across China– namely, Beijing, Shanghai, Guangzhou, Tianjin, the Inner Mongolia Autonomous Region of China—and has plans to expand to Chengdu as well.
Vinz reflects on the diversity of experiences that "offer opportunities to rethink, refine, and better understand the nuances and needs that call on us as a CPET team to develop our own core capacities—creative-thinking skills, self-inquiry, and empathy-building." Professor Vinz and Dr. Kang acknowledge that teachers do not always have the power to change their current situations efficiently or effectively, but they believe that by investing in professional education, schools and their teachers can, at least, lay the foundations for future changes. Although every project is different, Vinz and Kang believe their partners have one thing in common. "Partner schools demonstrate a deep desire to learn and grow and that desire continues to motivate the CPET team to learn and understand and grow along with our international partners". Kang suggests.
How can students at TC get involved in the Center's international activity? Many of the Center's team members are current TC students. CPET offers fellowships for former classroom teachers interested in extending their experiences and developing their expertise in professional education and for doctoral students with a variety of international education experiences both in schools and alternative settings. In addition, CPET operates the New Teacher Network (NTN), which TC students who obtain initial certification are welcome to join after graduation. The Network seeks to curb rising attrition rates among new teachers by supporting them with essential professional educational services, through the Center for their first three years of teaching.
Professor Vinz approaches her work with a nod to Paulo Freire's often quoted idea that "we make the road by walking." Vinz takes up this idea by suggesting that we make the road by "walking many roads with others." She elaborates, "All of our experiences with our international partners have caused me to continuously question, to doubt, and to charge my own learning with discussion and debate in conversation with others' points of view and experiences. Maybe we make the road with others by walking and waking toward the forever new." Along those lines, Dr. Kang urges students to get involved with groups working on common goals: "You're only at TC for a short time and the 'world work' can be lonely after graduation. When we engage in an ongoing community of practice, we challenge ourselves to keep learning."
By: Paulo Ribeiro & Blessing Nuga
Edited by: Sarah Lamade
---
Dr. John Allegrante, Professor of Health Education
Dr. Ulrich Hoinkes, Kiel University | TC Visiting Scholar
Department of Health and Behavior Studies
In February 2018, Teachers College (TC), working in collaboration with the Council for European Studies (CES) and the Alliance Program at Columbia University, hosted a workshop on the Anxiety Culture Research Project on the campus of Columbia University. Prominent faculty members from TC, Columbia, Eucor – the European Campus – and the Columbia Alliance Program, a joint academic venture between Columbia University and three major French institutions – Ecole Polytechnique,
Sciences Po, and Pantheon-Sorbonne University – participated in the event. Its purpose? To bring together a broad range of scholars and scientists to discuss the Anxiety Culture Project that is being developed by Dr. John Allegrante (pictured right), TC's senior Professor of Health Education, and Dr. Ulrich Hoinkes (pictured left), University Professor of Romance Languages at Kiel University, Germany, and a TC Visiting Scholar.
The Columbia workshop, which was led by Allegrante and Hoinkes, was the latest in a series of interdiscipliniary seminars that the two scholars have been convening over the last two years that have brought leading academic experts from North America, Iceland, and Europe together to develop an anxiety culture perspective, or more specifically, a new "middle-range" theory and associated concepts for understanding and coping with the world's seemingly intractable problems or crises. The project was first conceived in 2015 as an outcome of a "come-into-touch" conference that brought TC colleagues – Allegrante, Timothy Iganffo, Patricia Martinez-Alvarez, Sandra Okita, Ann Rivit, and Lalitha Vasuvedan – into a collaboration with Kiel University School of Humanities and the German Leibniz Institute for Science and Mathematics Education (IPN). Since then, TC, Kiel University and IPN have entered into an agreement and the Project has expanded its connections across Europe through a collaborative agreement with Eucor, a consortium of five universities in the Upper Rhine – the Universities of Basel, Freiburg, Haute-Alsace and Strasbourg, as well as the Karlsruhe Institute of Technology – and three Icelandic universities – Reykjavik University, the University of Iceland, and the University Centre of the Westfjords. A conference that was sponsored and supported by the Hamburg Foundation, which was convened in Lubeck, Germany, in June 2017, further advanced the project, and a major meeting at which an organized program of research across 4 clusters – climate change and environment; population health; migration, language and culture; and the future of work and society – will be discussed is being planned for the spring of 2019.
So what exactly is anxiety culture? There is no easy answer to this question, but Allegrante and Hoinkes hope to at least define it so that conversations leading to new research and scholarship can begin. After meeting at a conference in 2015, they discovered a common interest in the concept of perceived threats and dangers to society. "We know a lot about this term 'anxiety' at the individual [level], and, I would argue, [the] clinical level. What we, in effect, are trying to argue is that anxiety can exist [on] a cultural and social level," Allegrante explains. After some investigation outside of their disciplines—health and linguistics, respectively—Allegrante and Hoinkes believe that the source of public fear is rooted in "crises," such as, migration, diasporas, climate change, or even the evolution of technology. Technology, in particular, proves to be a great source of fear, as many workers worry about losing their jobs as society continues to become more electronically and digitally inclined. However, they also recognize that referring to threats or problems as "crises" may, ironically enough, provoke the very same anxiety they seek to mitigate. Anxiety culture comes about when looming threats—substantiated or not—begin to permeate everyday living and from there, contribute to an undercurrent of fear in individuals, communities and ultimately the culture as a whole.
"There's nothing stable in this world," Hoinkes says, echoing his colleague's sentiments. Citing theories of a world in metamorphosis and the idea of a "liquid modernity" from the likes of sociologists, Ulrich Beck and Zygmunt Bauman, he elaborates, "If you don't have a stable position, you get uncertain, and become full of anxiety." One need only look to the recent U.S. presidential election to begin to grasp the weight of this kind of worry and its repercussions on a group of people. "You have large numbers of people who have felt disenfranchised, have felt left behind, are coping with the severe consequences of pain and the opioid epidemic, the loss of jobs, increasing automation, increasing technological development. This in some ways I think is almost metaphoric for what it is we're trying to talk about."
That being said, anxiety culture is not unique to the United States. A global phenomenon, anxieties about technological evolution, migration and job stability present not only in metropolitan centers but also in rural areas struggling to adapt to a constantly changing world. This reason alone makes it a critical field of study. For more on the Anxiety Culture Project, check out the special feature issue of EuropeNow, the online global journal of research and art. Included are essays by TC and Columbia faculty and graduates, including Allegrante, Hoinkes and TC doctoral alumnus Michael Shapira ("Anxiety Culture: The New Global State of Human Affairs?"); Barbara Roviro and Patricia Martinez-Alvarez ("Do Our Concepts of Bilingual Education Match the Anxieties of Migrants?"); TC doctoral alumna Beatrice Bridglall ("Toward a Strengths-Based Approach to Mitigating our Anxiety Culture"); and Columbia doctoral alumna Lila Yu ("The Irresolvable Political Brain: Our Neuropolitical Limitations in Hyperdiverse and Uncertain Societies").
By: Tanwaporn Watanaporn & Blessing Nuga
---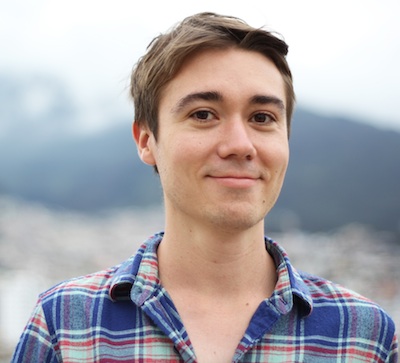 Professor Nicholas Limerick
Assistant Professor of Anthropology and Education, Department of International and Transcultural Studies
‌‌A linguistic anthropologist by trade, Dr. Limerick's research focuses on how traditionally marginalized peoples work within state-forms of schooling, and how institutions affect how people communicate and engage in language revitalization. Specifically, his work primarily centers on grassroots Kichwa revitalization in Ecuador, indigenous social movements, and the establishment of the Intercultural Bilingual Education System nationwide. Smaller in size and running parallel to the mainstream education system in Ecuador, the school system was founded through indigenous organizing and is primarily run by and for indigenous peoples, providing indigenous education.
Also of interest to Dr. Limerick is the way teachers and schools work with different varieties of Kichwa, and how those stakeholders navigate the modernization of a language that does not necessarily have components to create words for things like "computer" or "hoverboard." "More and more indigenous peoples live in cities and yet speak very different versions of what we consider to be the same language," Dr. Limerick explained. This variation becomes an issue for teachers, as they are tasked with making sure that every student in the classroom feels their language variety is included and valorized, while also creating a language standard that easily lends itself to teacher preparation regardless of access to teaching materials. A daunting challenge, Dr. Limerick's work is focused on supporting Kichwa teachers who are searching for answers to this paradox.
A teaching stint in Ecuador straight out of college sparked Dr. Limerick's original interest in indigenous education movements. The experience prompted him to live there for another six years, forming working relationships with indigenous education activists. He is now writing an ethnography of the experience of working in various national offices for the Intercultural Bilingual Education System as an indigenous person. Ecuador, like many other countries with a large indigenous population, has a long and difficult history of relations with these peoples. Dr. Limerick's work examines what kind of tensions and difficulties emerge when the government or the nation-state you are working for has spent centuries trying to eradicate or assimilate you and your people. The tension lies in the unique context Indigenous Ecuadorians face. On one hand, while it is incredible that they were able to surpass all of the hurdles in the creation of the Intercultural Bilingual Education System, indigenous languages and peoples sometimes end up fitting into an existing structure, one created and determined by the government.
Not surprisingly, there is still much work to do. In looking towards the future, Dr. Limerick advised individuals who plan to become involved in international work to first establish a long-term, collaborative relationship, "It's important not to come-and-go, but instead to put down roots and be involved in an ongoing dialogue, much of which is shaped by the interests of those in other parts of the world."
By: Tanwaporn Watanaporn
Editor: Blessing Nuga
---
Catherine Crowley, J.D., Ph.D., is a Professor of Practice in the Communication Sciences and Disorders Program, Director of the Bilingual SLP Extension Institute, Coordinator of the Bilingual/Multicultural Program Focus, and Director of the Ghana and Bolivia programs at Teachers College. Since 2006, Dr. Crowley has led 23 service trips to Bolivia, Colombia, Ecuador, Ethiopia, Ghana, Peru, and the Philippines, where she and the students of Speech-Language Pathology (SLP) at Teachers College provide free services to people with communication disorders. As evidenced by her passion for service-oriented fieldwork learning as well as her students' enthusiastic participation, she takes the title—Professor of Practice—especially to heart.
Dr. Crowley's work with Teachers College began in 1998. Thanks to her unwavering dedication, her work with the SLP graduate students is known both nationally and internationally for its multicultural and bilingual focus in both clinical and research settings. Not only that, the work is an opportunity for students to acquire practical, high quality clinical skills and cultural competencies. Using her expertise in disability evaluations, Dr. Crowley addresses the disproportionate number of U.S. students referred to special education due to a lack of understanding of dialectical differences. Dr. Crowley believes that the key to these culturally responsive evaluations—and ultimately treatment and progress—is an evaluator's ability to distinguish between the gaps in communication and disability. Her students acquire these skills as they provide services and work with families, teachers, and medical professionals on these international trips.
Now, more than half of the students in the master's program—over 30 students a year—participate in Dr. Crowley's service trips, many of which take place in international communities in dire need of fundamental services. Take Ghana for example: with a population of 26 million people, Ghana is home to only five speech therapists. In collaboration with her colleagues at the University of Ghana, Dr. Crowley developed the country's first SLP master's program. The inaugural cohort began in 2016, and the first class of 13 graduates in Spring 2018.
In working with these global communities, Dr. Crowley aims to build capacity and sustainability within local experts so that communities can begin to address their needs for speech therapists and in this way, become more self-sufficient. One example is the annual professional development retreat in Ghana for teachers of students with intellectual disabilities and autism given each year for the past seven years. Dr. Crowley also has a focus on cleft palate speech therapy, and has led cleft palate speech therapy trainings in Asia, Africa, and Latin America often including her students in the trainings, as well as offering free, online cleft palate speech therapy courses in Spanish and English. It was through this aim that the Law and Evidence-based Approaches for Disability Evaluation and Resources (LEADERS) Project was born. Since its inception, LEADERS has offered an open-sourced library in a variety of languages of resources, training materials, and courses for practitioners, educators, and families of children and adolescents with communication disorders.
Looking ahead, Dr. Crowley's international involvement continues to increase. In January 2018, she plans to take another group of students to Ghana. This time, she will remain there for part of the semester to conduct research and teach in the master's program there. From there, Dr. Crowley will head to Paris for a language immersion program so that she can expand her work to French-speaking countries in Africa. Afterwards, she plans to continue her work with Smile Train with a five-day speech therapy training institute for cleft palate across India, Africa, and Southeast Asia.
By: Melanie Cooke
Editors: Heidi Liu Banerjee & Blessing Nuga
---
Dr. Mary Mendenhall isn't simply an Assistant Professor of Practice in the Department of International and Transcultural Studies, a committed researcher, or a
loving mother; she's also a pioneer. With a team of dedicated graduate students and the support of IDEO.org, the UN Refugee Agency (UNHCR), and the Office of International Affairs' (OIA) Global Investment Fund (GIF) grant, Dr. Mendenhall spearheaded the pilot launch of "Teachers for Teachers"—a professional development initiative that combines teacher training, peer coaching, and mobile mentoring in Kakuma Refugee Camp, Kenya. Founded in 2015, Teachers for Teachers jumpstarts and sustains teacher professional development for refugee and national teachers providing education to refugees in Kenya.
In one of the largest refugee camps in the world—where 51% (90,673) of the population is under 18—only 31% of teachers have received any kind of training. The average teacher-to-student ratio is 1:103. The reality of such numbers led Dr. Mendenhall and her team to develop Teachers for Teachers. A comprehensive, open-source curriculum, Teachers for Teachers employs a three-pronged approach: (1) internationally and locally co-led training workshops for teachers; (2) in-person peer coaching and group support; and (3) mobile mentoring, through which teachers communicate with experienced teachers or passionate educators around the world using the mobile messaging device, Whatsapp. Dr. Mendenhall and her team aim to fill gaps in education for refugees in Kakuma Camp, Kenya and across the globe; they strive to make the model sustainable and dynamic as the program trains locals to become leaders in the camp's education system: "What's been amazing is that now that we have 132 teachers trained in this first round, we can draw on those same teachers to return to support future training and coaching activities. They are able to say in their own words what worked for them and what didn't work. It just changes the dynamic and is far more effective when they're right there co-leading with us."
Dr. Mendenhall is quick to underscore the involvement of her students. Not only did they initiate the ambitious project, they are also indispensable in sustaining it. "A couple years ago, we started that process. It was a long process, but students who had taken my "Education Emergencies" class1 were really motivated, really committed, and coincidentally many of them were teachers themselves. We continued working together and we wrote—they wrote, heavily—the curriculum that's now become the training pack for primary school teachers in crisis contexts." With the GIF grant, Dr. Mendenhall and two Master's students—Charlotte Bergin and Peter Bjorklund—spent several weeks in Kakuma to collect data for the pilot launch. Charlotte went on to be hired as a consultant analyzing the pilot data and drafting the final curriculum, which was developed in collaboration with the inter-agency Teachers in Crisis Contexts Working Group. Another student on the team, Kathleen Denny, joined the International Rescue Committee (IRC) to pilot the project in Iraq.
To the outside eye, the pilot of Teachers for Teachers couldn't have been more successful. Even so, bolstered by this initial success, Dr. Mendenhall and her students eagerly anticipate further growth. Since its inception in Kakuma, the open-sourced curriculum has been adapted by additional organizations to fit the contexts and profiles of teachers in other refugee communities, including those in Iraq and Burundi. Teachers for Teachers is also in the process of adapting the model for use at the secondary level and in a nearby settlement—Kalobeyei—as part of a UN-led initiative to integrate refugees with national Kenyans. However, it's not just the growing numbers and growing interest that keeps Dr. Mendenhall and her research team motivated, "…It's the resilience the teachers have, despite having 200 kids in their classroom and not enough books. It's that they're still eager to be teachers because they know that education is what it will take to get out of that camp someday, and to have other opportunities. They just kind of blow me away. They're so grateful for us, and yet they have no idea that what they're giving us is so much more than what we could ever give them."
Teachers for Teachers is currently fundraising to update the curriculum and expand its reach. If you would like to help, you can get in touch with them here.
By: Melanie Cooke
Editor: Blessing Nuga
---
1 This group of amazing students included: Katherine Baker, Christine Bell, Charlotte Bergin, Peter Bjorklund, Rachel Chasse, Holly Cook, Kaitlyn Crandall, Kathleen Denny, Julie Dunn, Huipu Lee, Sheila Matsuda, Laura Wagner, and Brittney Wilcox
Students
‌‌Ben Steiner, MA student in International Educational Development
Department of International & Transcultural Studies
Having spent time in Indonesia as a Peace Corps educator and then several years in Java and Timor doing similar work, Ben Steiner found traveling to Myanmar to deliver a human rights curriculum for teacher development the opportunity of a lifetime.
An MA student in the International Educational Development program, Ben credits much of the success of his international ventures to the relationships he has cultivated at Teachers College (TC). In fact, his recent trip to Myanmar came about because of a meeting at TC. After sitting down with a representative from Peace and Development Initiative (PDI), a Myanmar-based NGO, Ben received an invitation to collaborate on a human rights curriculum for PDI's flagship school, Akyab Institute of Social Studies (hereafter "the Institute").
For a part of the world that has been rocked by increasing ethnic violence, human rights education is vital and yet practically nonexistent in Sittwe. For years Sittwe has grabbed headlines around the world as local militias, a radical monkhood, and the Myanmar government have colluded to perpetrate what amounts to genocide. Now an international refugee crisis that has left thousands displaced, much of the Rohingya population has been forced out of Myanmar and into neighboring Bangladesh because of the conflict. PDI was founded in 2013 to not only respond to these increased tensions, but to also provide resources for affected populations and eventually contribute towards sustainable peace between communities. Towards this, in 2017, PDI established the Institute to offer academic and career training. Today it serves students from 17 to 25 years old and is one of the only pre-college programs in the immediate area of Sittwe.
Outside of class in Sittwe, Ben took the opportunity to speak with his students about their experiences. Many expressed disappointment in the international community's response—or rather lack thereof—to their plight, while others shared feelings of abandonment and hopelessness. Despite the blatant and increasingly brutal evidence of abuse under Myanmar's military regime, citizens of the Rakhine State feel like they've been left to their own, very limited, devices. Although external powers are striving to improve conditions in places like Sittwe, they regularly come up against obstacles that are wired into the very culture. Case in point, even though international NGOs and press are highly active in affected areas, they frequently go up against a deluge of aggressive anti-Rohingya signs written in English—clearly meant to deter foreign press and aid workers.
Like other foreign instructors, Ben had to work through these obstacles and the feelings of resentment and weariness. He did his best to design an engaging curriculum that appealed to a basic sense of fairness and the idea of human rights as universal to everyone. In addition to covering topics of genocide, he included content relevant to the Rakhine State such as child labor, sex trafficking, and government oppression. Despite the success of the program, academic opportunities in Sittwe are local and largely isolated to programs operated by foreign NGOs like PDI. In fact, out of fear of incurring the ire of the Myanmar government, the Institute does not openly advertise its human rights courses. Instructors such as Ben are, essentially, putting themselves in danger. "They're taking a lot of risk," he noted. "People have gone to prison for a lot less than what they're doing." Yet conviction in their work and the work of PDI brings them back.
To make this trip a reality, Ben relied on a number of TC resources. He found the faculty in his program a huge help with preparation for his travel. In addition to his mentor, Professor Felisa Tibbitts, Ben also worked with Dr. Mary Mendenhall to develop the curriculum and course materials. He was also able to take advantage of several funding sources such as Columbia's Advanced Consortium on Cooperation, Conflict, and Complexity (AC4), which offers fellowships for students doing research on conflict resolution and peace education. He also recommended the Carmela and Marie F. Volpe Fellowship for International Service in Education as another great resource for students looking to do research abroad.
By: Paulo Ribeiro & Blessing Nuga
Edited by: Bing Quek
---
Tehreem Asghar, M.A. student in International Educational Development
Department of International & Transcultural Studies
Tehreem Asghar had a global upbringing that spanned Pakistan, South Africa, Saudi Arabia, and finally Qatar, where she studied at Georgetown University's branch campus. In
light of this, it isn't all that surprising that Asghar developed an interest in social interactions and international politics. Her experience as a student at the Qatar Georgetown University branch campus made her curious about the experiences of other students enrolled at international branch campuses. In particular, she began to consider how those students experience study abroad at their institution's original campus in the United States. These are the questions that led her to Teachers College, where she is pursuing a degree in International Educational Development.
For Asghar, an examination of existing literature on international students' study abroad experiences in the U.S. proved fruitless. Many of the sources she did find were outdated and to her, failed to accurately reflect the student experience or even the student voice. As a student who had attended a branch campus, but had no study abroad experience, she was disappointed with the scarcity of perspectives recognizable to her and others like her. "They have a lot of research that's done on U.S. students studying abroad in various parts of the world, and that got me very interested in seeing how the experiences of other students that are not in the U.S. are documented." To further explore these interests, Asghar conducted a qualitative study where she interviewed ten international students studying abroad in the U.S. Her work yielded interesting, and perhaps even surprising, findings. Overall, the students she spoke to found it easier to become involved in civic engagement while studying abroad in the U.S. She suggests that the political contexts in students' home countries may not promote or even support civic engagement—at least not to the level that is encouraged in the U.S. That being said, her findings also suggest that students found the branch campuses to be more diverse and academically rigorous.
For Asghar, the results of this study are only the beginning. She wants to continue with this research in order to expand existing literature and, hopefully, the field as a whole. In this way, she also hopes to lend a voice to her fellow students. With her own experiences in mind, Asghar believes that there needs to be more open and constructive spaces for new voices from previously unrepresented or underrepresented populations. These voices are vital to the advancement of the field. "When people from those communities are documenting their own experiences or the experiences of their own communities, I think that needs to be celebrated."
By: Tanwaporn Watanaporn & Blessing Nuga
---
Caitlin Thomas
Department of International & Transcultural Studies
I thought we could start off by you telling me a little bit about yourself—where are you from? What are you studying and why did you choose TC?
I grew up in Fairfax Station, Virginia, about 45 minutes outside of DC. I received my BA from Virginia Tech in International Studies with a Business focus and a Spanish minor. After graduation, I applied for Peace Corps service and waited about 12 months to depart for Mongolia as an English Education and Community Development volunteer. During my waiting period, I was working in Fairfax County Public Schools and teaching English to adult learners. In service, I was placed in the most western province of Mongolia in a secondary school. I was teaching English to grades 5th to 11th, hosting English clubs, overseeing English and sports competitions, and working with the Disability Center raising awareness about students with disabilities. From this experience, I realized the value of a quality education and the importance of equitable access to that education.
I stayed three years in that role as a volunteer, serving one year longer as I fell in love with my school and community. After returning to the US, I worked for Peace Corps Headquarters on a legal team for two years, and realized my desire to get back into the field of education was strong. I learned about the International and Comparative Education (ICE) program at Teachers College from a former volunteer and really saw my future aligning with this program. After coming to visit the program and learning more about the school, I knew that this was the right place for me. I am currently in the Comparative and International Education (CIE) program, focusing on LGBTI and gender-related issues in schools. I hope to continue to work with LGBTI youth, either as a researcher or as a practitioner, working in NYC or DC schools.
Can you discuss the kind of research/work you did before you attended TC? Did these experiences impact your career/research goals/decision to attend TC?
During my Peace Corps service, I was an English teacher in a secondary school for three years in Mongolia. Upon returning, I started working at Peace Corps Headquarters in a legal administrative role. My experience as a volunteer and employee of Peace Corps shaped my decision to attend a program with an international and comparative focus to education. Speaking with former volunteers and colleagues who attended similar programs, I was informed and drawn to the ICE program at Teachers College.
Tell me about the research you are doing now in Mongolia.
Currently, I am doing research on the LGBTI climate in Mongolian Schools by conducting an online quantitative study of Mongolian LGBTI youth aged 13-20 to further understand the issues they face on a daily basis and to shed light on how to make more inclusive classroom environments. The survey was distributed through the LGBTI Centre of Mongolia's Facebook page [and] 193 students have taken the survey so far. Through this research, I plan to document firstly, the level of support, resources, and visibility for LGBTI youth in Mongolia. Secondly, I intend to examine ways that school environments have made safe and inclusive environments [and how we can] share and replicate these experiences. Specifically, I will look for supportive teachers and staff, access to resources that included LGBTI-related topics, school anti-discrimination policies, and school organizations that support LGBTI youth. With an idea that more supportive schools create a more desirable environment for youth to be a part of, I will test whether supportive resources are correlated with attendance, involvement in school activities, and higher grades.
What motivated or sparked your interest in the LGBTI climate in Mongolian Schools?
As a member of the LGBTI community, I always felt that high school was not a safe place for [me] or others who identified similarly. From homophobia and bullying, to lack of support from the school administration and lack of representation in curriculum, I was unable to be my true authentic self in high school. As I became more aware of my identity, I knew I wanted to give back to younger LGBTI youth and contribute to creating more inclusive school environments, so students could feel safer in being themselves from an early age. After I become aware that my advisor, Dr. Oren Pizmony-Levy, was doing research in the LGBTI climate in schools internationally, I immediately knew I wanted to contribute to this work.
The work that you're doing is in a pretty remote area of the world – how has this impacted your research?
While Mongolia isn't on the radar for most folks, it actually has a fairly modern capital, Ulaanbaatar, and has been open and inviting to foreigners and investors since it became a democracy in 1990. Since I lived there for three years, I know my way around the city, I have a deeper cultural understanding of the society, and know how to get in contact with folks in all walks of life there. Through Facebook, we have been able to gather a lot of respondents to the survey and through events at the LGBT Centre there, we have been able to promote it. So, this hasn't impacted my work too much.
Where do you see yourself in the future?
Looking forward, I see myself working in the public or non-profit sector for a few years focused on LGBTI research or working directly with LGBTI youth. After, I would like to work with the Department of Education or Peace Corps again, in a training and development role specific to gender and LGBTI related educational issues. I am eager to get abroad again in some capacity, so perhaps down the road I will begin the process of becoming a foreign service officer; or look for NGOs and non-profit organizations globally that are focusing on LGBTI youth. However, I am always open to whatever doors may open, so only time will tell.
Is there something that I haven't touched on that you'd like to share?
Research in this field is extremely important, and I am excited and humbled to be a part of it. I look forward to contributing to creating more inclusive and just school environments for youth around the world.
‌By: Tanwaporn Watanaporn
Editor: Blessing Nuga
---
Selma Zaki is a second-year master's candidate in Psychological Counseling in the Department of Counseling and Clinical Psychology. This past year, Selma and three other TC students—Charlotte Hamm, Nour Salem, and Lai la Salam—founded an initiative called In Fluency to explore the intersection of psychology and politics and examine the role of mental health professionals and other change agents within that intersection. On April 21st, In Fluency hosted their first event "Psychology Beyond Borders: Lessons from Sudan, Kashmir, Palestine, and Burma." Co-sponsored by the Office of International Affairs (OIA), the panel featured a diverse cast of mental health experts and activists sharing their narratives about the extent to which the current political situation in their respective countries impacts citizens' mental health.
In Fluency was born out of both a feeling of disconnect and a need to reconnect—to oneself, to the TC community, and to the outside world. For Selma, born in America and raised by Iraqi-Lebanese-Palestinian parents in Lebanon, this disconnect began when she moved to the United States to obtain her master's degree. Like many newly matriculated students, upon arriving at TC, Selma experienced fear and a feeling of being out of place. Although she holds an American passport, she grew up in Lebanon so she felt like an international student, which ultimately led to feelings of isolation. "I felt frustrated—and I know a lot of people feel frustrated—but I was frustrated for a year and I'm usually someone who tries to translate that frustration into something, and I think that's what I tried to do with In Fluency."
It was these shared feelings of frustration and disconnection that brought Selma and the other co-founders of In Fluency together. "We wanted a name that was catchy and that captured the idea of understanding different cultures. […] When you're fluent in a language, you can begin to understand the culture, so that's where the name came from. When you're fluent, you can influence, but only after you understand it." Selma describes In Fluency as a space for understanding psychology on two levels—the individual and the big picture. In Fluency's goal is to examine what is happening in other countries and what an individual can do to respond. "We're talking about countries like Palestine, Kashmir, and Myanmar, where it's not very easy to do anything."
As she looks toward the future and her impending graduation in December 2017, Selma is working through the struggle that she says many international students face—does she invest herself in In Fluency at TC or does she redirect her attention back home? One thing that may sway her is whether or not In Fluency can initiate changes in the culture of the Psychology Counseling Program here at TC.
By: Melanie Cooke
Editors: Heidi Liu Banerjee & Blessing Nuga
---

Michelle YoungHwa Chang, M.S., Ed.M, is a second-year doctoral candidate studying under the supervision of Dr. Erika Levy in the Department of ‌Communication Sciences and Disorders. Their research team is piloting a treatment program for children with Cerebral Palsy that have developed dysarthria, difficult or unclear articulation of speech that is otherwise linguistically normal. Michelle is in the process of developing her thesis to expand this treatment to bilingual children.
Mrs. YoungHwa Chang's resume is not only impressive; it also tells the story of how she found her passion for speech pathology. After obtaining her undergraduate degree in Integrative Biology from UC Berkeley, Michelle moved to Boston to work at Boston Children's Hospital as a research assistant in a cognitive neuroscience lab that studied child dyslexia. It was the speech pathologists in the lab—who demonstrated the importance of combining treatment research with clinical practice—that sparked her interest in speech pathology. After obtaining two master's degrees—in Education at Harvard and in clinical Speech Pathology at MGH Institute of Health Professions—Michelle joined forces with Dr. Levy, whom she had wanted to work with since her time at Boston Children's.
Mrs. YoungHwa Chang hopes to continue research on children with dysarthria by examining whether the current treatment protocol can be generalized, or tailored, to bilingual and multilingual children; as an Korean-English bilingual herself, she plans to begin with this population:
"I think treatment research is one of the most important research that we need to be doing because there hasn't been a lot of research done on speech treatment for children with cerebral palsy. If clinical practices are not evidence-based, then it's difficult to know whether therapies are being done correctly. This is the area where I'd like to contribute as a researcher. Also, there are so many children that speak more than one language in this country, and we need to be able to tailor our therapy to fit these kids' needs. So I'd like to take the research a step further and work with bilingual children, and to see how treatment affects both languages."
This is ambitious work, and it's through the support of her research team, and Dr. Levy, that Michelle finds confidence and motivation to look internationally: "I'm at that stage, looking for collaborators in Korea. If there hadn't been other people in the lab who had collected data in other countries in the past, I don't think I would've been able to even think about doing this…. I love that though we [lab members] all speak different languages, we are ultimately interested in doing treatment research with individuals who are bilingual or who speak a language other than English."
By: Melanie Cooke
Editor: Blessing Nuga
‌‌
Alumni
Allen Kenneth Schaidle, MA in International Educational Development, Class of 2015
Department of International & Transcultural Studies
Allen Kenneth Schaidle never imagined he would be teaching in the Middle East.
Originally from Illinois, Allen grew up in the small farming town of Metamora with limited exposure to the world. All of this changed after he gained admission to the University of Kansas. With an initial interest in secondary education, Allen thought about pursuing a career in school administration. However, mentors at the University of Kansas eventually convinced him to pursue international education instead, so Allen set his sights on the Department of International and Transcultural Studies at Teachers College (TC). With its renowned graduate programs in international education, Allen knew TC would give him the skills and opportunities to influence great changes globally.
At TC, Allen's research interests focused on the implication on local culture of American universities in foreign countries. He examined the growing number of branch campuses owned by elite US institutions and how these campuses both influenced and are influenced by the local culture. Outside of class, Allen fully immersed himself in the TC community and everything it had to offer. For him, TC lived up to its commitment to diversity in every way. He remarked, "When they say diversity, they mean it in every sense of the word." He valued being able to talk with students from a variety of ethnic groups, religions and socio-economic backgrounds. He found his professors to be an amazing resource, and he named Noah Drezner, Thomas Rock, and Carolyn Benson, in particular, as the faculty that made a positive impact on his academic career as while as personal.
For Allen, these human connections were just as important as the knowledge he gained through coursework, which is why he made great efforts to network as much as possible. Whether it was coffee or a quick chat in the library, Allen tried to speak with each of his classmates at least once. He also connected with the Office of Alumni Relations to meet TC alums who could be his role models and for this, he is grateful for Rosella Garcia, Senior Director of Alumni Relations, for helping build those connections. Reflecting on his TC experiences, he encourages current students looking to make the most of their time at TC to do the same—network and build meaningful relationships. Outside of TC, Allen built on his expertise in the field by writing for mainstream publications such as The Nation and the New York Times. After completing his master's at TC, he went onto the University of Oxford on a scholarship where he continued researching higher education.
After Oxford, Allen worked briefly in Iraqi Kurdistan at the American University of Iraq Sulaimani and in Abu Dhabi at New York University before eventually settling in his current position in Zayed University, an all-female institution in the United Arab Emirates (UAE). At Zayed University, Allen's research focuses on how university experiences expand the global identities of two very different populations of rural students—the Emirati women entering the UAE's free federal university system; and students from the rural Midwest of the United States with upbringings very much like his own. Allen considers it a unique experience to be an ally to women and people who are ethnically different from him. Thus, he is always mindful of his identity as a white male from a Western country in this university context. He relates this awareness to his time at TC, which he says prepared him for appreciating issues around identity and power differentials.
Allen encourages current TC students and even alums to reach out to him through the Office of Alumni Relations.
By: Paulo Ribeiro
Edited by: Blessing Nuga
---
Vanessa Pietras, Ed.M in International Educational Development, Class of 2017
Department of International and Transcultural Studies
For Vanessa Pietras, class of '17, life after TC consists of working as an international educational consultant and helping the Costa Rica Permanent Mission of the United Nations in New York. As a Costa Rican adviser, Vanessa assists the Sustainable Development and the Human Rights Commission. In addition, she has worked with the Ministry of Education and non-profit organizations supporting schools with curricula for Science, Technology, Engineering, and Mathematics (STEM) in Costa Rica.
While Ms. Pietras' work as an international educational adviser for the U.N. is impressive, she wants others to know that accomplishing her academic and professional goals did not come easy. A native of Costa Rica, Ms. Pietras experienced significant challenges in her early years, including growing up in a single parent household with few resources and very little support. "The first time that I had an entire meal was when I went to my first year of primary school. So it was an unbelievable opportunity for me to become a person…to [go from being] a kid that suffered abuse in her house, to finding a school where I was safe and where I had food. It was the only way for me to survive my terrible childhood." The bond that she formed with education and schooling became her lifeline and eventually laid the foundation for her to pursue a degree in International Educational Development at TC.
For Ms. Pietras, her TC education prepared her for the critical and challenging task of bringing a STEM curriculum not only to Costa Rican schools, but also to its women. So much more than a pedagogy meant to prepare future generations, for Ms. Pietras STEM represents many of the things she found solace in during her own childhood. STEM is an opportunity that she hopes will reduce the cycle of poverty and combat the chauvinistic ideals and stereotypes that she believes may be hindering Costa Rican society. Ms. Pietras credits her growth as a professional to the professors she learned from and worked with at TC.
Today, even though Ms. Pietras has overcome significant challenges and accomplished so much in her professional life, she has set her sights even higher. "I want to be a role model for women, girls, and underprivileged children." If she was able to succeed in spite of the challenges she faced as a child, she wonders what current students and teachers can do with just a little bit of support from strong institutions like TC.
By: Tanwaporn Watanaporn & Blessing Nuga
---
Toni Cela, Ed.D., Class of 2016
Department of International and Transcultural Studies
Dr. Toni Cela is a busy woman. Between being the coordinator for the Interuniversity Institute for Research and Development (INURED), and working as a researcher in the Department of Anthropology at the University of Miami, it's incredible that she also found time to co-edit a volume, Les Jeunes Haïtiens dans les Amériques/Haitian Youth in the Americas, Montreal: Presses de l'Université du Québec, 2017.
Dr. Cela's drive is remarkable, and rooted in Teachers College's (TC) values of empowerment and social justice. After she received a Master of Arts in Comparative and International Education in 2001, she returned to TC where she received her doctorate in International Educational Development in 2016. While working on her doctorate, Dr. Cela was recruited by the Office of International Affairs to identify ways to engage in educational development and reform in Haiti following the January 2010 earthquake, and in the process, discovered INURED, a Haiti-based research institute. Excited by INURED's ability to bring together a diverse group of people from across the social, economic, geographic, and political spectrum, Dr. Cela soon became the institute's Country Coordinator. "The unfortunate reality is that in countries of the West it is expected that developing nations will follow a similar trajectory as theirs or [that those countries] learn from Western nations that are more advanced. However, we are most interested in intervention and policymaking in response to (social, political, or economic) crises or disasters…[and] the result is that we often find ourselves in a constant state of reaction," Dr. Cela says.
Rather than focus on solving problems only in times of, or immediately following a crisis, Dr. Cela looks to help create long-term solutions and sustainable change. This is easier said than done. Developing nations, when faced with an onslaught of problems, often have to choose between solving the problems of today or planning for the future. The other difficulty is that planning for the future can only be done with data on hand, which is often not the case for such countries. Working to create systemic, long-lasting change is not an easy task. Dr. Cela deals with negotiating the tension between focusing on long-term solutions and focusing on immediate, short-term solutions. The greatest challenge that INURED faces is attempting to respond to both current crises but also plan for the future. That being said, these challenges are worth the rewards. "It's unfortunate that much of what we read or see in the media about marginalized communities tend to overlook (or altogether miss) human ingenuity, particularly in situations of extreme poverty and vulnerability. Being in the field allows us to witness devastation, dignity, and resourcefulness at once… Witnessing Haitian ingenuity in extreme circumstances is rewarding, as it gives me hope for Haiti's future."
By: Tanwaporn Watanaporn
Editor: Blessing Nuga
---
Cristiana Mattos Assumpção, Ed.D., Class of 2002
Department of Mathematics, Science and Technology
Olá, Cristiana! Obrigada muito por falar comigo. Let's start with you telling us a little bit about yourself and how you got involved with Teachers College.
I was born in Brazil and raised in Virginia from 6 to 11 years old. I was alphabetized in English and was greatly influenced by American culture. Back in Brazil, I graduated in Biological Sciences and my first job was at an international school (Graded School in São Paulo). I worked there for 8 years where I taught 5th grade Science and had the opportunity to expand my education through a summer course at NASA. My next job was at Colégio Bandeirantes. I started in 1995 as a Biology teacher and in 1998 I matriculated at Teachers College where I got an M.A. in Education and Computers and an Ed.M. and Ed.D. in Instructional Technology and Media (1998-2002). I have always used computers in education, even before the Internet was invented. My whole career, I have been interested in using technology and different pedagogical approaches.
Now we can find you at Colegio Bandeirantes in São Paulo, where you are the Coordinator of Educational Technology. Can you tell me about the work you do there?
I started working as an Educational Technology Coordinator when I returned from Teachers College in 2002. The first thing I did was create a professional development course called "EduTech" to help my colleagues start integrating more technology into their practices. I also started integrating distance-learning environments in an effort to move us towards blended learning practices. In the meantime, I participated in national and international conferences, sharing our work and increasing my network for partnerships. I started going to the Distance Learning conferences promoted by Associação Brasileira de Educação a Distância (ABED) to encourage them to look at K-12 as well as university levels. I have participated in the NSTA conferences since 2000, first by myself [and then with] science teachers where we started looking at STEM. I've also participated in scientific committees and peer review for AERA, ABED, MoodleMoot, and SBGames. I'm on the Advisory Committee for the New Media Consortium's Horizon Report K-12 edition. I have also published some articles and book chapters on our practices and how we incorporate technology.
As you think about where you are now, how have your experiences at Teachers College played a role in the work you currently do?
I still use many of the materials and experiences I had when I was at Teachers College. I refer a lot to the Eiffel Project, which I was a part of for 4 years, where I learned how to integrate technology in public schools. I use the materials produced by my teachers related to the 21st century curriculum, rubrics and soft skills. Everything we develop, we document, publish and evaluate, using much of the Action Research format I used for my doctorate. I could not have developed such a deep change without the preparation Teachers College gave me. I am still in constant touch with TC through our Earth 2 Class project with Dr. Michael J. Passow, an ongoing project we started in 2000, where we partner to expand science teaching with international collaboration.
Last year, you presented a session called "The Intersection Between Social and Emotional Learning and STEAM," at TC's Academic Festival. I think many of us are familiar with STEM, but could you explain what STEAM is and how it plays out at your school?
Five years ago, we decided to rewrite our high school curriculum in general, and the science curriculum in particular. We exchanged the separate biology, chemistry, and physics labs for an interdisciplinary course called STEAM. When we started building the vision, we started with STEM, but as we studied more about learning and the importance of the arts in bringing in a different model of thinking and researching, we came to understand that incorporating the arts into STEM would enrich our proposal and offer an opportunity to bring the arts to the high school curriculum. The STEAM course is a science course, but the arts are being integrated through contact with different materials, design, communication, observation, aesthetics and divergent thinking. When we built our course we had a multidisciplinary group of teachers writing the lessons—a biology, a chemistry, a physics, an art and a math teacher. We used design thinking and Project Based Learning (PBL) as the method of investigation to integrate a hands-on approach and collaborative group work into the course.
An example of how the arts helps STEM is when our students study color and images in 10th grade. They start by studying the theory of colors then they study how color is formed through physical, biological and chemical models. They have to use learned material to build Pixel Art and digital filters to understand how the technology they use daily, works. Then they study how animals see and how vision defects can change the perception of color (daltonism). They build special glasses that imitate how daltonism affects vision and try to observe different works of art using these glasses. We are the first school in Brazil to incorporate STEAM in the curriculum, and many schools are coming to visit us to see how we are doing this because they want to start as well.
How is social and emotional learning (these so-called "soft skills") integrated into this pedagogy?
We integrated student participation, individually and in groups, into the grading system. We have created dynamics where we work collaboratively with the students to build a social contract, deciding the criteria with which we will assess their participation. Then we have several moments where students do self-assessments of their participation, and we have several participation checkpoints and strategies. We also ask students to evaluate the course and give us feedback. In the end, their final grade is 50% tasks and learned content and 50% participation.
The longer class schedule is also important for us to have time to work systematically on group work and for students to become more autonomous and responsible. For students to be able to develop these soft skills, we have to give them enough time to try to do things on their own. Also, our method has the students at the center of the process. We don't "teach" class. We challenge the students to solve problems and give them the tools to be able to do that. The teachers act as guides to help the students overcome difficulties, but the students should be proactive and investigative.
What are some of the challenges you're facing in building this active, creative program in an environment that has a long-standing history of prioritizing traditional "hard science" subjects over "soft skills"?
The first challenge was building the vision. We had wonderful lab classes and it was hard for the teachers to give them up. It was also hard for the teachers to rethink their roles and understand their new identities as teachers. They had always seen themselves as the deliverers of content. It is still taking us a lot of discussion and practice to really rethink the vision of STEAM. We have even created a study group–Núcleo de Estudo, Reflexão e Discussão (NERD)—to study the research. One thing I believe we did right was that we are using a blended model: we inserted STEAM and other interdisciplinary approaches, but at the same time we also maintained the traditional theoretical classes. I believe the theory really enriches the student projects, giving us more time to dedicate our activities to the soft skills.
Cristiana, thank you again for taking the time to tell me more about yourself! Before we end, is there something that I have not touched on that you wished we had?
The pleasure is mine! To end, I have to tell you about a few things that really show us we are on the right track. Two of the teachers already did their master's degree work studying our STEAM course. This gives us external validation and has brought us close to researchers. We have also published some articles and book chapters and have been invited to several conferences to discuss our work. Recently, I presented our curriculum at BETT Brazil. We are also offering courses on how to build a STEAM curriculum to teachers and administrators from other schools. I am finishing a book about our story, which tells the reader how to start his or her own STEAM curriculum. Thank you for this opportunity!
By: Melanie Cooke
Editors: Heidi Liu Banerjee & Blessing Nuga
---
Gemma Moya Gale, Ph.D., Class of 2015
Department of Biobehavioral Sciences, Communication Sciences and Disorders
Hi, Gemma! Thanks so much for taking the time to chat with me. I was hoping you could start by telling me a little bit about yourself (where you're from, education background, degree, etc.).
I studied English Linguistics in Barcelona, Spain, and then obtained a Master of Arts in Applied Linguistics and Second Language Acquisition. In 2010, I was awarded a Fulbright scholarship to complete a Master of Science in Speech and Language Pathology at Teachers College. In 2011, I was awarded a La Caixa Fellowship, which allowed me to pursue my PhD in Communication Disorders at Teachers College. I specialized in the treatment of neurogenic motor speech disorders, especially dysarthria secondary to Parkinson's disease. During that time I was also extensively involved in the treatment of aphasia and bilingual aphasia. I am now working at the Movement Disorders Unit of UParkinson, at Teknon Medical Center, in Barcelona, Spain, where I work with patients with Parkinson's and Alzheimer's disease.
One of TC's mottos is "education has no boundaries," and it's based on the hope that TC can not only bring the world to its campus, but spread TC (its members, mission, knowledge, etc.) throughout the world. How has your personal research experience, and/or your classwork at TC, informed your understanding of this motto?
I completely agree with this motto! TC provided me with a unique opportunity to develop my research and professional interests. During my stay at TC, and as a graduate student, I was able to do aural (re)habilitation in La Paz (Bolivia) and be involved in a cleft lip and palate clinical training in Guatemala, thanks to Dr. Cate Crowley. As a doctoral student, I was the clinical supervisor in a randomized control trial (RCT) in Brussels (Belgium), as part of Dr. Erika Levy's investigation on pediatric dysarthria; we're co-authoring a study in the spring to see if those speaking treatments might increase speech intelligibility. Additionally, during those six years at TC, first as a Masters student and then as a doctoral candidate, I was able to present at both national and international conferences (including Sweden, Poland, Belgium and the Netherlands) and I also had the opportunity to teach some courses at TC. So education indeed has no boundaries.
We hear that you're currently in Spain working with Spanish speakers with Parkinson's disease. I'm intrigued! How did you get involved with this population and this disease? Is this research something you felt drawn to or did it come to you?
That's correct! I am now working at UParkinson, the Movement Disorders Unit at Teknon Medical Center, in Barcelona. I validated an English-based intensive speech treatment into Spanish for my PhD dissertation and I am now implementing this treatment in Barcelona, where it was relatively unknown. When I started researching about Spanish dysarthria, I was stunned to see there was virtually almost nothing out there to guide speech intervention in languages other than English. I thought my research could contribute to the creation of evidence-based practices in Spanish dysarthria and that's the line of work I keep doing in Spain.
I am also working as an Assistant Professor at the Open University of Catalunya (UOC), where I teach a graduate-level course, Language Acquisition, and I advise graduate students on their final thesis.
What does this research mean to you?
To me, it means bringing into real-life all these past years of hard work at TC. I find it challenging too because there's so little research in this area, but at the same time it's such a priceless learning experience and I am very happy to be developing research in my own language to help my community, here in Spain and abroad. I want to better understand the speech and language characteristics of Spanish speaking individuals with Parkinson's disease in order to establish efficient treatment techniques in this language and provide other clinicians with evidence-based tools when working with Spanish-speaking populations with this neurodegenerative disorder.
Looking ahead, do you have any future ideas for your career? Any goals you're currently working towards?
I'm passionate about what I do. I love working in the clinical world while developing cross-linguistic research and teaching students at university to become better clinicians and thinkers. I am working on several publications right now and on bringing awareness of the importance of speech and language therapy in Spain. There is still a lot to do in Barcelona right now, but I'd love to work in NYC again in the future, given the linguistic and cultural diversity that is so characteristic of the city.
Gemma, thank you again for taking the time to tell me more about yourself—I can't wait to read your answers! Before I end this, is there something that I have not touched on that you wished we had? The stage is yours!
Thank you very much--it was my pleasure!
By: Melanie Cooke
Editor: Blessing Nuga
‌
Visiting Scholars
Alvin Kuowei Tay, Ph.D.
Department of Counseling & Clinical Psychology
TC Faculty Host: Dr. Helen Verdeli
A visiting scholar from the University of New South Wales, Dr. Alvin Kuowei Tay brings
extensive experience with refugees suffering from Post-Traumatic Stress Disorder (PTSD) to the Global Mental Health (GMH) Lab at Teachers College. Founded by Dr. Tay's faculty host, Dr. Helen Verdeli, the Lab has worked for years with under-resourced populations in developing countries.
Dr. Tay was testing a novel psychosocial therapy he developed in Bangladesh with the United Nations High Commissioner on Human Rights (UNHCR) when he discovered the Lab through its work with Rohingya refugees fleeing persecution by Myanmar's government. For the past three years, in collaboration with UNHC, the Lab has been evaluating the effectiveness of Interpersonal Psychotherapy (IPT) for refugees like the Rohingya. Now, Dr. Tay is contributing his expertise to the Lab's work on sustainable mental health solutions for refugee populations. Even though he admits that there will probably never be enough mental health professionals to meet the needs of the world's refugees, he believes this research is still critical to the ongoing effort.
Dr. Tay has always been interested in working with refugees, but how he planned to do so has changed significantly over the years. Having abandoned studies in law, he ended up pursuing a masters (in forensic/clinical psychology) followed by a doctorate in medicine (with a focus on psychiatric epidemiology) at the South-western Clinical School of the University of New South Wales. It was there that Dr. Tay began working with refugees from West Papua and Papua New Guinea. He also researched post-conflict mental health in East Timor, the site of genocide perpetrated by the Indonesian government prior to the country's independence in 2002. Since then, Dr. Tay has been working in Bangladesh and Malaysia with refugees from the Rohingya, Chin, and Kachin ethnic groups. More recently, as a National Health and Medical Research Council (NHMRC) Australia Clinical Fellow, Dr. Tay devoted time to designing and leading epidemiological and clinical research studies, and testing adapted forms of psycho-social therapies in low-resource and emergency contexts based on the work he has conducted since 2014.
It was in Australia that Dr. Tay initiated his current course of study and work on global and refugee mental health. While writing reports for the immigration services in Australia as an expert psychologist, he witnessed how the process of seeking asylum can re-traumatize refugees. At a time when governments in wealthy nations are under tremendous popular pressure to keep migrant numbers low, asylum applicants come under a great deal of scrutiny by immigration officials. Oftentimes, refugees are forced to undergo repeated interrogations and hearings while awaiting final decisions in detention centers with very limited services and amenities. In addition, Immigration officials doggedly pursue discrepancies in applicants' testimonies in order to justify deportation. However, many refugees suffer from memory problems triggered by the initial trauma of fleeing their home countries; these problems can make them more likely to make innocent mistakes during hearings. Adding to this, the records in the refugee's home country may be incorrect, which may lead to misunderstandings during the testimonies. All of these factors play a major part not only in whether or not a refugee is deported, but also how the entire experience impacts the person going forward.
With these research experiences, it made sense then for Dr. Tay to seek out the GMH Lab. The Lab's unique focus on mental health for displaced populations, as well as its dedication to addressing gaps in mental health resources for said populations drew Dr. Tay to Teachers College. "Dr. Verdeli's Lab is one of the few labs that specifically focuses on mental health in developing countries [and] in post-conflict countries," he explained. Refugee populations have experiences that span many different kinds of trauma.
Dr. Tay is in his second semester at Teachers College. In addition, he is working with the United Nations at their headquarters in Manhattan. He looks forward to taking more time to explore Teachers College and its programs before he returns to Australia.
By: Paulo Ribeiro & Blessing Nuga
Edited by: Bing Quek
---
Weidong Yang, Ph.D., Fumitake Fukui, Ph.D., Suhong Yang, Ph.D.
The TC
Community Language Language
(CLP) provides quality and low-cost English and foreign language instruction to adult learners of diverse nationalities and backgrounds in the Columbia University and surrounding New York City communities.
Offered through the CLP, the
International Researchers Language Program
(IRLP) offers two hybrid courses over eight weeks. These courses are designed to assist international scholars and researchers with advancing their academic communication and research skills; and facilitating their adjustment to academic culture in the USA. To learn more and register for
spring 2019
courses, please visit the
IRLP website
.
Dr. Fumitake Fukui
Research interests: transformation of donations in US higher education
Dr. Weidong Yang
Department of Organization & Leadership
Research interests: college fundraising management
Dr. Suhong Yang
Research interests: economics of education focusing on college student development and labor market outcomes
---
Kelly Silverio, Ph.D.
Department of Biobehavioral Sciences
TC Faculty Host: Dr. Michelle Troche
Hello! Let's start off with you telling me about yourself, and your affiliation with Teachers College (TC).
Thank you so much for this opportunity to talk about my life and my research at TC. I am from Bauru, Brazil; it's a small university city with lots of students, and it is about four hours from São Paulo city. I am a speech, hearing, and language scientist and therapist, and a professor in the Speech, Language and Hearing Disorders Department, Dentistry Faculty of Bauru, at the University of São Paulo (Departamento de Fonoaudiologia da Faculdade de Odontologia de Bauru – Universidade de São Paulo). I teach voice disorders at the undergraduate and post-graduate levels. I am here at TC as a Visiting Scholar/Researcher to observe and study with the Upper Airway Dysfunction Lab to complement my learning and research in Brazil, with my research focusing on those with Parkinson's disease. My TC faculty host is my mentor, Dr. Michelle Troche.
What originally made you interested in coming to TC?
I met Dr. Troche when she came to Brazil for a lecture at a conference in Bauru. We talked about my future research and ideas, and about the possibility of spending time with her to further my knowledge of Parkinson's disease. And, TC is in New York City, a great place to spend time, learn new things, and open minds.
I'd love to hear about your work researching voice disorders, and cough and upper airway dysfunction in those with Parkinson's disease.
Well, my research is about voice therapy in Parkinson's disease. People with Parkinson's disease often have complaints about speech and voice loudness – specifically because people cannot understand what they are saying. This is an important part of communication; people need to understand what you're saying, right? Upper airway dysfunction is a part of the problem. So, we planned a clinical research study with "Tube Phonation," that is offered by teletherapy. The participants receive the therapy through Facetime or Skype in their home and do exercises with the therapist. Before and after the treatment the participant goes to the Upper Airway Dysfunction laboratory to receive an assessment. The therapy's goal is to improve laryngeal function and to work with the breathing muscles. The exercises are about making bubbles in water, in the context of specific phonation exercises. If we can make the breathing muscles and the larynx function better, we can improve voice loudness. That is our idea, and we need to test this hypothesis with research.
What inspired your interest in this research area?
All my life I've worked with voice disorders. I wanted to work with people with Parkinson's disease to gain more information and to help improve treatment for people in Brazil. Telepractice is a new concept in speech therapy that we are starting in Brazil. Dr. Troche here at TC works in the area of Parkinson's disease and more. She works with different kinds of treatment and assessments that help us to understand more about the behavior and the communication [of] people with neurological dysfunctions. When I go back to my country, I will be able to help more people.
What are the biggest challenges you've encountered doing this research?
Language is the biggest challenge here. I have a big support team in the Upper Airway Dysfunction lab, but the language is hard [for] me. But the participants are so kind and can understand me, which is great. I joke all [of] the time that they are my English teachers and this helps [make speaking] easier.
What are the most rewarding parts of your work?
The most rewarding part is observing participants improve their voices and [become] more confident about their communication and voices. It is nice to see, and they give me big smiles.
What do you hope to bring back to your students in São Paulo?
I hope to bring more knowledge about cough, upper airway dysfunction, and telepractice in people with Parkinson's disease. I will encourage and inspire students to come here and study with Dr. Troche to learn more and more in this important area.
What are your future plans for this research?
I hope to start the same research in Brazil, in my university to learn more about voice, cough, and upper airway function in people with Parkinson's disease. I hope that Dr. Troche and her team continue to support this research, too.
Is there anything we haven't talked about that you'd like to discuss?
I just want to say thank you and that I appreciate being interviewed. I want to thank Dr. Troche for her support, for hosting me, and sharing with me her thoughts and knowledge, and thank TC for the support with documentation and activities here.
By: Tanwaporn Watanaporn

Editor: Blessing Nuga
---
Yuh-Jia Chen, Ph.D.
Department of Human Development | Measurement, Evaluation & Statistics Program
TC Faculty Host: Dr. James Corter‌
"If the risk averse and risk taking attitudes can be identified, insurance and investment companies can better predict behavior and from there, guide their clients to plan for retirement more effectively."
With the hope of helping people make better and more rational and ethical decisions, particularly those related to finances, Dr. Yuh-Jia Chen, returned to Teachers College as a visiting scholar to research decision-making and business ethics with Dr. James Corter, Professor of Statistics and Education in the Human Development department. Mainly, Dr. Chen studied choice patterns in repeated-play conditions; do people change their risk preference over time and if so, how? Although the implications of his findings appear to be largely theoretically, he believes they are also useful in understanding how organizational cultures impact employees' ethics and ethical behavior, money intelligence and money attitudes. "If the risk averse and risk taking attitudes can be identified, insurance and investment companies can better predict behavior and from there, guide their clients to plan for retirement more effectively."
Money intelligence is an intrinsic component of daily life, and some would say an indispensable pillar of modern society. It determines why people go to work; what work they do and ultimately, how they survive financially. Even children are aware of its importance, albeit perhaps only marginally. But, how exactly do we develop this awareness? How do we grow to understand what money is and how to use it? According to Dr. Chen, understanding how money intelligence influences behavior can also inform why people make irrational choices with it. For example, in spite of the odds, when given a hundred chances and the option of winning $100 10% of the time or $10 90% of the time, people do not pick the same option each time. Instead they go back and forth about equally. Dr. Chen proposes that understanding the rationale of how people allocate their choice options is a step towards understanding how to help them make more rational decisions.
Dr. Chen's interest in business ethics and decision-making stems from a diverse academic background that dates back to his time as a master's student in TC's own Organizational Psychology program. It was while writing his thesis on decision-making that he began making connections to a larger picture. Although understanding how individuals and organizations think is essential to decision-making, he also realized that he needed to understand data modeling. This curiosity culminated in a master's degree in statistics and then a doctorate in measurement and evaluation in 2001. When asked about his TC experience, Dr. Chen eagerly shared anecdotes of his time attending classes, toiling over papers and interacting with instructors who are now his colleagues. "I love TC. It has a unique and wonderful culture that makes people very comfortable to learn and grow. TC creates a good energy and environment that [allows me] to conduct good research."
Dr. Chen plans to publish his findings and then return to teaching at Palm Beach Atlantic University in Florida where he holds a full professorship. He also hopes to continue pursuing this line of research. He can be reached via e-mail.
By: Blessing Nuga
---
‌Eli Vinokur, Ph.D.
Department of Arts & Humanities | Philosophy & Education Program
TC Faculty Host: Dr. David Hansen
"In order to fix education, you need to fix people's attitudes towards one another. Education is more than learning; it is the atmosphere and interactions that allow for authentic, autonomous self-transformation."‌
‌
Dr. Eli Vinokur is a visiting scholar in the department of Arts and Humanities. Born in St. Petersburg, Dr. Eli Vinokur received his BA in Jewish Philosophy and Jewish History (Ofakim Honors program) and his MA in Jewish Philosophy from Tel Aviv University. After some time as a secondary school teacher of Jewish philosophy and culture, he went on to receive his PhD in education from the University of Haifa.
Dr. Vinokur's research focuses on education toward "rooted cosmopolitanism." Cosmopolitanism is a concept that dates back to ancient Greek civilization, but according to Dr. Vinokur is present in all cultures and religions (his own research traces the roots of cosmopolitanism in Judaism, and in Kabbalah in particular). It is the idea that human beings, regardless of race, religion or nationality, belong to a single community grounded in a shared morality. Education toward rooted cosmopolitanism expands on this ideology by focusing on the viable ways to bridge the gap between the often-sublime ideals of cosmopolitanism and the concrete, real-world aspirations of local education systems. According to Dr. Vinokur, in light of contemporary educational challenges, there is a pressing need to tackle the "otherness" that is so often present in our immediate and remote relationships. Thus, the type of education he hopes to foster is one which "will cultivate care, respect and mutual responsibility for others, inside and beyond national, religious, racial etc., borders…."
A vital component of the "educational cosmopolitanism" Dr. Vinokur envisions is the focus on education, rather than on information. Nowadays, information is so accessible that students can be carriers of knowledge no less than teachers, if properly taught to do so. Thus, educators today need not only be carriers of knowledge who can communicate it to students in new and original ways, but also, and no less importantly they have to become facilitators of positive social processes. The challenge educators face today is generating such an atmosphere in class that will allow students to develop the capability to interact with one another and to form deep and meaningful relationships inside and outside of class, despite and without annulling disagreements and differences. The cultivation of such a civic virtue is made more difficult by current financial, cultural, political and inter-religious trends that place value on opinions that are not necessarily wholesome or beneficial to society. These trends, Dr. Vinokur proposes, jeopardize the future of society because they condition people to treat themselves and others in ways contrary to the spirit of cosmopolitanism—the spirit of global collaboration.
Even so, rooted in Dr. Vinokur's research is a message of hope and perseverance. Although today's situation may be difficult, he believes it is also rife with opportunity simply because people inherently understand that things are wrong and they want things to change for the better. Moreover, today's interconnected and interdependent reality is practically forcing us to recalculate our direction and choose a path of greater cooperation and unity. This change begins with instilling a stronger sense of solidarity, locally and globally, in everyone—not only children. It is for this very reason that he chose to complete his visiting term at Teachers College, an institution he believes is at the forefront of this transformation.
In addition to being a prolific researcher, Dr. Vinokur is also the director of the teacher preparation program for future repatriates to Israel from Russian speaking countries at the Gordon College of Education in conjunction with the Masa Israel program at the Jewish agency. Additionally, four years ago he co-initiated a unique bachelor's and master's program for social leaders at the University of Haifa. A longtime dream of Dr. Vinokur's, this social leaders preparation program works with teenage and adult social activists to cultivate the philosophical and practical tools they need to rekindle and foster in their communities a vision of unity and mutual care between all members of Israeli society. Dr. Vinokur is the author of two popular books and numerous articles. He is the recipient of fellowships and awards from the Wolf Foundation, the Mandel Foundation and both Tel Aviv University and the University of Haifa to name a few. He is currently a teaching fellow at the University of Haifa, the Max Stern Yezreel Valley College and the Israel Academic College in Ramat Gan as well as a member of the research group on Spirituality in Education at the Van Leer Jerusalem Institute.
He can be reached at eliv@edu.haifa.ac.il
By: Blessing Nuga