Faculty
Skip to content
Skip to main navigation
Printer-friendly Version
Faculty
Dr. Ruth Vinz, Morse Professor Teacher Education
Dr. Roberta Lenger Kang, Center Director
Center for Professional Education of Teachers (CPET)
In 2002, Professor Ruth Vinz founded the Center for Professional Education of Teachers (CPET) to provide professional educational opportunities for teachers that deepen their understandings of strategic curriculum design, extend their knowledge of responsive pedagogies and assessments for diverse populations, and consider contextual factors that inform how they navigate educational systems and school structures.
CPET's activities in international education, however, began more informally. When the Center's doctoral students began researching how schools across the world were educating their students to participate in a more global world, the Center began an international initiative that resulted in a three-year research program that focused on a select number of schools in each of six countries—Australia, Canada, Singapore, China, Finland, and the USA. The initiative called for CPET to research what, how and why educators in each of these schools, were developing curricula, assessments, and pedagogy that would encourage teachers and students toward awareness of their roles as "global citizens with global intentions." Instead of conducting what Professor Vinz refers to as remote "data raids," CPET teams visited each of the schools for an extended period of time with the intent of trying to understand the challenges, opportunities, and desired outcomes of each school firsthand. The Center eventually brought all of the research sites together to form the Global Learning Alliance (GLA). The GLA meets every other year and brings together 40-60 delegates from those schools and their partner institutions. Many of the GLA's projects call for collaboration across international sites. These class-to-class projects are intended to foster communication and collaboration on an institutional as well as a global level. In a recent project, for example, GLA/CPET brought together high school students from Scarsdale, New York, Hwa Chong Institution in Singapore, and the Normal Lyceum of Helsinki to examine health and well-being issues that cross-country teams deemed important for study. The students came together to present their research and action plans at the GLA Summit in Helsinki in August of 2018.
As the international professional education projects have continued to expand, CPET began developing a guiding philosophy to address the unique challenges and contexts of working with diverse education systems abroad. Two core tenets of the CPET philosophy continue to be refined in practice: (1) articulate with individual school communities a plan for developing global education priorities in content, pedagogy, and action; and (2) promote professional education for teachers and school leaders that enhances their understanding of ways to nurture theirs and their students' global capacities to take action in the world in critical, creative, and caring ways. In its global consultation work during the past eight years, CPET encounters educational organizations that attempt to implement traditional, standardized Western frameworks with little regard for compatibility with the local school situation or culture. Dr. Kang cautions that these types of "one-size-fits-all" approaches, as research and practice have demonstrated, ignore the importance of taking the time to facilitate shared understanding and collaborative goal-setting developed with a shared vision. With this in mind, CPET consultants facilitate discussions and embed themselves for extended time within a school in order to develop relationships, articulate action plans to support the shared work, and understand institutional goals.
Much of CPET's international work involves partnerships with schools that range from rural to urban, small to more comprehensive, public and private. At the moment, CPET is also working with a network of schools across China– namely, Beijing, Shanghai, Guangzhou, Tianjin, the Inner Mongolia Autonomous Region of China—and has plans to expand to Chengdu as well.
Vinz reflects on the diversity of experiences that "offer opportunities to rethink, refine, and better understand the nuances and needs that call on us as a CPET team to develop our own core capacities—creative-thinking skills, self-inquiry, and empathy-building." Professor Vinz and Dr. Kang acknowledge that teachers do not always have the power to change their current situations efficiently or effectively, but they believe that by investing in professional education, schools and their teachers can, at least, lay the foundations for future changes. Although every project is different, Vinz and Kang believe their partners have one thing in common. "Partner schools demonstrate a deep desire to learn and grow and that desire continues to motivate the CPET team to learn and understand and grow along with our international partners". Kang suggests.
How can students at TC get involved in the Center's international activity? Many of the Center's team members are current TC students. CPET offers fellowships for former classroom teachers interested in extending their experiences and developing their expertise in professional education and for doctoral students with a variety of international education experiences both in schools and alternative settings. In addition, CPET operates the New Teacher Network (NTN), which TC students who obtain initial certification are welcome to join after graduation. The Network seeks to curb rising attrition rates among new teachers by supporting them with essential professional educational services, through the Center for their first three years of teaching.
Professor Vinz approaches her work with a nod to Paulo Freire's often quoted idea that "we make the road by walking." Vinz takes up this idea by suggesting that we make the road by "walking many roads with others." She elaborates, "All of our experiences with our international partners have caused me to continuously question, to doubt, and to charge my own learning with discussion and debate in conversation with others' points of view and experiences. Maybe we make the road with others by walking and waking toward the forever new." Along those lines, Dr. Kang urges students to get involved with groups working on common goals: "You're only at TC for a short time and the 'world work' can be lonely after graduation. When we engage in an ongoing community of practice, we challenge ourselves to keep learning."
By: Paulo Ribeiro & Blessing Nuga
Edited by: Sarah Lamade
---
Dr. John Allegrante, Professor of Health Education
Dr. Ulrich Hoinkes, Kiel University | TC Visiting Scholar
Department of Health and Behavior Studies
In February 2018, Teachers College (TC), working in collaboration with the Council for European Studies (CES) and the Alliance Program at Columbia University, hosted a workshop on the Anxiety Culture Research Project on the campus of Columbia University. Prominent faculty members from TC, Columbia, Eucor – the European Campus – and the Columbia Alliance Program, a joint academic venture between Columbia University and three major French institutions – Ecole Polytechnique,
Sciences Po, and Pantheon-Sorbonne University – participated in the event. Its purpose? To bring together a broad range of scholars and scientists to discuss the Anxiety Culture Project that is being developed by Dr. John Allegrante (pictured right), TC's senior Professor of Health Education, and Dr. Ulrich Hoinkes (pictured left), University Professor of Romance Languages at Kiel University, Germany, and a TC Visiting Scholar.
The Columbia workshop, which was led by Allegrante and Hoinkes, was the latest in a series of interdiscipliniary seminars that the two scholars have been convening over the last two years that have brought leading academic experts from North America, Iceland, and Europe together to develop an anxiety culture perspective, or more specifically, a new "middle-range" theory and associated concepts for understanding and coping with the world's seemingly intractable problems or crises. The project was first conceived in 2015 as an outcome of a "come-into-touch" conference that brought TC colleagues – Allegrante, Timothy Iganffo, Patricia Martinez-Alvarez, Sandra Okita, Ann Rivit, and Lalitha Vasuvedan – into a collaboration with Kiel University School of Humanities and the German Leibniz Institute for Science and Mathematics Education (IPN). Since then, TC, Kiel University and IPN have entered into an agreement and the Project has expanded its connections across Europe through a collaborative agreement with Eucor, a consortium of five universities in the Upper Rhine – the Universities of Basel, Freiburg, Haute-Alsace and Strasbourg, as well as the Karlsruhe Institute of Technology – and three Icelandic universities – Reykjavik University, the University of Iceland, and the University Centre of the Westfjords. A conference that was sponsored and supported by the Hamburg Foundation, which was convened in Lubeck, Germany, in June 2017, further advanced the project, and a major meeting at which an organized program of research across 4 clusters – climate change and environment; population health; migration, language and culture; and the future of work and society – will be discussed is being planned for the spring of 2019.
So what exactly is anxiety culture? There is no easy answer to this question, but Allegrante and Hoinkes hope to at least define it so that conversations leading to new research and scholarship can begin. After meeting at a conference in 2015, they discovered a common interest in the concept of perceived threats and dangers to society. "We know a lot about this term 'anxiety' at the individual [level], and, I would argue, [the] clinical level. What we, in effect, are trying to argue is that anxiety can exist [on] a cultural and social level," Allegrante explains. After some investigation outside of their disciplines—health and linguistics, respectively—Allegrante and Hoinkes believe that the source of public fear is rooted in "crises," such as, migration, diasporas, climate change, or even the evolution of technology. Technology, in particular, proves to be a great source of fear, as many workers worry about losing their jobs as society continues to become more electronically and digitally inclined. However, they also recognize that referring to threats or problems as "crises" may, ironically enough, provoke the very same anxiety they seek to mitigate. Anxiety culture comes about when looming threats—substantiated or not—begin to permeate everyday living and from there, contribute to an undercurrent of fear in individuals, communities and ultimately the culture as a whole.
"There's nothing stable in this world," Hoinkes says, echoing his colleague's sentiments. Citing theories of a world in metamorphosis and the idea of a "liquid modernity" from the likes of sociologists, Ulrich Beck and Zygmunt Bauman, he elaborates, "If you don't have a stable position, you get uncertain, and become full of anxiety." One need only look to the recent U.S. presidential election to begin to grasp the weight of this kind of worry and its repercussions on a group of people. "You have large numbers of people who have felt disenfranchised, have felt left behind, are coping with the severe consequences of pain and the opioid epidemic, the loss of jobs, increasing automation, increasing technological development. This in some ways I think is almost metaphoric for what it is we're trying to talk about."
That being said, anxiety culture is not unique to the United States. A global phenomenon, anxieties about technological evolution, migration and job stability present not only in metropolitan centers but also in rural areas struggling to adapt to a constantly changing world. This reason alone makes it a critical field of study. For more on the Anxiety Culture Project, check out the special feature issue of EuropeNow, the online global journal of research and art. Included are essays by TC and Columbia faculty and graduates, including Allegrante, Hoinkes and TC doctoral alumnus Michael Shapira ("Anxiety Culture: The New Global State of Human Affairs?"); Barbara Roviro and Patricia Martinez-Alvarez ("Do Our Concepts of Bilingual Education Match the Anxieties of Migrants?"); TC doctoral alumna Beatrice Bridglall ("Toward a Strengths-Based Approach to Mitigating our Anxiety Culture"); and Columbia doctoral alumna Lila Yu ("The Irresolvable Political Brain: Our Neuropolitical Limitations in Hyperdiverse and Uncertain Societies").
By: Tanwaporn Watanaporn & Blessing Nuga
---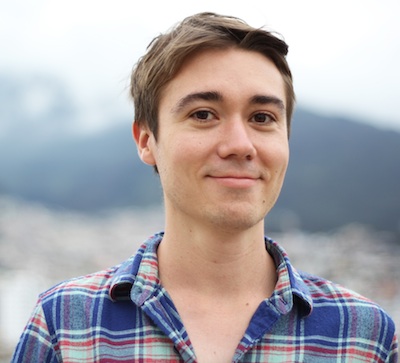 Professor Nicholas Limerick
Assistant Professor of Anthropology and Education, Department of International and Transcultural Studies
‌‌A linguistic anthropologist by trade, Dr. Limerick's research focuses on how traditionally marginalized peoples work within state-forms of schooling, and how institutions affect how people communicate and engage in language revitalization. Specifically, his work primarily centers on grassroots Kichwa revitalization in Ecuador, indigenous social movements, and the establishment of the Intercultural Bilingual Education System nationwide. Smaller in size and running parallel to the mainstream education system in Ecuador, the school system was founded through indigenous organizing and is primarily run by and for indigenous peoples, providing indigenous education.
Also of interest to Dr. Limerick is the way teachers and schools work with different varieties of Kichwa, and how those stakeholders navigate the modernization of a language that does not necessarily have components to create words for things like "computer" or "hoverboard." "More and more indigenous peoples live in cities and yet speak very different versions of what we consider to be the same language," Dr. Limerick explained. This variation becomes an issue for teachers, as they are tasked with making sure that every student in the classroom feels their language variety is included and valorized, while also creating a language standard that easily lends itself to teacher preparation regardless of access to teaching materials. A daunting challenge, Dr. Limerick's work is focused on supporting Kichwa teachers who are searching for answers to this paradox.
A teaching stint in Ecuador straight out of college sparked Dr. Limerick's original interest in indigenous education movements. The experience prompted him to live there for another six years, forming working relationships with indigenous education activists. He is now writing an ethnography of the experience of working in various national offices for the Intercultural Bilingual Education System as an indigenous person. Ecuador, like many other countries with a large indigenous population, has a long and difficult history of relations with these peoples. Dr. Limerick's work examines what kind of tensions and difficulties emerge when the government or the nation-state you are working for has spent centuries trying to eradicate or assimilate you and your people. The tension lies in the unique context Indigenous Ecuadorians face. On one hand, while it is incredible that they were able to surpass all of the hurdles in the creation of the Intercultural Bilingual Education System, indigenous languages and peoples sometimes end up fitting into an existing structure, one created and determined by the government.
Not surprisingly, there is still much work to do. In looking towards the future, Dr. Limerick advised individuals who plan to become involved in international work to first establish a long-term, collaborative relationship, "It's important not to come-and-go, but instead to put down roots and be involved in an ongoing dialogue, much of which is shaped by the interests of those in other parts of the world."
By: Tanwaporn Watanaporn
Editor: Blessing Nuga
---
Catherine Crowley, J.D., Ph.D., is a Professor of Practice in the Communication Sciences and Disorders Program, Director of the Bilingual SLP Extension Institute, Coordinator of the Bilingual/Multicultural Program Focus, and Director of the Ghana and Bolivia programs at Teachers College. Since 2006, Dr. Crowley has led 23 service trips to Bolivia, Colombia, Ecuador, Ethiopia, Ghana, Peru, and the Philippines, where she and the students of Speech-Language Pathology (SLP) at Teachers College provide free services to people with communication disorders. As evidenced by her passion for service-oriented fieldwork learning as well as her students' enthusiastic participation, she takes the title—Professor of Practice—especially to heart.
Dr. Crowley's work with Teachers College began in 1998. Thanks to her unwavering dedication, her work with the SLP graduate students is known both nationally and internationally for its multicultural and bilingual focus in both clinical and research settings. Not only that, the work is an opportunity for students to acquire practical, high quality clinical skills and cultural competencies. Using her expertise in disability evaluations, Dr. Crowley addresses the disproportionate number of U.S. students referred to special education due to a lack of understanding of dialectical differences. Dr. Crowley believes that the key to these culturally responsive evaluations—and ultimately treatment and progress—is an evaluator's ability to distinguish between the gaps in communication and disability. Her students acquire these skills as they provide services and work with families, teachers, and medical professionals on these international trips.
Now, more than half of the students in the master's program—over 30 students a year—participate in Dr. Crowley's service trips, many of which take place in international communities in dire need of fundamental services. Take Ghana for example: with a population of 26 million people, Ghana is home to only five speech therapists. In collaboration with her colleagues at the University of Ghana, Dr. Crowley developed the country's first SLP master's program. The inaugural cohort began in 2016, and the first class of 13 graduates in Spring 2018.
In working with these global communities, Dr. Crowley aims to build capacity and sustainability within local experts so that communities can begin to address their needs for speech therapists and in this way, become more self-sufficient. One example is the annual professional development retreat in Ghana for teachers of students with intellectual disabilities and autism given each year for the past seven years. Dr. Crowley also has a focus on cleft palate speech therapy, and has led cleft palate speech therapy trainings in Asia, Africa, and Latin America often including her students in the trainings, as well as offering free, online cleft palate speech therapy courses in Spanish and English. It was through this aim that the Law and Evidence-based Approaches for Disability Evaluation and Resources (LEADERS) Project was born. Since its inception, LEADERS has offered an open-sourced library in a variety of languages of resources, training materials, and courses for practitioners, educators, and families of children and adolescents with communication disorders.
Looking ahead, Dr. Crowley's international involvement continues to increase. In January 2018, she plans to take another group of students to Ghana. This time, she will remain there for part of the semester to conduct research and teach in the master's program there. From there, Dr. Crowley will head to Paris for a language immersion program so that she can expand her work to French-speaking countries in Africa. Afterwards, she plans to continue her work with Smile Train with a five-day speech therapy training institute for cleft palate across India, Africa, and Southeast Asia.
By: Melanie Cooke
Editors: Heidi Liu Banerjee & Blessing Nuga
---
Dr. Mary Mendenhall isn't simply an Assistant Professor of Practice in the Department of International and Transcultural Studies, a committed researcher, or a
loving mother; she's also a pioneer. With a team of dedicated graduate students and the support of IDEO.org, the UN Refugee Agency (UNHCR), and the Office of International Affairs' (OIA) Global Investment Fund (GIF) grant, Dr. Mendenhall spearheaded the pilot launch of "Teachers for Teachers"—a professional development initiative that combines teacher training, peer coaching, and mobile mentoring in Kakuma Refugee Camp, Kenya. Founded in 2015, Teachers for Teachers jumpstarts and sustains teacher professional development for refugee and national teachers providing education to refugees in Kenya.
In one of the largest refugee camps in the world—where 51% (90,673) of the population is under 18—only 31% of teachers have received any kind of training. The average teacher-to-student ratio is 1:103. The reality of such numbers led Dr. Mendenhall and her team to develop Teachers for Teachers. A comprehensive, open-source curriculum, Teachers for Teachers employs a three-pronged approach: (1) internationally and locally co-led training workshops for teachers; (2) in-person peer coaching and group support; and (3) mobile mentoring, through which teachers communicate with experienced teachers or passionate educators around the world using the mobile messaging device, Whatsapp. Dr. Mendenhall and her team aim to fill gaps in education for refugees in Kakuma Camp, Kenya and across the globe; they strive to make the model sustainable and dynamic as the program trains locals to become leaders in the camp's education system: "What's been amazing is that now that we have 132 teachers trained in this first round, we can draw on those same teachers to return to support future training and coaching activities. They are able to say in their own words what worked for them and what didn't work. It just changes the dynamic and is far more effective when they're right there co-leading with us."
Dr. Mendenhall is quick to underscore the involvement of her students. Not only did they initiate the ambitious project, they are also indispensable in sustaining it. "A couple years ago, we started that process. It was a long process, but students who had taken my "Education Emergencies" class1 were really motivated, really committed, and coincidentally many of them were teachers themselves. We continued working together and we wrote—they wrote, heavily—the curriculum that's now become the training pack for primary school teachers in crisis contexts." With the GIF grant, Dr. Mendenhall and two Master's students—Charlotte Bergin and Peter Bjorklund—spent several weeks in Kakuma to collect data for the pilot launch. Charlotte went on to be hired as a consultant analyzing the pilot data and drafting the final curriculum, which was developed in collaboration with the inter-agency Teachers in Crisis Contexts Working Group. Another student on the team, Kathleen Denny, joined the International Rescue Committee (IRC) to pilot the project in Iraq.
To the outside eye, the pilot of Teachers for Teachers couldn't have been more successful. Even so, bolstered by this initial success, Dr. Mendenhall and her students eagerly anticipate further growth. Since its inception in Kakuma, the open-sourced curriculum has been adapted by additional organizations to fit the contexts and profiles of teachers in other refugee communities, including those in Iraq and Burundi. Teachers for Teachers is also in the process of adapting the model for use at the secondary level and in a nearby settlement—Kalobeyei—as part of a UN-led initiative to integrate refugees with national Kenyans. However, it's not just the growing numbers and growing interest that keeps Dr. Mendenhall and her research team motivated, "…It's the resilience the teachers have, despite having 200 kids in their classroom and not enough books. It's that they're still eager to be teachers because they know that education is what it will take to get out of that camp someday, and to have other opportunities. They just kind of blow me away. They're so grateful for us, and yet they have no idea that what they're giving us is so much more than what we could ever give them."
Teachers for Teachers is currently fundraising to update the curriculum and expand its reach. If you would like to help, you can get in touch with them here.
By: Melanie Cooke
Editor: Blessing Nuga
---
1 This group of amazing students included: Katherine Baker, Christine Bell, Charlotte Bergin, Peter Bjorklund, Rachel Chasse, Holly Cook, Kaitlyn Crandall, Kathleen Denny, Julie Dunn, Huipu Lee, Sheila Matsuda, Laura Wagner, and Brittney Wilcox