Friday, Apr. 5, 2019
On March 29th and 30th, 2019, over 70 students across Teachers College and Columbia University participated in the second TC EdTech Innovation Award (INA) Hackathon at Teachers College -- an intensive, 48 hour design sprint with the theme: "Play as a Pathway for All to Flourish in STEAM." Addressing the challenge of the lack of diversity and inclusion in science, technology, engineering, arts and math fields, sixteen teams of students conceived and developed research-based playful solutions to address this challenge, including games, apps, chat-bots, toys, tools and others.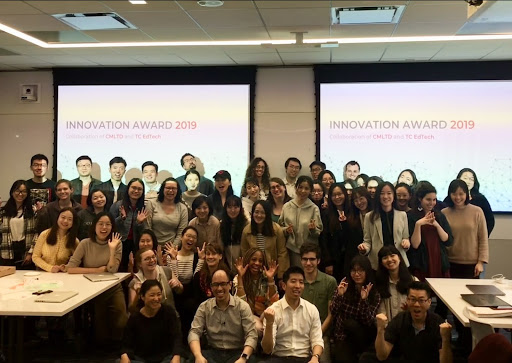 The INA Steering Committee consists of Drs. Yoo Kyung Chang, Jin Kuwata, and Joey J. Lee, Lecturers in the Communication, Media and Learning Technologies Design (CMLTD) Program. The team prepared and facilitated workshops on design thinking, including empathy and understanding users, problem definition, ideation, prototyping, testing, and communicating ideas.
Through the design process, students challenged their understandings of the complex problems they addressed. Daniel Ahn, M.A. student in Design and Development of Digital Games and team member of VR Dancer reports, "The focus on human-centered design is tremendously valuable in making sure we don't succumb to our own biases and to expand our insights and understanding of the problem space." Other groups gained insights into their own process and growth. Qin Ye, M.A. student in Instructional Technology and Media and team member of EcoStoryteller recounts, "[I was] a little less embarrassed about asking questions, I was able to get valuable feedback and suggestions from the faculty members at CMLTD and my peers."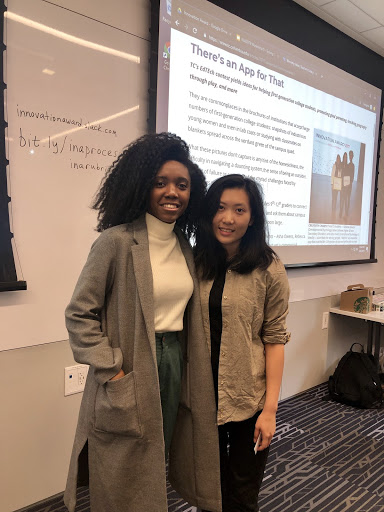 Along with faculty feedback and support, students were paid a special visit by last year's INA winners — Asha Owens and Rebecca Kwee, who shared their INA experiences and social entrepreneurship journey working on BestFit, a college matching app for first-generation students. Since the inception of the project through INA, BestFit (https://best-fit.app/) has received multiple honors and $100,000 in funding from the NYU Social Entrepreneurship's Algorithm for Change Program, sponsored by the Bill & Melinda Gates Foundation.
By providing students with opportunities bridge interdisciplinary knowledge with practical skills, and fostering a community of support, INA hopes to inspire future success stories in the field of learning and technology.
"The INA gave us a great opportunity to practice our creative design skills. We had the opportunity to experience what it is like to collaborate within and between design teams, and I'm confident that this will help us design great products in our professional careers."
- Paulo Ribeiro, M.A.
(Design and Development of Digital Games)
As long as there are problems in education and learning, "the design process is never done."
- Laura Bloch, M.A. candidate
(Instructional Technology and Media and Team LM )
Upon submission of their final prototypes, demo videos and a write-up of their project as part of the 2019 INA competition, selected teams will present their design solutions in an interactive project showcase in the Smith Learning Theatre on Saturday, April 13 (1:00pm - 4:15 pm) as part of the TC Academic Festival and MST STEAMnasium events. Three finalist teams will compete in a Shark Tank-style pitch competition in front of a panel of judges, including TC President Thomas Bailey, Dr. Christopher Emdin, Associate Professor of Science Education, Dr. Azi Jamalian, Co-Founder of Tiggly and the Giant Room, and Explain Dr. Reshan Richards, CEO of Explain Everything. All are encouraged to attend!
This program was made possible thanks to the support of MST Department Chair Dr. Erica Walker, CMLTD Program Director Dr. Sandra Okita, TC EdTech, TC Alumni Director Rosella Garcia, and initial seed funding from the Office of Digital Learning.