Rosenbaum, Ruth T. (rtr2117)
Skip to content
Skip to main navigation
Printer-friendly Version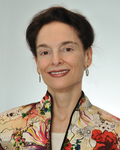 Rosenbaum, Ruth
Adjunct Assistant Professor of Psychology and Education
Counseling & Clinical Psychology
212-678-3267
Educational Background
Ruth H. Livingston, Ph.D. received her Ph.D. at Columbia University and holds a certificate in psychoanalysis from the William Alanson White Institute, as well as a certificate in Bioethics and Medical Humanities from the Albert Einstein College of Medicine and Yeshiva University. She maintains a private practice with a specialty in treating the medically ill in interpersonal/relational psychotherapy and psychoanalysis. Dr. Livingston is also a clinical supervisor at Columbia University Teachers College, the City University of New York, and the William Alanson White Institute.
Scholarly Interests
In addition to her private practice, Dr. Livingston is a newly appointed Editor-in-Chief of Contemporary Psychoanalysis, and Founder and Director of LIVING WITH MEDICAL CONDITIONS, a study group and referral service affiliated with the White Institute. She has been published in professional journals: Contemporary Psychoanalysis, Religion and Health, and Psychotherapy, as well as in the popular press: The New York Times, Psychology Today/Psychoanalysis 3.0 blog, and Psych Matters, the blog of the New York State Psychological Association. Dr. Livingston writes and lectures on the subject of psychoanalytic treatment for those with acute and chronic medical conditions.
Selected Publications
"Courting Maxwell's demon: Filter-shifts and transformation in psychotherapy" in
Filters and Reflections: Perpsectives on Reality
(2009); "Exploring the
other
dark continent: Parallels between psi phenomena and the process of change in psychotherapy" in
The Psychoanalytic Review
,(Feb. 2011),and a chapter on the common ground of spiritual space, psychoanalysis, and psi phenomena in an upcoming (2011) Oxford University Press volume—
The Oxford Handbook of the Psychology of Spirituality
.
Her professional affiliations include NAAP (National Association for the Advancement of Psychoanalysis), ICRL (International Consciousness Research Laboratory), SSE (Society for Scientific Exploration), and ISPS (International Society for the Psychological Treatment of the Schizophrenias and Other Psychoses).
Courses
Related Articles