The Department of Arts & Humanities believes intellectual and creative ideas and practices extend beyond traditional schooling concerns. Its nine academic programs share a focus on learners' knowledge construction, the art and methods of teaching, the contemporary classroom, schools' relationships with communities and school reform philosophies. Among the department's accomplishments this past year:
Tribute Scholarships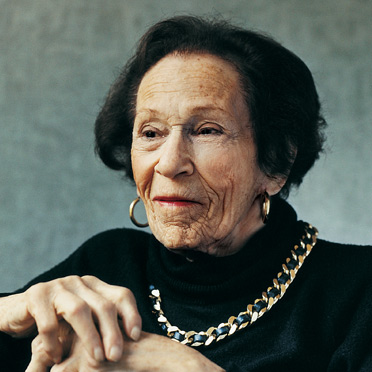 Randall E. Allsup published Remixing the Classroom: Toward an Open Philosophy of Music Education (Indiana University Press), a philosophical mash-up of alternatives to the traditional master-apprentice teaching model that has characterized music education. Allsup also accepted a dual appointment with China's Arts College of Xiamen University, where he led an inaugural summer workshop, funded by TC Trustee Edith Shih, aimed at fostering greater creativity among music conservatory students.
Christine Baron authored "Using Embedded Visual Coding to Support Contextualization of Historical Texts," in American Educational Research Journal.
Students in TC's Art & Art Education program, directed by Judith Burton, teamed up with working artists through a nonprofit organization, ProjectArt, to teach art in under-funded public libraries in New York City. Burton and Richard Jochum also appeared on a PBS MetroFocus television segment devoted to TC's new Creative Technologies Concentration and Advanced Certificate Program in Creative Technologies.
[Also read: A Portrait of the Artist in the Digital Age: a New TC Program Grapples with the Nature of Creativity in the 21st Century]
Lori A. Custodero edited a special issue of Teachers College Record on creativity, imagination and innovation. The issue included her prelude, "Ubiquitous Creativity, Imagination in Dialogue, and Innovative Practice-in-Action."
Ansley T. Erickson authored Making the Unequal Metropolis: School Desegregation and Its Limits (University of Chicago Press) and was named to receive the 2016 History of Education Society Prize for the best article in the field published during the past two years.
William Gaudelli authored Global Citizenship Education: Everyday Transcendence (Routledge), addressing the intersection of globalization, education and programmatic efforts to prepare young people to live in a more interdependent, complex and fragile world.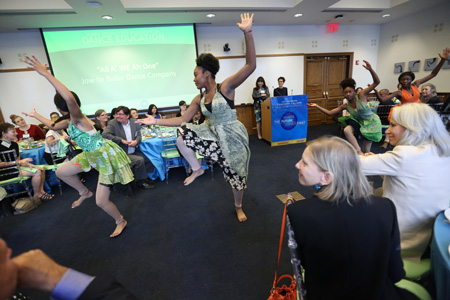 Mary Hafeli was appointed to a two-year term as Chair of the National Art Education Association Research Commission. Hafeli has also chaired a faculty committee that is shaping TC's new doctoral program in dance education.
ZhaoHong Han, with TC alumna Monika Ekiert, co-authored "L1-Fraught Difficulty: The Case of L2 Acquisition of English Articles by Slavic Speakers," in Crosslinguistic Influence in Second Language Acquisition (Multilingual Matters).
Richard Jochum gave the keynote address at the conference of the Korean Society for Education through Art. Jochum was awarded a Creative Residency in Emerging Technology with the Technology, Engineering, Art and Music (T.E.A.M.) Lab at HarvestWorks.
Jennifer Lena authored "Genre: Relational Approaches to the Sociology of Music" in the Routledge International Handbook of the Sociology of Art and Culture (Routledge).
TC's program in Bilingual/Bicultural Education introduced a new Master of Arts in Bilingual Special Education Studies (BiSPED), which leads to triple certification in initial childhood education, bilingual education and special education. The program, led by Patricia Martinez-Álvarez, Assistant Professor of Bilingual Education, is funded by the New York City Department of Education, which serves some 35,000 English language learners who are in need of some form of special education.
Carmen Martínez-Roldán, co-author of Visual Journeys through Wordless Narratives: An International Inquiry with Immigrant Children and The Arrival (Bloomsbury), received the 65th Annual Conference of Literacy Research Association Edward B. Fry Book Award. Martínez-Roldán was also elected to the Board of the Literacy Research Association for 2016-2019.
Janet Miller was a roundtable speaker at the European Conference on Curriculum Studies, discussing "Curriculum Communities without Consensus: Disunities of Collaboration." Miller also authored "Maxine's Voice and Unfinished Conversations," in Educational Studies.
James Purpura authored "Second and Foreign Language Assessment," in The Modern Language Journal, and co-authored "A Lifetime of Language Testing: An Interview with Adrian (Buzz) Palmer" (Language Assessment Quarterly) and "Learning-Oriented Assessment in Second and Foreign Classrooms," in Handbook of Second Language Assessment (De Gruyter, Inc.).
Sandra Schmidt received the College & University Faculty Assembly Scholar Award, as well as the Early Career Award of the National Council for the Social Studies-College and University Faculty Assembly.
Yolanda Sealey-Ruiz received the AERA Division K Mid-Career Award. Sealey-Ruiz, along with postdoctoral fellow Jamila Lyiscott and Patrick Gladston Williamson (M.A. '16), appeared in 2 Fists Up, Spike Lee's 58-minute documentary on student protests at the University of Missouri.
Ruth Vinz received a $1.287 million grant from the New York City Department of Education for TC's Center for the Professional Education of Teachers, which she directs.
Hansun Waring authored Theorizing Pedagogical Interaction: Insights from Conversation Analysis (Routledge) and "Responding Artfully to Student-Initiated Departures in the Adult ESL Classroom" (Linguistics and Education). Waring was appointed to the editorial board of Linguistics and Education for a three-year term.