Through its four degree programs, the Department of Counseling & Clinical Psychology prepares students to investigate and address the psychological needs of individuals, families, groups, organizations, institutions and communities, with a growing emphasis on multicultural competencies. Graduates seek positions in teaching, research, policy, administration, psychotherapy and counseling. Among the department's accomplishments this past year:
Tribute Scholarships
Aurélie Athan is the principal investigator for a $160,000 gift from alumna Mary Edlow to TC's Sexuality, Women & Gender Project to establish a new program in Teen Sexual/Reproductive Literacy. Melanie Brewster and Riddhi Sandil are co-principal investigators. Athan co-authored "Maternal Psychology: Reflections on the 20th Anniversary of Deconstructing Developmental Psychology," in Feminisim & Psychology, and "Spiritual Beliefs of Mothers With Potentially Distressing Pregnancies," in Spirtuality in Clinical Practice. She also became Clinical Training Director of TC's Spirituality Mind Body Institute and Wellness Center.
George Bonanno co-authored "When to Throw the Switch: The Adaptiveness of Modifying Emotion Regulation Strategies Based on Affective and Physiological Feedback," in Emotion; "Measuring Ability to Enhance and Suppress Emotional Expression: The Flexible Regulation of Emotional Expression (FREE) Scale," in Psychological Assessment; and "Emotion Regulatory Flexibility Sheds Light on the Elusive Relationship between Repeated Traumatic Exposure and Post-traumatic Stress Disorder Symptoms," in Clinical Psychological Science.
The Teachers College Resilience Center for Veterans and Families, directed by Bonanno, and VA New York Harbor Healthcare System (VANYHHS) created a partnership to assist hundreds of student veterans and their family members within the many institutions at Columbia University.
Melanie Brewster and Riddhi Sandil co-authored, with others, "'Do You Even Lift, Bro?' Objectification, Minority Stress, and Body Image Concerns for Sexual Minority Men," in Psychology of Men & Masculinity. Brewster also co-authored "Footprints in the Sand: Personal, Psychological, and Relational Profiles of Religious, Spiritual, and Atheist LGB Individuals," in Journal of Homosexuality; and "Perceived Experiences of Atheist Discrimination: Instrument Development and Evaluation," in Journal of Counseling Psychology.
Robert T. Carter and students Veronica E. Johnson, Carrie Muchow and Jillian Lyons, along with Erin Forquer of Cornell University, co-authored "Development of Classes of Racism Measures for Frequency and Stress Reactions: Relationships to Race-Based Traumatic Symptoms," in Traumatology.
Christine Cha co-authored several publications on the topic of suicide and self-injury among youth: "Using Implicit and Explicit Measures to Predict Nonsuicidal Self-Injury Among Adolescent Inpatients," in Child & Adolescent Psychiatry; "Examining Potential Iatrogenic Effects of Viewing Suicide and Self-Injury Stimuli" in Psychological Assessment; and "Implicit Cognition about Self-injury Predicts Actual Self-injurious Behavior: Results from a Longitudinal Study of Adolescents," in Journal of Child Psychology and Psychiatry.
Cindy Huang co-authored "Cultural Influences in Mental HealthTreatment," in Current Opinion in Psychology, and "Cultural Issues in Mental Health Treatment" in Advances in Culture and Psychology (Oxford University Press).
Elizabeth Midlarsky co-authored "The Impact of Religious Conflict within Orthodox Jewish Families in Israel," in Mental Health, Religion & Culture; "Prosocial Behavior in Later Life," in Handbook of Prosocial Behavior (Oxford University Press); and "Social Support, Mastery, and Psychological Distress in Black and White Older Adults," in International Journal of Aging & Human Development.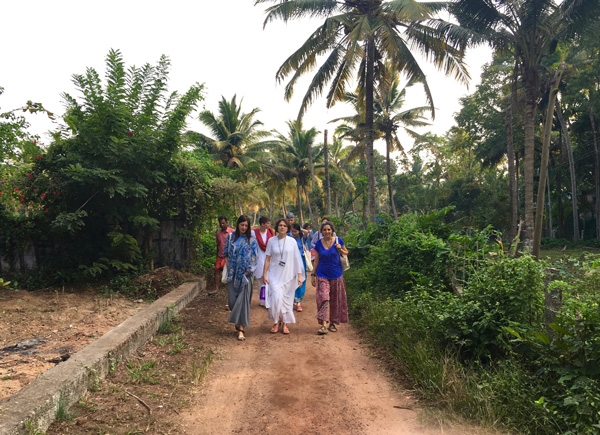 TC's Spirituality Mind Body Institute (SMBI), founded and directed by Lisa Miller, hosted the inaugural Spiritual Child Conference, convening educators who are prioritizing the spiritual development of young people and the spiritual character of schools. The event launched a new National Council on Spirituality and Education (NCSE), to be housed at TC, and included presentation of the inaugural William Leroy Stidger Award for Spiritual Activism to "Dr. Dale" Atkins (M.A. '72), psychologist and media personality. The award's namesake, an evangelist who was an early user of modern media, was the grandfather of TC Board Co-Chair Jack Hyland.
TC's Latina/o Mental Health Concentration, created by Marie Miville and Elizabeth Fraga (the program's coordinator) and the Northern Manhattan Improvement Corporation (NMIC), a community-based organization in the predominantly Latina/o area of Washington Heights that serves 14,000 clients per year, received a five-year $1.2 million grant from Connections to Care, an initiative supported by the New York City Mayor's Fund to treat mental health issues that may prevent people from using the services of CBOs. The grant supports students in the Latina/o Mental Health Concentration Program to provide counseling onsite to clients whom NMIC is helping with employment, high school equivalency degrees, housing and eviction relief, and English for speakers of other languages. The Connections to Care grant also enables TC to train non-psychological staff — both at NMIC and at the College itself — to help colleagues identify mental health problems and seek help.
[Also read: The Last Word in Latina/o Mental Health: TC takes the lead in preparing bilingual counselors to serve the nation's fastest growing population]
Riddhi Sandil was awarded a $100,000 grant from the Jack Kent Cooke Foundation for TC's new online college advisement program, called TC-CAP. Sandil is principal investigator for the grant.
Laura Smith's most recent articles include "Reforming the Minimum Wage: Toward a Psychological Perspective," in American Psychologist; and "'Talking Across Worlds': Classist Microaggressions and Higher Education," in Journal of Poverty. She is a Co-Director of the TC Civic Participation Project (CPP) which advances civic inclusion as a prerequisite for psychological and educational well-being. CCP held its first summer institute, addressing "Youth Well-Being in the Age of Mass Incarceration."
Derald Wing Sue co-authored Multicultural Social Work Practice: A Competency-Based Approach to Diversity and Social Justice (John Wiley & Sons) and "Race Talk and Facilitating Difficult Racial Dialogues," in Counseling Today.
Brandon Velez co-authored "Resilience and Collective Action: Exploring Buffers against Minority Stress for Transgender Individuals," in Psychology of Sexual Orientation and Gender Diversity; "Building a Pantheoretical Model of Dehumanization with Transgender Men: Integrating Objectification and Minority Stress Theories" (Journal of Counseling Psychology); and "Minority Stress and the Moderating Role of Religious Coping Among Religious and Spiritual Sexual Minority Individuals," (Journal of Counseling Psychology).
Lena Verdeli authored "Global Mental Health: An Introduction," in a special issue of Journal of Clinical Psychology on global mental health, and continued her pioneering work as the world leader in applying Group Interpersonal Therapy (IPT) to help displaced populations. Verdeli also co-authored "Novel Implementation Research Designs for Scaling Up Global Mental Health Care: Overcoming Translational Challenges to Address the World's Leading Cause of Disability," in International Journal of Mental Health Systems.