Teachers College is the nation's first and largest graduate school of education, focusing on education, health and psychology. Among the major happenings at the College this past year:
The Middle States Commission on Higher Education emphatically renewed Teachers College's accreditation and affirmed TC's efforts to remain at the forefront of shaping new approaches to teaching and learning in the 21st century. The Commission awarded its highest marks, finding that the College is in full compliance with all review standards and offering no mandated recommendations for improvement. The Commission's evaluation was based on a two-year review process that included a final three-day site visit by a Middle States team and a College self-study overseen by a 22-member internal steering committee of administrators, faculty members, professional staff, students, alumni and a trustee.
The April conference "The Promise of Psychology @TC" showcased the full breadth of the College's work in psychology, with sessions addressing the research of TC faculty on the linking of science and practice, social justice/advocacy, local relevance/global reach, and learning and cognition.
Nearly 1,000 alumni, students, faculty and special guests gathered on campus for Teachers College's eighth annual Academic Festival, "Full STEAM Ahead," which explored the arts as a means to link and revitalize the disciplines of science, technology, engineering and math. Keynote speaker Theodore Wiprud, Vice President of Education at the New York Philharmonic, received TC's President's Medal of Excellence. The College also honored seven distinguished alumni: Randy Bennett (Ed.D. '79), the Norman O. Frederiksen Chair in Assessment Innovation at Educational Testing Service; Olivia Hooker (M.A. '47), a survivor of the infamous Tulsa Race Riots and a prominent advocate for the learning disabled; MaryEllen McGuire (Ph.D. '02), founding President of the Postsecondary National Policy Institute; Lida Orzeck (Ph.D. '72), co-owner of the successful lingerie company Hanky Panky; retirement guru Nancy K. Schlossberg (Ed.D. '61), developer of Transition Theory; Yupha Udomsakdi (M.A. '60), Thailand's first female Minister of Education; and Early Career Award recipient David Johns (M.A. '06), Executive Director of the White House Initiative on Educational Excellence for African Americans.
Twelve members of the extended TC community were honored at the annual meeting of the American Educational Research Association, including eight current faculty members (see the departmental Year in Review pages).
$500,000 gift from Trustee Joyce B. Cowin for national expansion of the Cowin Financial Literacy Program and new online course for 126 Cowin Fellows
Teachers College's Cowin Financial Literacy Program, aimed at making every young person financially knowledgeable, continued its national expansion. The Cowin Program is unique among the nation's numerous financial literacy programs both in focusing on teachers' professional development and using emplying case studies drawn from real life. The program's materials are now in use by teachers in 48 states, and beginning in February 2017, thanks to the generous support of the program's founder, TC Trustee Joyce B. Cowin, 126 Cowin Fellows are being funded to take the Cowin course completely online and free of charge. In April, the Cowin Program also presented its inaugural Joyce Berger Cowin Champions Award for Financial Literacy Advocacy, Education and Leadership (named for the Project's benefactor) to former New York Giants football great Justin Tuck and his wife, Lauran, founders of Tuck's R.U.S.H. for Literacy.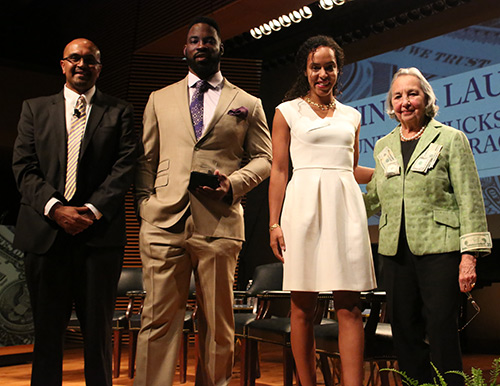 Jack Hyland, Co-Chair of TC's Board of Trustees, received the College's Cleveland E. Dodge Medal for Distinguished Service to Education. Hyland's 29-year service on the Board spans two presidents and two record-setting campaigns.
Social justice was the theme at TC's 2016 Convocation, as President Susan Fuhrman reminded the more than 2,000 graduating master's and doctoral students that "For all the progress and landmark achievements we have made, America in 2016 is still confronted by the stubborn persistence of racism and growing inequities in education, health and economic opportunity." Four guest speakers received the College's Medal for Distinguished Service: Sandra Jackson-Dumont, the Frederick P. & Sandra P. Rose Chairman of Education at New York City's Metropolitan Museum of Art; Thomas Frieden, Director of the U.S. Centers for Disease Control and Prevention; Kris D. Gutiérrez, Professor of Language, Literacy & Culture at the University of California, Berkeley, Graduate School of Education; and Susan T. Fiske, Eugene Higgins Professor of Psychology and Public Affairs at Princeton University. The student speakers were Ayesha Rabadi, who was receiving her master's degree in Early Childhood Education (Dual Certification); Katherine Cho, who was receiving her master's degree in Sociology & Education; and David Taliaferro, a tactical officer from the U.S. Merchant Marine Academy and veteran of the wars in Iraq and Afghanistan, who was receiving a master's degree from TC's Executive Master's Program in Change Leadership.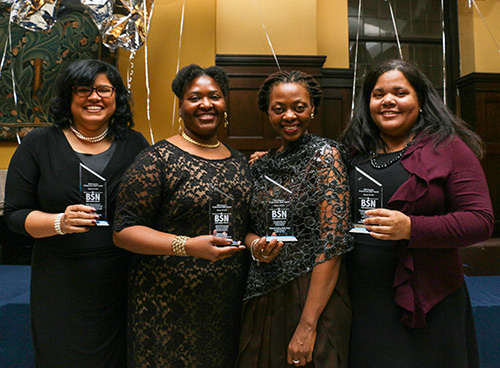 Four black female TC professors who received promotions were honored at TC's annual Black Student Network Gala: Michelle Knight-Manuel, Professor of Education and Special Adviser to TC's Provost; Felicia Mensah, Professor of Science & Education; Erica Walker, Professor of Mathematics & Education; and Yolanda Sealey-Ruiz, Associate Professor of English Education.
Teachers College mourned former faculty member Robert L. Crain, a sociologist who demonstrated the positive impacts of school and neighborhood desegregation; Patricia Cranton, a longtime Adjunct Professor in TC's program in Adult Learning & Leadership; Professor Emerita Antoinette Gentile, a leader in movement sciences and neuromotor research; Susan Gordon, wife of Teachers College Professor Emeritus Edmund Gordon and pediatrics professor at Columbia University's College of Physicians & Surgeons; and Warren E. Yasso, former Chairman of what was then TC's Department of Mathematics & Science Education.