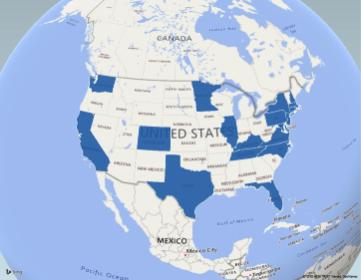 The Institute drew people from different areas of the continental U.S., representing 23 different US states. We also had participants from Finland, Brazil, Egypt and South Korea.
Out of 202 of the Institute attendees surveyed, 34.16% were teachers, 11.88% were principals/assistant principals, and 14.36% were graduate students.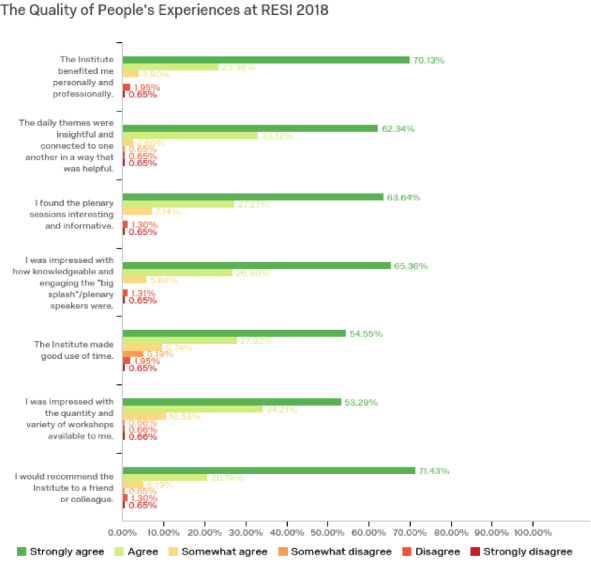 Over 97 percent agreed that the Institute content was both beneficial to them personally and professionally and would be helpful to people in their school or district. Another 98 percent agreed that the themes of the Institute were insightful and connected in a helpful way. Around 97 percent would recommend this Institute to a friend or colleague. Around 97 percent were satisfied with the Institute overall.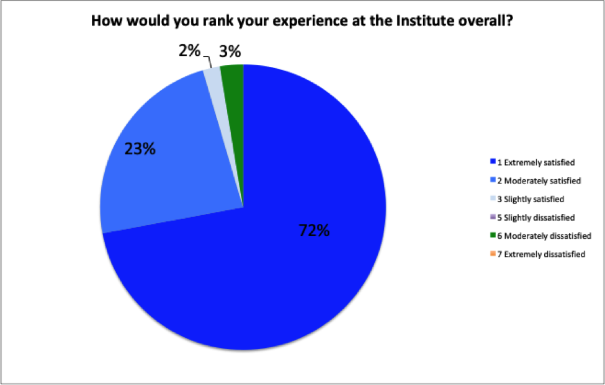 The Plenary Sessions
The plenary sessions made positive impacts on the institute attendees. Responses for all plenary sessions were majority positive for all groups, with most responses belonging to "agree" or "strongly agree" categories. Graduate students gained the most from this experience and had the most positive responses, with the majority responding that they strongly agreed with all measures (i.e. "This session was useful for me"; "The speaker or speakers were engaging"). No one responded "disagree" or "strongly disagree" to any of the statements.
For those who attended the plenary sessions, about 98 percent found them interesting and informative. 98 percent also found the plenary speakers knowledgeable and engaging.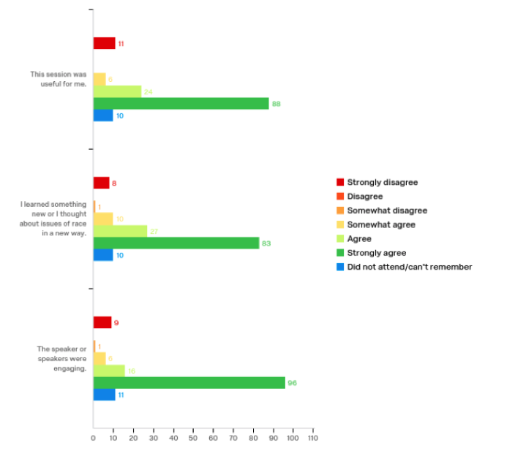 The Gordon Lecture by Angela Valenzuela on Liberating Ways of Knowing was also a key highlight for participants who found her talk to be an almost spiritual experience.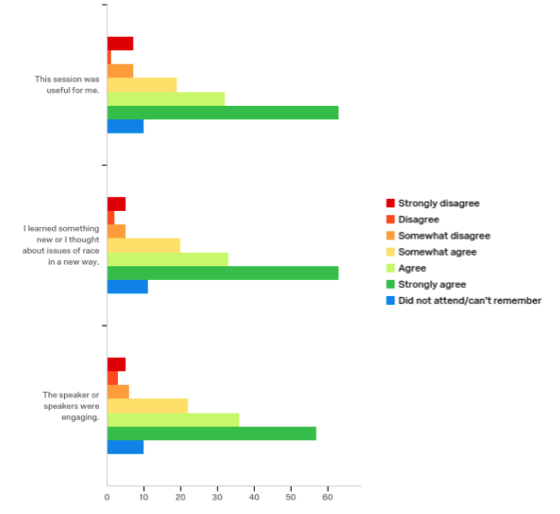 Pool Parties
Pool Parties ended up being a memorable place for participants to work together in a safe space and participate in conversations about the week's issues. About 90 percent of those surveyed felt that the pool parties helped them digest and relate to the material covered during the other parts of the Institute. About 91 percent of those surveyed agreed that their pool party session was helpful to their thinking about diversity within the context of the work they do in education.
Workshops
Institute attendees participated in a wide range of workshops across the week with some standout favorites.
"A Bit of Broadway! Acting for Educators to Stimulate Classroom Connections" with Elaine Perlman and Suzanne Darrell
Excellent facilitators who went above and beyond to create a safe setting allowing for 100% participation. Learn a lot here!
Fantastic Workshop - the best I attended!!!!
"(Re)Imagining Black Boyhood: Strategies for Relational Learning in School" with Joseph Nelson
I just want to say that this was excellent. He was able to report the research AND help us to apply it to our real context.
Dr Nelson's work was incredibly engaging, information, practical. We needed more time to work with him - it was truly great.
Joseph was fantastic. He gave a brief presentation and shared his research regarding black boyhood. He also provided clear relational strategies that participants could take back to their school communities.
"Maker and Technology Education: Creating Opportunities for All" with Ronah Harris
This was my favorite workshop. Dr. Harris is very knowledgeable about the purpose of having a makerspace class in minority's communities. She is also a great facilitator and storyteller. Absolutely loved this workshop.
Too often, we think about maker culture and tech as computers and blended learning models; Rona showed us a different way that built fine motor skills and was soothing. I loved that we left the session with something tangible!
"Cambridge Minority Report: Addressing Issues of Racial Marginalization and Discrimination Across the School Community" with Damon Smith
I so loved his vulnerability and willingness to share his heart and his hurt and his growth! Thank you for sharing!
Inspiring, engaging, went over 25 minutes and no one left. He needs to present again next year.
The presenter was extremely thoughtful and humble as he talked about his experience dealing with a highly public race issue at his well-known public school. Every administrator fears the situation that he and his school was in, but he provided true solutions and shared his story in a way that left participants feeling more knowledgeable and equipped.