Banquet Speakers
Skip to content
Skip to main navigation
Printer-friendly Version

IEEE RO-MAN 2016 In New York City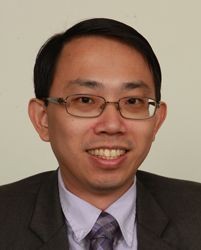 Google for Education: User Experience Researcher
Dr. Matthew Kam is the research lead for Google for Education's user experience (UX) research efforts to invent the future of teaching and learning around the world.

Prior to Google, Kam was a senior researcher at the American Institutes for Research and tenure-track professor at Carnegie Mellon University. He has 15+ years of experience in educational technology at strategic and tactical levels, in roles that include UX, engineering, curriculum and content development, standards and assessment, partnership development and team management. He has led UX research and consulted for one-to-one mobile learning initiatives in industrialized countries and emerging markets alike. He has also built partnerships with educational leaders, delivered keynotes at conferences and presented on panels alongside Cabinet-level ministers. Dr. Kam is also co-founder and advisor to LearningYogi, a social enterprise in India that produces digital learning games for underprivileged children throughout low-income countries. As program co-chair for the 2015 ACM Intl Conference on ICT & International Development (ICTD), he co-chaired a committee of experts to advance the evidence on technology for improving lives in developing countries.
Creative Director Executive / Founder of PARTY NY
Masashi Kawamura was born in Tokyo, and raised in San Francisco. He currently works as Creative Director / Founder of the Creative Lab "PARTY." He was previously a Creative Director at Wieden + Kennedy New York, and has worked around the globe in different agencies such as BBH New York and 180 Amsterdam, creating numerous award-winning ad campaigns. Outside of advertising, he continues to explore the world of design and interaction, working on music videos, product design, social apps, among other endeavors. Masashi's work has been recognized in international awards such as NY ADC, Cannes Lions, One Show, D & AD, Annecy Animation Film Festival, and more. He was recently chosen as one of the Creativity magazine's 2011 Creative 50, and Fast Company's "100 most creative people in business 2012. "