In partnership with the Department of Education's Sustainability Initiative, a research team, led by Professor Oren Pizmony-Levy and Rosa Fernández (M.A. student) from the International and Comparative Education Program at Teachers College, Columbia University, is exploring issues of access to Environmental and Sustainability Education (ESE) in NYC public schools. This partnership developed in spring 2014 during Professor Pizmony-Levy's course titled Education and Sustainable Development: Comparative and International Perspectives. The course examined Environmental and Sustainability Education policies and practices within a variety of contexts and perspectives (such as Africa, Brazil, Costa Rica, Europe, India, Israel, and the United States). Among other activities, students had the opportunity to hear from organizations and agencies working in NYC, such as the Cloud Institute and the DOE.
In light of NYC's groundbreaking efforts through PlaNYC 2030 and the Department's strong commitment to sustainability practices in school buildings, the research team is exploring which schools are more likely to establish partnerships with non-profit organizations. These partnerships are important because they advance schools' engagement with teaching and learning of environmental issues, such as global climate change, community gardening, etc. The first stage of the research has brought to light important findings about the likelihood of ESE-related partnerships. We collected data on a variety of programs that currently exist in schools through non-profit partnerships and created a map of schools that offer such programs. Using statistical analysis, our goal was to understand the relationship between a number of social characteristics common among those schools (school grade level, size, ethnic/racial composition, location, and Free or Reduced-Price Lunch) and their likelihood of establishing ESE-related partnerships.
We found that about one-third of the schools in NYC (32.1 percent) have at least one ESE-related partnership (see Figure 1). Further, we found that (1) schools located in Manhattan are more likely to have ESE-related partnerships compared to other boroughs (see Figure 2), (2) schools serving students with higher socio-economic status are more likely than other schools to have ESE-related partnerships, and (3) these partnerships are more common in high schools than in elementary and middle schools.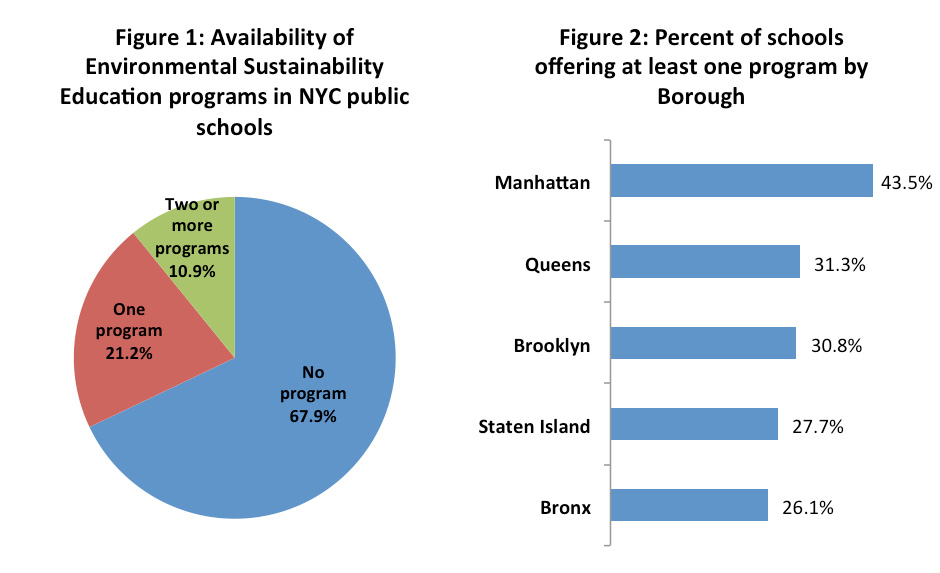 The questions we seek to answer now are why and how these patterns emerge. Through our continued partnership with the DOE and its network of non-profit organizations, we hope to expand the research to gain a deeper understanding of access to ESE programs across the City. The research team at Teachers College believes that ensuring that all schools, regardless of social background, have the opportunity to engage their students with ESE programs is not only important, but it is in line with the inspiring idea of a sustainable future in our City and schools. After all, Teachers College is "where the future comes first." Schools are already taking steps to making their building facilities more sustainable and ensuring that these practices are connected to the teaching and learning is a major priority for the future of our schools.