For years, Cate Crowley, Professor of Practice, has brought her TC students to the Colombian city of Neiva to work with children rehabilitating from cleft palate surgery. Officials in Neiva, the capital of the country's mountainous Huila region, have come to rely on the visits, which have helped seed the growth of speech therapy expertise there. Crowley's students view the trip as a major highlight, as well.
This year, though, the COVID pandemic forced Crowley to move her cleft palate course online and scrap the visit to Neiva. Everyone was deeply disappointed — until Crowley approached Nafiza Akter, Educational Specialist in what was then TC's Office of Digital Learning (ODL, now part of the College's new Digital Futures Institute) to ask: Could her students deliver services to the children in Neiva online?
The answer was yes.
"I came in with a problem, and Nafiza had the solutions," Crowley recalls.
Perhaps the biggest challenge, she says, was providing her students with the means to learn and practice the necessary therapeutic skills. "I had many videos of cleft palate evaluations of real patients being conducted in Spanish, but I didn't know how to individualize them so our students could listen, make judgments and learn the best course of therapy."
Akter recommended PlayPosit, a software that pauses the evaluation video and poses multiple-choice questions through which students demonstrate that they can perceive the sounds that patients make and then create a final summary of what they hear and decide on appropriate therapy strategies.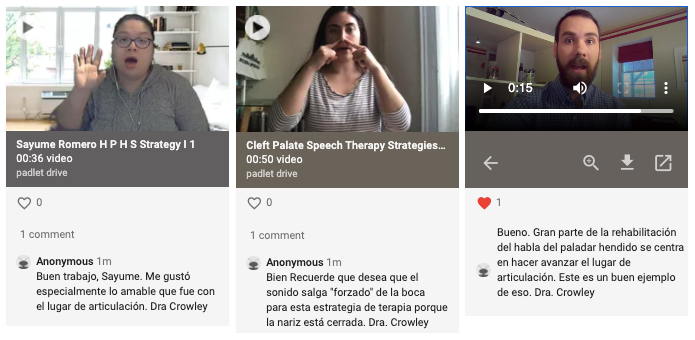 "Throughout the course, I saw my own cleft palate skills develop and could see that happening with my peers," said second-year student Sayume Romero.
In mid-July, the students were ready to see patients in Colombia — via Zoom.
"Thanks to Nafiza, our students developed the same level of cleft palate therapy skills they would have developed if they had gone to Neiva, and also skills in how to do quality teletherapy," Crowley says. "This knowledge will serve them throughout their professional lives."
Crowley's story is just one example of how TC not only adapted to the digital medium during the past year, but moved to the cutting edge.
In the strictest sense, the effort began in early March, when, in just 11 days, the College moved all 775 of its spring courses — taught by 519 professors, adjuncts, lecturers and instructors, serving 5,572 students — fully online.
"We were extremely fortunate that that the College had previously chosen Canvas as its learning management system and invested in a comprehensive contract with Zoom," says Veronica Thomas, head of what was then ODL, who oversaw much of the digital migration. "We also relied on TC's Academic Technology Services [now also part of the Digital Futures Institute] team to provide the training and technical assistance that many faculty desperately needed."
Thus, when the pandemic hit, Thomas and her team had already been working with faculty to not merely adapt to the digital medium but to thrive in it.
"We're trying to help all instructors create online experiences that exceed the sum of their parts," Thomas says. "The crisis has really fast-forwarded that mission and pushed people to think about how TC is going to define this space. There's real momentum around that now."
Thomas and the ODL team use a framework that roughly parallels the "SAMR" model (Substitution, Augmentation, Modification, and Redefinition) outlined by the EdTech consultant Ruben Puentedura.
Most newcomers to teaching online begin with a deficit mindset — "what can't I do?" — focusing chiefly on how to substitute for, or approximate, what they usually do in the classroom. For example, in explaining how to use a piece of technology or demonstrating how to use a formula or equation, a professor can simply zero in with a document camera.
But in other instances, using a camera to talk to live viewers is far from ideal. Since the crisis began, many of TC's international students have returned home, often to countries in far-distant time zones. To spare them from having to tune in at 5 a.m. to evening classes in New York City, most faculty are now teaching "asynchronously," meaning that classes are not live, and students can absorb course information on their own time.
But that, the ODL team strenuously argues, should just be the starting point. And that's where the "augmentation," "modification" and "redefinition" in the SAMR model come into play for those who really take command of the medium.
A growing number of courses reflect the efforts of TC faculty who are doing just that.
In addition to Cate Crowley's Colombia class, they include:
A course in curriculum design in which students conceptualize learning environments defined by space, whether that means a conventional classroom or a daily commuting route. One TC student designed a 10th-grade American history lesson that used the New York City public transportation system as a lens onto the early 1900s. Another mapped the hallways of her charter school and analyzed how spatial arrangements were racially coded.
A nutrition education course in which, through a game that simulates an actual industrial facility, students participated in the processing of different foods, learning how much nutritional value is added or subtracted at each step.
A Qualitative Data Analysis course in which doctoral students were encouraged to use "poetic, artistic and multimodal techniques" for analyzing data — for example, by digitally linking to evocative images, videos and print materials.
Students have responded enthusiastically to these innovations.
"I especially liked thinking about the physical entrance of spaces," wrote one student in the Curriculum Design course. "It brought to mind physical ways I can inform the learning experience before students even enter the learning environment."
A student in the nutrition education course wrote that "the blend of short videos and activities was great — it really kept my attention and kept me interested!" And another asked: "Why can't we structure all of our online classes this way, especially with the technology?"
With the marshaling of so much digital expertise at TC during 2020, the obvious question is: How to take all this great work to the next level in order to best serve not only the College, its faculty and its students, but also schools, communities and the general public?
The answer, unveiled this spring, is a new hub, the Teachers College Digital Futures Institute (DFI), that calls attention to the significance of technological advances for the future of education, broadly conceived.
DFI unites key players from across the College, including the former Office of Digital Learning, Academic Technology Services and a former unit of the Gottesman Libraries, EdLab, which served as a convener for cross-disciplinary projects.
"The technology landscape has grown in innovative ways over the past few decades, but in different corners of TC," says Lalitha Vasudevan, Professor of Technology & Education, who has been named DFI Managing Director, as well as Vice Dean for Digital Innovation. "It's exciting to conceptualize bringing pieces together with both an internal and external mandate."
Working on behalf of TC and the broader public good, DFI will pursue a dual mission of service and scholarship, seeking, on the one hand, to improve the digital environment within TC while also making an impact in teaching, research and public engagement. It will have four functional units, focused, respectively on media, the creation of innovative technology spaces, instructional design and the use of new learning technologies.
Lalitha Vasudevan and Charles Lang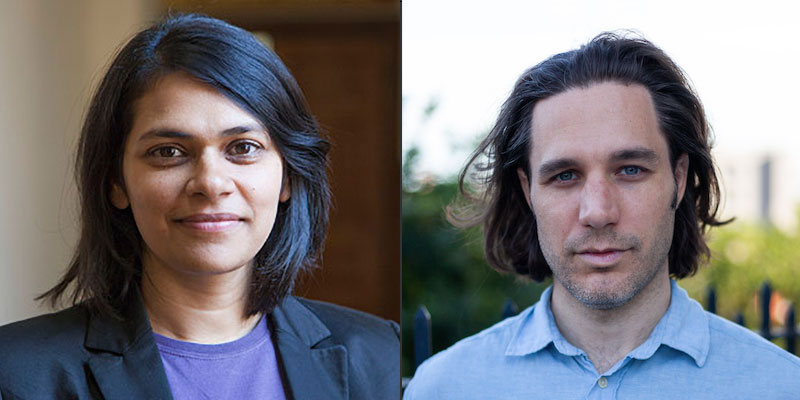 This past summer, during a pre-launch phase, Vasudevan and her team began some smaller initiatives — for example, rethinking the College's Smith Learning Theater for use as a video recording and broadcast center, both for TC audiences and the public.
Charles Lang, Visiting Assistant Professor, who leads the college's Learning Analytics M.S. Program and who was named as the Senior Executive Director for DFI, brings a passion for problem solving to the role. "I am excited to support TC to investigate the post-COVID educational landscape, both the new challenges and opportunities that have arisen in the wake of emergency online instruction."
In collaboration with the College's Office of Continuing Professional Studies, the DFI team also launched "Teaching and Leading in Times of Uncertainty," a series of five webinars, delivered by TC faculty members, on topics such as play and the maker movement. More than 1,300 people have attended the webinars. The series was designed as an initial response to the challenges facing education practitioners who were thrust into online teaching, many for the first time.
This spring, DFI will focus on fully converting the Smith Learning Theater into a broadcast studio, which will be ready for use by the summer, and creating different kinds of course offerings that can be recorded in that space. The team will also focus on expanding DFI as a venue for testing new online learning tools and platforms. Alongside these development and research efforts, DFI has launched a public scholarship initiative that will harness the talents of the DFI team to support the translation and dissemination of faculty research for broader audiences.
Longer term, DFI hopes to enhance the College's system for managing digital assets and making them centrally available, and to support the development of a more coordinated way for the College to support K–12 education.
"In my own scholarship, I'm an ethnographer, and I bring that perspective to DFI," Vasudevan says. "A big question on people's minds is, 'How will digital technologies have an impact on various aspects of my life, learning, community in the future?' And I'm thrilled that through partnerships within and beyond the college, innovative design and practice, and grounded research, we're going to be able to provide answers and resources to support continued efforts for broad social impact."