The Dance Begins – Again
A historic occasion at Teachers College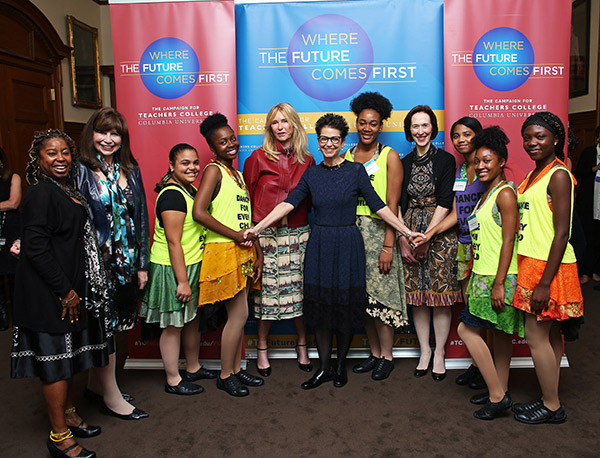 "Today is an historic day for Teachers College, for dance education and for the future of the arts in New York City and beyond."
TC President Susan Fuhrman was announcing a unique new doctoral program in dance education at TC, funded by a $4.3 million gift from alumna Jody Gottfried Arnhold (M.A. '73) and her husband, John, which will prepare master dance educators—the teachers of aspiring dance teachers—along with dance researchers and policy experts who will work to make dance education a staple in American public schools. Marking the 100th anniversary of the birth of the field, which was conceived at the College, Fuhrman said the new program will launch "the next era of TC's proud legacy in dance and dance education." It will also professionalize the field by harnessing the College's multidisciplinary resources; bring "fresh leadership, prestige and scholarly discipline to a field too often overlooked--even among the arts--by preparing those who will be entrusted to educate the next generation of dance teachers, policy makers and leaders" and "transform cultural and educational institutions across the country."
The gathering in TC's Grace Dodge Hall in mid-October was in itself a testimony to the occasion's importance.
Virginia Johnson, former Principal Dancer and current Artistic Director of Dance Theatre of Harlem, declared that, as a result of TC's new program, "Dance education will move from the sidelines to the center, where it belongs."
‌A New Vision for a Doctorate in Dance Education.

Learn more at tc.edu/DanceEd
Johnson was joined by representatives from Ballet Hispanico, Lincoln Center, the National Dance Institute, American Ballet Theater, The Center for Arts Education, the Fund for Public Schools, the New York Historical Society, Hunter College, NYU, Rutgers and Virginia Commonwealth University, as well as dance companies dedicated to the legacies of choreographers José Limón, Lar Lubovitch and Paul Taylor. Six student dancers from Brooklyn's Science Skills Center High School's Jow-Ile Bailar Dance Company (founded and directed by Patricia Dye) performed two original dances.
But the real guest of honor, Fuhrman said, was "the one person responsible above all for making us aware of this need, and of the tremendous value of dance in our classrooms: Jody Gottfried Arnhold."
The room erupted in a prolonged standing ovation for Arnhold, who graduated from TC's previous master's degree in dance education (which closed in 2005), taught dance in the New York City public schools, and has since served as Founder of the 92nd Street Y's Dance Education Laboratory (DEL); Co-Chair of the New York City Department of Education Blueprint for Teaching and Learning in Dance (Pre K-12), former Chair (and now Honorary Chair) of Ballet Hispanico; and executive producer of the recent New York EMMY–nominated documentary film PS DANCE!
"This doctoral program will galvanize the field [of dance education]. I look forward to welcoming the first class next year. Maybe I'll be in it!"
—Jody Gottfried Arnhold (M. A. '73)
"We're so proud that TC helped inspire her to become a lifelong education advocate, and one of our true visionaries in arts education," Fuhrman said.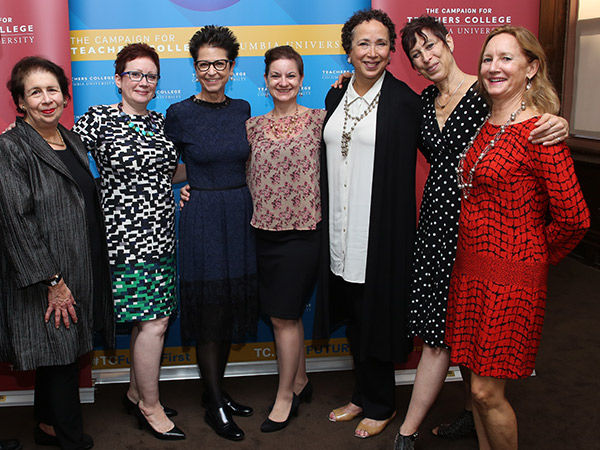 Then Arnhold, smiling from ear to ear, advanced to the microphone, paused to look out across the room, and gave a gleeful laugh.
"I am so happy!" she said.
Arnhold predicted that the master educators prepared by TC's new program "will sit at the table, here and internationally, wherever education is discussed."
"Teachers College will again make a powerful impact on dance and dance education," she said.
Arnhold was followed by a cast of speakers that included TC Provost Tom James; Mary Hafeli, chair of a TC faculty committee that is shaping the new program; Kathleen Isaac, director of the Arnhold Graduate Dance Education Program at Hunter College; and Patricia Dye, performing arts teacher at Brooklyn's Science Skills Center High School for Science, Technology and the Creative Arts, who appears in PS DANCE! Then Fuhrman announced that the occasion was special for yet another reason: it was Arnhold's birthday. Accompanied on piano by Drew Coles, TC Music & Music Education doctoral student (and TC Student Senate President), the audience serenaded Arnhold, and then, at Fuhrman's urging everyone moved to "the barre next door" for champagne and cookies. – Joe Levine
Related Articles
Jody and John Arnhold Give $4.3 Million to Teachers College to Launch Unique Dance Education Doctoral Program
A Stepwise Process: A TC committee is shaping the new dance education doctoral program
The Dance Maker: Alumna Jody Gottfried Arnhold champions dance education as a Deweyan medium for learning
"The Godmother of Dance Education": TC alumna and donor Jody Gottfried Arnhold is the focus of a Wall Street Journal profile
Watch PS DANCE!, the New York Emmy-nominated documentary film about dance education in public schools
Published Monday, Oct 24, 2016