Meeting Students Where They Are: At the Teachers College Community School, new Principal Michelle Verdiner is partnering with TC to create a model of tailored instruction
"It's important to know that I'm a mother. Being a mom gives me a sensitivity and understanding with parents about the learning process. I have two children, one identified as special needs and the other as gifted and talented, so I have two learners from both sides of the continuum."
It was just after eight on a sunny morning this past June – drop-off time for elementary students in the courtyard of the Teachers College Community School (TCCS) on West 127th Street in Harlem.
As the classes lined up to enter the building, Principal Michelle Verdiner caught up with parents and occasionally stepped forward to offer gentle exhortation to children transitioning in the morning. It's a scene that was playing itself out at schools around the city, but Verdiner, who has prominently posted a "Theory of Action" that calls for TCCS teachers to "tailor instruction to meet the individual needs of students to demonstrate mastery of standards," is especially passionate about meeting each student where he or she is.
Partly that's a response to the school's diversity: TCCS, which admits students by lottery, giving priority to students from Districts 5 and 6 in Manhattan, is 39 percent African American, 25 percent Latino, 22 percent white, 7 percent Asian, and 6 percent multiracial. But it's equally a reflection of the principal's personal philosophy, formed not only as a professional educator, but also as a parent responding to an age of educational standardization.
"It's important to know that I'm a mother," says Verdiner, who spent 14 years as a speech/language pathologist in the Bronx before taking on an administrative role. "Being a mom gives me a sensitivity and understanding with parents about the learning process. I have two children, one identified as special needs and the other as gifted and talented, so I have two learners from both sides of the continuum."
Over the years as a teacher, Verdiner was struck "by the disproportionality within special education of equal access to the curriculum." She began looking beyond her teaching discipline, attending team meetings and serving on the principal's instructional cabinet. She quickly realized the influence administrators have in providing true educational access.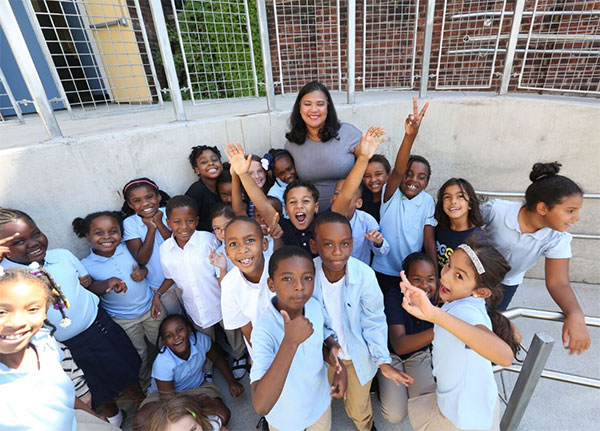 "When I came for a walk-through during the interview process, I felt like I was at home...The students were so friendly and the love for learning was felt in every room I visited."
"It all clicked for me, the importance of having the leadership of the building understanding the different types of learners, and putting in the resources and different structures that can support diverse learners," she says.
Verdiner went on to serve as an Assistant Principal for four years, eventually earning her administrative license in Educational Leadership and Technology and doing a principal internship at a high-performing school in Manhattan's District 2, in Chelsea – a very different landscape from what she had experienced in the Bronx.
"Michelle is child focused. All of her choices are made through the lens of 'what is best for our students,'" says Robert Bender, Principal of PS 11, William Harris School, Verdiner's mentor during her principal preparation program. "She is driven to give opportunity to all students and is dedicated to creating success for them all."
For her part, Verdiner says that her internship "showed me a school that exemplified using resources to support prioritizing instruction and enrichment opportunities, to allow equitable learning experiences for diverse student populations. It gave me a wider lens into the range of what I could implement in schools by becoming partners with various stake-holders."
All of which made TCCS the logical next step in her career.
"The more I learned about the school, I knew this was the place for me," she says of TCCS. "When I came for a walk-through during the interview process, I felt like I was at home. Walking into the classroom and seeing a truly diverse student body is amazing. Coming from a multicultural background, I think it's so important for children to see children of all different cultures, and unfortunately it's a rarity in the city. It was just beautiful. The students were so friendly and the love for learning was felt in every room I visited."
Verdiner has faced some stiff challenges at TCCS. She became Acting Principal last year after the sudden death of the school's founding principal, Jeanene Worrell-Breeden. The word "acting" was officially removed from her title this spring, but well before then she had set about establishing TCCS – a public non-charter school that the College operates in conjunction with the New York City Department of Education – as Exhibit A for why the city should operate more pre-k—8 schools.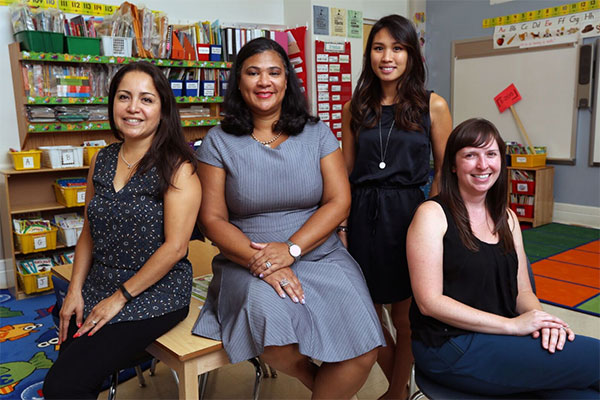 "How fortunate we are that we have a distinguished university to assist our learning community! Whether it's instructional or pedagogical support, TC has been able to provide us with some type of human resource that can help us build capacity."
"We believe a unified pre-K—8 school offers enormous benefits for students as they enter the challenging terrain of the middle school years," she says. "We're honing in more specifically on our middle school students' needs and interests. We want to provide them with enrichment and academic support so they are competitive when they are looking for the high school of their choice, and have a real ownership stake in that process."
Classrooms at TCCS are filled with vibrant anchor charts emphasizing strategies to support student learning in various subjects. Near the office is a sign sharing the number of instructional days in the current month – for June the magic number is 20 – with the phrase "Every Day Matters" beneath. A whiteboard shows student attendance records. Hallway bulletin boards showcase student work. Verdiner is fiercely proud of the interest in reading and writing that the school's students seem to share – and grateful to the Teachers College Reading and Writing Project, led by Professor Lucy Calkins, which created the foundation of the school's English Language Arts curriculum and named TCCS one of its "Project Schools."
"It's wonderful to be part of a learning community where students are so passionate about reading," she says. "Writing is celebrated here. Our kids genuinely love to read. Our parents are valued partners in supporting our students' ownership of their learning process."
When Verdiner enters a kindergarten class, students suddenly become quiet – not, it turns out, because she strikes fear into their hearts, but because they are rehearsing the "Moving Up" ceremony that will take place later in the month, and they want their performance to be a surprise. Verdiner promises to come back another time, after the rehearsal is over.
"Pinky swear?" a student asks.
"Pinky swear," Verdiner replies.
In a first grade classroom, students are busy with stand-and-stretch exercises to transition from arrival to seated desk work. In a third grade classroom, students are writing in their notebooks about social issues –from teasing to bullying to gender inequality. They are prompted by questions on the classroom's whiteboard: WHAT is the social issue? WHY is it a problem? WHO is being hurt? HOW can we help?
In another third grade classroom, students are creating different geometric shapes as part of a math lesson. The school's library is filled with award-winning books, though Verdiner says even more are needed, as many of the school's students have already exhausted the existing holdings due to the level of interest in reading. In the science lab, fourth graders are investigating the difference between particle and gaseous pollution. The school's music room is well stocked with instruments, such as violins for third grade music and string instruments that are used by the fourth grade orchestra (the first elementary school orchestra in District 5). And the TCCS music program was designed and is taught by a Teachers College Music & Music Education student under the direction of Professor Lori Custodero.
Verdiner says the partnership with TC brings the school the kind of resources and support that are not typically available in NYCDOE public schools – everything from enriched physical resources, such as the musical instruments, to the assistance of teaching fellows, staff developers and curriculum experts.
"TC provides so much," she says. "The partnership raises the bar because we have access to progressive, cutting-edge educators and we can streamline our vision of supporting our teachers and feeding into a collaborative environment to impact student performance. How fortunate we are that we have a distinguished university to assist our learning community! Whether it's instructional or pedagogical support, TC has been able to provide us with some type of human resource that can help us build capacity."
Verdiner has also worked hard to promote parental involvement, another of the school's hallmarks. She proudly cites the manyparents who have written grants, including one submitted to the City Council to create a maker space for STEM learning a foundation grant for gardening supplies for the school's enhanced playground, created with the support of former Manhattan Borough President Scott Stringer. An impressive aquarium just inside the school entrance was donated by and is regularly maintained by parents. Verdiner has also promoted "Parents as Learning Partners," in which parents come to school with their children one Friday a month "to be active participants with their children while they're learning," and discuss their observations with her over coffee and tea.
"If I talk about the parents, I have to talk about the teachers," she quickly adds. "Because our teachers go above and beyond to communicate and make sure they have a strong relationship with parents. We firmly believe in nurturing the home-school connection."
And then, of course, there are the students, with whom Verdiner shares a clear affection. As she walks through the hallway during a transition between classes, a student approaches her and tugs at her skirt, ready to share some vintage elementary humor.
"Why didn't the astronaut land on the moon?" the student asks.
Verdiner thinks it over and admits she's stumped.
"Because it was full!" the student replies with a confident nod of his head.
Verdiner quickly navigates her way through the hall to a special event, the "Fishy Fish" exhibit that has been prepared by pre-K students as part of an environment unit on ocean life. A young student stands guard and greets her as she enters.
"Welcome to Fishy Fish," he says. "Ticket, please."
Verdiner presents her hand-made ticket and is guided through the exhibits by a teacher and two eager young students. She buys a hand-made hair clip festooned with a seashell, which she wears for the remainder of the day.
Verdiner says her goals for TCCS are not modest, but she is confident that over time the school will meet them.
"I don't think you ever get it perfect, but my main goal is tailoring our instructional approaches to individual students' needs and empowering our students to have ownership of their learning process," she says. "Those are huge goals, but we make mini-goals to help us get there."
Setting demanding goals is a necessity, she says, "because we are influencing future leaders. Parents depend on us to give their children the best educational experience to have their children perform their ultimate best. We have all the right ingredients; we just have to use the right recipe.
"Ultimately, I want TCCS to truly be a beacon that people from all school systems come to see," she says. "We're very lucky we have this partnership [with TC], because not every NYCDOE school does. It is our obligation to give back to the NYCDOE public schools by opening our doors and sharing our practices so that others can benefit as well." – Ellen Livingston
Published Monday, Sep 19, 2016