Spike Lee Visits TC: The director screens his documentary on the Mizzou protests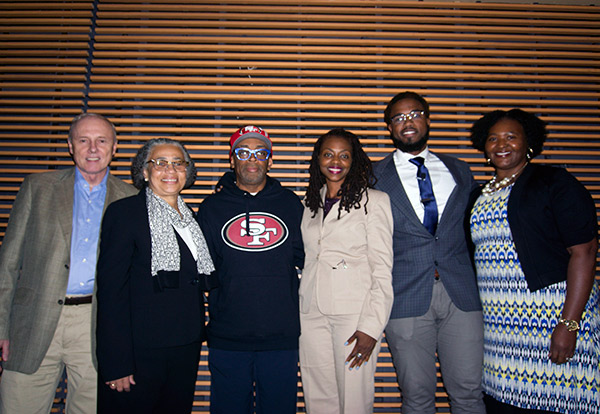 Film director Spike Lee visited Teachers College this week to screen his documentary "2 Fists Up: We Gon Be Alright."
The film explores the student movement at the University of Missouri (Mizzou), where in 2015 racist incidents prompted a student to launch a hunger strike and the football team to refuse to play. The movement ultimately led to the resignation of the university's president, Tim Wolfe.
Lee, who received TC's Distinguished Service Medal at the College's Convocation in 2010, took questions after the viewing in Cowin Conference Center.
The documentary, which premiered this spring at the Tribeca Film Festival, aired on ESPN and has been shown at colleges across the country, includes appearances by TC's Yolanda Sealey-Ruiz, Associate Professor of English Education, Postdoctoral Fellow Jamila Lyiscott and recent graduate Patrick Gladston Williamson (M.A. '16). All comment on various aspects of racial injustice in America.
"It's a pleasure to have Spike Lee on campus. So many are inspired to social activism through his films, which artfully extract lessons from tragic events."
—Susan Fuhrman
During pre-production, Lee called Sealey-Ruiz and asked if she'd be part of the film. He told her he had read her work on racial injustice and knew she directed TC's Civic Participation Project and Racial Literacy Roundtable series. She readily agreed, and also introduced him to Lysicott and Williamson, both of whom have been vocal on racial issues.
Before the screening, Provost Tom James welcomed Lee back to campus, calling him a "friend whose creative spirit is instilled within the TC community."
President Susan Fuhrman, in remarks read by Janice Robinson, Vice President for Diversity and Community Affairs, spotlighted the development by TC faculty and students in 2007 of "Teaching the Levees," a nationally distributed curriculum based on Lee's documentary about Hurricane Katrina.
"It's a great pleasure to have Spike Lee on campus," Fuhrman said. "So many are inspired to social activism through his films, which artfully extract lessons from tragic events."
"The worst of America has reared its head, and we must address it fearlessly with the least amount of harm. The documentary shed light on how a group of social activists did exactly that."
—Rhonesha Blache, doctoral student in Interdisciplinary Studies
Lee arrived at the Cowin Center wearing his trademark baseball cap, hoodie and oversized spectacles. The cap and hoodie bore graphic tribute to Colin Kaepernick, the San Francisco 49ers quarterback, who kneels during the national anthem to protest racial inequality.
Lee sat with the audience as it watched the film, after which he stayed on for a Q&A session, moderated by Sealey-Ruiz and Williamson.
In answer to a question from the audience, Lee said he was motivated to make the film out of a simple sense of curiosity. He wanted to know how the students at Mizzou were able to transform a university that has a "history of blatant racism."
"Without help from anyone the students took back their campus and forced that guy [the president] out," said Lee. "And black women led the movement."
Lee found a receptive audience in the TC students, many of whom belong to socially active groups such as the Black Student Network; the Civic Participation Project; the Coalition of Latin@Scholars; the Critical Scholars Network; the Curators of Hip Hop; the Institute for Urban and Minority Education; the Racial Literacy Roundtable; and the Students for Quality Education.
"I'm a fan of Spike Lee, and the subject of his documentary hit close to home for me," said Rhonesha Blache, a doctoral student in Interdisciplinary Studies. "We are in the midst of a struggle for peace in America; it seems like we have gone backwards and are reliving the 1960s. The worst of America has reared its head, and we must address it fearlessly with the least amount of harm. The documentary shed light on how a group of social activists did exactly that. As Nelson Mandela said, 'The greatest way to make change is to educate people,' and Spike Lee has been educating us in issues of social justice for a long time."
—Robert Florida
Published Friday, Sep 30, 2016