Mourning a Great TC Leader and Friend: Jack Hyland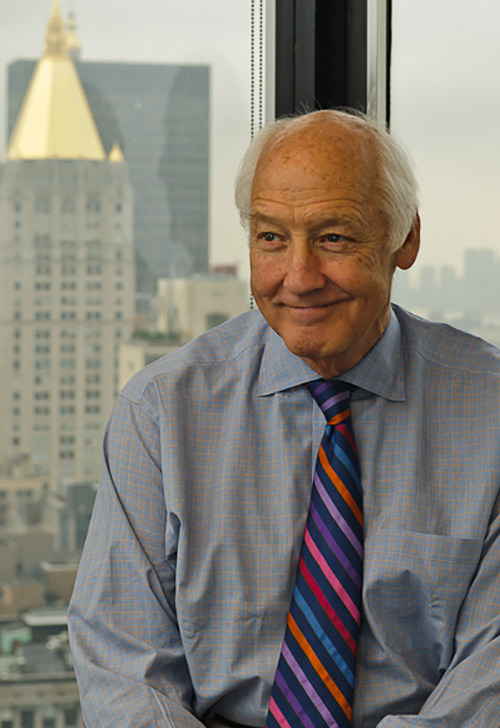 It is with a heavy heart that I inform you that Teachers College has lost its great friend, leader and supporter, Jack Hyland, Co-Chair of our Board of Trustees, who passed away on Friday, August 11th.
[The Jack Hyland Memorial Celebration will take place on Thursday, September 7, 2017 at 6:00 PM in the Joyce B. Cowin Auditorium at Teachers College. Click Here to RSVP.]
Jack served on TC's Board for the past 30 years, including 14 as Board Co-Chair. He helped lead two presidential searches, played critical roles in the success of two record-setting campaigns and worked tirelessly to strengthen TC's reputation and impact as the oldest, largest and best graduate school of education – words that, like a proud parent, he loved to repeat. In particular, he was the Board's driving force in strategic innovation, championing TC's push into digital education and financial literacy education, as well as its efforts to be at the forefront of education technology research and practice.
[Read a memorial notice about Jack Hyland in The New York Times.]
Yet no mere list of accomplishments could do justice to who Jack was and what he gave to the College.
As Jack's fellow Board Co-Chair, Bill Rueckert said in Spring 2016 when we presented Jack with the Cleveland E. Dodge Medal for Distinguished Service to Education – the highest recognition TC accords to a non-educator – Jack was, above all, "a builder of relationships" and a "consummate master at bringing people together and creating bonds of understanding and appreciation among them."
[Read a profile of Jack Hyland that appeared in TC Today magazine.]
TC's signature strength is the wide range of talents and perspectives we can bring to bear on the opportunities and challenges or our era – and time and again, it was Jack's steady, guiding hand and unfailing sense of humor that helped to convene the right people around the table.
These qualities, which are so rare and so precious in any institution, sprang in part from Jack's astoundingly wide-ranging curiosity, interests and accomplishments. As recounted in a recent profile of him in our magazine, Jack Hyland not only was a successful investment banking executive and media advisor, but also a celebrated author, professional photographer, art enthusiast and landscape connoisseur. He even majored in theoretical physics as an undergraduate.
But Jack's ability to move mountains at TC owed to another source as well. Again, Bill Rueckert put it best in sharing that Jack always personally introduces new Trustees to our board because "they end up seeing TC through his eyes – which means they see TC in its very best light." What motivated Jack, "pure and simple," Bill said, was "his abiding commitment to education; his persistent passion for Teachers College; and his desire to make the College a central player in improving educational opportunities and life in general for all human beings." And for TC's progress toward those goals, Bill added, Jack deserved so much credit.
[Read a story on Jack Hyland's acceptance of TC's Cleveland E. Dodge Medal.]
On a personal note: I am deeply grieved by Jack's loss. He was a kind, wise and honest counselor, a charming and loyal friend, and a model for the kind of joy and selflessness that characterizes all great public servants. When he accepted the Dodge Medal, Jack said that the work of TC's Trustees is to "protect and build upon our incredible history and to help propel this institution and leadership into the future." Quoting George Bernard Shaw, he added that we have 'a splendid torch, which we have got hold of for the moment, and we want to make it burn as brightly as possible before handing it on to future generations.'"
No one made that torch burn more brightly than Jack himself. We mourn the loss of this irreplaceable man, and we offer our condolences to his partner, Larry Wente; to his former wife, Karen Conant Hyland; to his children, Liza, Jonathan and Susannah, and grandchildren; and to so many others whose lives he touched. We console ourselves with the knowledge that TC will forever benefit from his legacy.
Susan Fuhrman
Contributions in memory of Jack Hyland can be made to the John W. Hyland Jr. Memorial Fund at Teachers College. For more information please call Linda Colquhoun at 212-678-3679.
Published Monday, Aug 14, 2017