Early Risers: Passionate Advocates for Social Justice
Its name notwithstanding, Teachers College produces graduates who pursue careers in dozens of fields. Here we celebrate a clothing entrepreneur who, with his brother, is helping the sight-impaired, and an award-winning novelist who explores the tenuousness of the American Dream in her story of immigrants rocked by Wall Street's ups and downs. Both are fulfilling the College's mission to create a better, more equitable and more socially just world. — Will Bunch
A New Look For the Sight-Impaired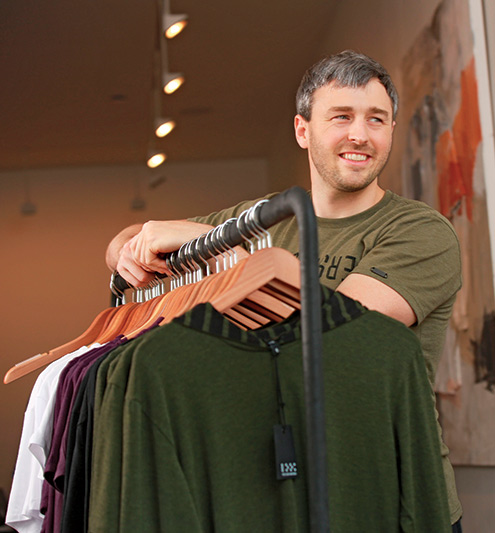 "I felt so fortunate to be an otherwise healthy person [with] a healthy enough attitude to do the things that I wanted."
Making sure your customers feel heard is important — especially when neither they nor you can see very well. That's the philosophy of Two Blind Brothers, a unique New York City clothing line for the sight-impaired launched in 2016 by Bradford Manning (M.A. '10) and his younger brother, Bryan.
Both Mannings are legally blind, the result of Stargardt's disease, a deficiency in metabolizing vitamin A that destroys vision in the center of the eye. Both were pursuing successful careers in finance until the 2008 recession suddenly made that field seem a chancy proposition.
Bradford enrolled in Teachers College's clinical psychology program, where he focused on how well-balanced people cope with issues like grief or traumatic stress.
"I felt so fortunate to be an otherwise healthy person with this vision impairment and to have a healthy enough attitude about it to do the things that I wanted. I wanted to understand why that isn't the case for many other people."
One day, the Mannings went clothes shopping in Bloomingdale's and, as often happens, lost track of each other. Back outside, they discovered they'd both bought the same shirt because it was the softest one in the store. Thus was born the idea for Two Blind Brothers ("fashion with perspective") — a business that devotes its efforts to soft shirts and its proceeds to life-changing research for curing blindness, working closely with foundations such as the Foundation Fighting Blindness.
"We called our dad, and he said, 'You guys are both such terrible dressers — what are you thinking?'" Bradford recalls. For months, the Mannings sampled clothing swatches and showed potential designs for tee shirts and henleys to their not-sight-impaired friends. They knew they were on to something — but things have really taken off since they appeared on the Ellen talk show with host Ellen DeGeneres. (When she presented them with an oversized check for $30,000, Bradford joked that it was the only thing onstage that they could see). NBC Nightly News and other venues have since picked up the story, and the brothers have quit their day jobs to manage a venture that's grown to 30 employees and may soon offer polo shirts, sweatpants and joggers.
So what, beyond softness, distinguishes clothing made for sight-impaired folks? Braille messages such as "Brother," "Vision" and "Feel" that are woven into the shirts. "In middle school, Braille was a language that only we had," Bryan Manning says. Today those messages are reaching more people than the Mannings ever imagined.
A Dream In The Eyes Of Its Beholders
As a first-year Teachers Collegemaster's student, Imbolo Mbue told her faculty adviser, psychologist Elizabeth Midlarsky, that she couldn't afford the program. She was stunned when Midlarsky later rounded up enough financial aid to help her finish her degree.
Mbue (M.A. '07), who immigrated to the United States from Cameroon, has never forgotten that gesture — nor the subsequent loss of her marketing job during the 2008 recession.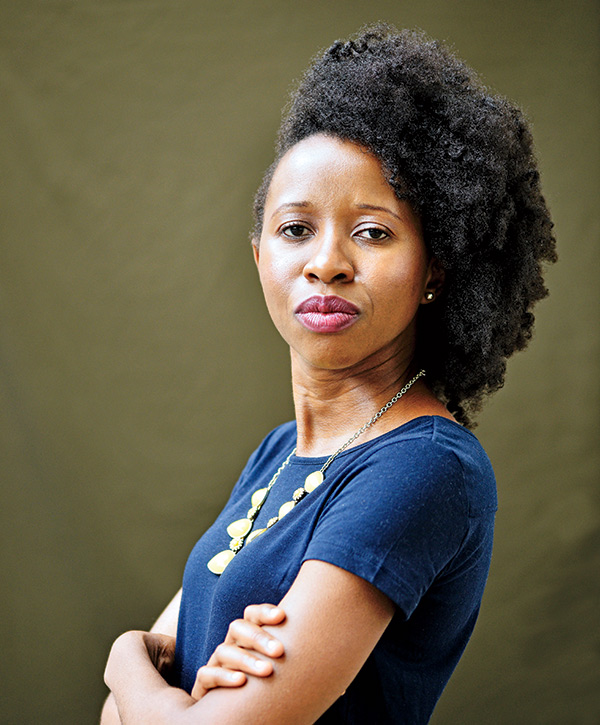 PERSPECTIVE

Mbue understands Americans who fear losing their jobs, but urges immigrant voters to advocate policies that will help them find fulfillment.
Both Americas — the one that giveth and the one that taketh away — are the focus of Mbue's PEN/Faulkner Award-winning debut novel, Behold the Dreamers (Random House 2017). As one reviewer writes, the book "depicts a country both blessed and doomed, on top of the world, but always at risk of losing its balance."
Mbue decided to write after reading Toni Morrison's Song of Solomon, which she says exposed her to the African-American experience. Still, many reviewers have observed that Behold the Dreamers (now an Oprah's Book Club selection) is more about class than race, and more about the American Dream than a specifically African-American one. Mbue bridges the wide economic and cultural gulf between
her protagonists — the Cameroonian chauffeur Jende Jonga; his wife, a pharmacy student; and their young son — and the Lehman Brothers executive who employs Jonga. From Jonga's opening job interview, during which he must "keep his desperation from bursting through the thin layer of dignity," through Lehman's fall, all of Mbue's characters are "dreamers," compromising as they chase a sliver of prosperity.
In the seaside Cameroonian town of Limbe, Mbue's family wasn't poor, but suffered deprivations such as a lack of running water or a public library. Mbue left to earn a business management degree at Rutgers University, and later worked as a preschool secretary, a dental office receptionist and a lingerie saleswoman.
Those experiences left her empathetic with those who lose privilege, yet she also strongly identified with other newcomers to American society. She says she understands, for example, the economic anxiety that made immigration a top concern in battered Rust Belt communities during the 2016 presidential election: "They're angry and looking for somebody to blame." But she stresses that immigrant voters — who feel "a sense of helplessness, fear and worry" — have a right to stand up for policies that will help them find fulfillment here.
"America presents itself as a land of equality and justice," Mbue says. She seems determined to hold her new homeland to that standard.
Download this article as a PDF
Published Monday, Dec 11, 2017