A Dream Part for a Cub Actor
TCCS student Devin Graves is playing Simba in a road show of The Lion King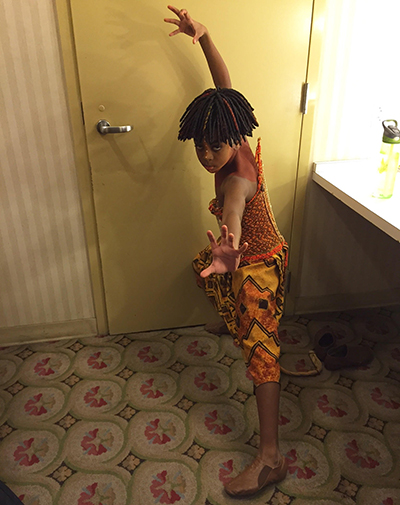 One day in mid-December, Devin Graves was having a no-good, very bad, semi-horrible day. He had lost a tooth in class and, a bit shaken and bloodied, taken refuge in the nurse's office.
Then the phone rang, and what had begun badly turned into the best day of his young life. His mother told him that an agent had just called to say he'd gotten cast in a traveling company's show of The Lion King. Devin, a fifth-grader at Teachers College Community School, would play the cub Simba in the show.
"When my mom told me I got it I just busted out crying," recalled Devin by phone during a recent break from rehearsals in Detroit, where the production has since opened. "I ran back to class and told my friends and my teacher, and they were all so happy for me."
Devin has benefited from the unusually rich and innovative music curriculum at TCCS, which begins in pre-kindergarten. In third grade, he learned the violin; in fourth grade he took choir; and in fifth grade he learned to compose, mix and produce his own songs. He was also a member of the award-winning TCCS Orchestra.
"Thanks to our partnership with Teachers College, and the energetic young music teachers they send to our school, music is ingrained in our culture starting in pre-K," says TCCS Principal Michelle Verdiner. "The music program gives our students layers and layers of music and they get a wide range of music appreciation and hands on learning. Devin Graves, who is so talented, thrived in our learning community here at TCCS – I believe in part due to the creativity and cultural components of our music program. We are very proud of his success."
"Our music teachers treat us like adults and encourage us to learn as much as we can. I know many schools don't offer any music, and I feel badly for those students."
"Our music teachers treat us like adults and encourage us to learn as much as we can," says Devin, whose sweet, singsong voice sounds like the young Michael Jackson, his musical idol. "They really helped me to develop musically. I know many schools don't offer any music, and I feel badly for those students."
Outside of school, he studies at the renowned Harlem School of the Arts, which he credits with helping him develop into a better singer, dancer and actor.
Devin has been rehearsing six days a week since he relocated to Detroit in January. Through Skype and social media, he keeps in close touch with his mother, Shameika Freeman. He misses his friends, with whom he still plays PlayStation virtually, but he's excited about traveling for the first time. Over the next six months, the show will take him to eight states, starting in Michigan and ending in Texas.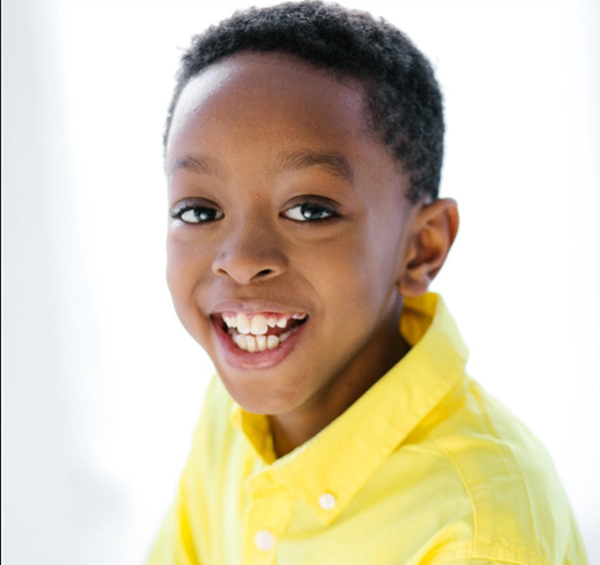 His mom characterizes Devin as an open, charming and "loving kid" whom the adult cast members have taken under their wings. She doesn't worry about him falling behind in school because he has a tutor who works in conjunction with his teachers at TCCS – a school she describes as "nurturing, loving and academically challenging."
"Devin has wanted this part so badly, ever since he saw The Lion King when he was seven," says Freeman. "He turned to me then, right in the middle of the play, and whispered, 'Mommy, one day I'm going to be Simba.'"
For the last three years, she says, he's been acting out the role. And now that he's Simba, he has been bitten by the showbiz bug.
"He tells me now he wants to do Broadway shows and be in movies," adds Freeman, who teaches kindergarten at St. Charles Borromeo School in Harlem.
But when the show ends, Devin says he'll be happy to be home. He's eager to return to TCCS, where he wants to work with his teachers on mixing and producing his own music.
In his free time he plans to audition for film roles and hopes to get a part in the Broadway production of Matilda.
"I know I will learn a lot from being in The Lion King and travelling all over the country," says Devin, "But I love my mother, my friends and my teachers at school. And when I come home I'll get to play PlayStation with my friends at my house. I'm just really happy right now." – Robert Florida
Published Monday, Mar 6, 2017