Top Experts at Teachers College Symposium to Discuss Public Education During the Trump Years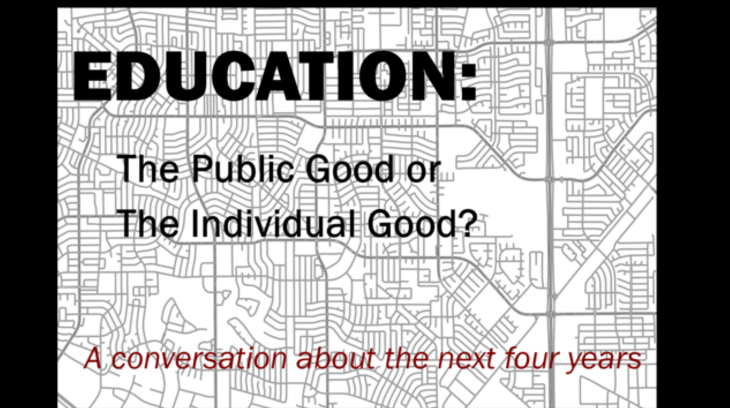 Why was public education created in the United States? What is its purpose now? How will it fare over the next four years?
Distinguished scholars of public education will tackle these and other far-reaching questions at "Education: The Public Good or the Individual Good? A Conversation about the Next Four Years," a symposium on Friday, March 24, from 8:30 a.m. to 12:30 p.m. at Teachers College in the Joyce B. Cowin Auditorium.
To register for this free event, go here.
To view the event via livestream from 8:30-10:45 a.m., Friday, March 24, go here.
Richard D. Kahlenberg, Senior Fellow at The Century Foundation in Washington, D.C., will deliver the keynote address. A longtime scholar with expertise in education, civil rights and equal opportunity, Kahlenberg has been called "the intellectual father of the economic integration movement" in K-12 schooling. He is an authority on teachers' unions, private school vouchers, charter schools, turnaround school efforts, labor organizing and inequality in higher education. In November, Kahlenberg co-authored "Putting Democracy Back into Public Education," a report on the growing emphasis of American schooling on economic productivity, at the expense of teaching citizenship.
Following Kahlenberg's remarks, a panel of distinguished scholars will discuss urgent policy issues surrounding public education in the current political climate. Panelists will include:
Frederick M. Hess, Resident Scholar and Director of Education Policy Studies, the American Enterprise Institute (AEI), where he works on K-12 and higher education issues. He is also the author of the popular Education Week blog, "Rick Hess Straight Up" and has served as executive editor of Education Next since 2001.
Sonya Douglass Horsford, Associate Professor of Education Leadership and Senior Research Associate, Institute for Urban and Minority Education (IUME), Teachers College, whose research focuses on the intersections of race, inequality, and the social context of education leadership at the district and state levels
Luis Huerta, Associate Professor of Public Policy & Education, Teachers College, and expert on charter schools and vouchers
Ernest Morrell, Macy Professor of Education and Director, Institute for Urban and Minority Education at Teachers College
Amy Stuart Wells, Professor of Sociology & Education, Teachers College, an expert on racial desegregation in American public schools
Michael D. Usdan, Senior Fellow Institute for Educational Leadership, Washington, D.C., who has written many articles and books on problems in urban education, and the relationship of government and politics to education.
The event commemorates the 35th anniversary in New York of the Education Policy Fellowship, a year-long, part-time professional development program at Teachers College for education professionals and graduate students across disciplines.
Amid a national surge of interest in education policy among parents and voters, this year's fellowship has attracted a higher number of non-educators who want to better understand how education policy in Washington and state government affects their local schools, said Robert Monson, Adjunct Associate Professor of Education Leadership at Teachers College and co-coordinator of the symposium and coordinator of fellowship.
"Nearly half our participants this year are school board members" whose jobs have been made "very hard because of the political atmosphere," Monson said. "These are public servants confronting highly charged issues, such as, 'how should we be spending our money?' There is close thinking about this question of values."
The symposium is co-coordinated by Renee Gargano, Executive Director, Center for Educational Leadership at Putnam-Northern Westchester Boards of Cooperative Educational Services (BOCES), a co-sponsor of the free symposium. Additional co-sponsors are the Department of Education Policy & Social Analysis and the Institute for Educational Leadership at Teachers College, Columbia University; and the Westchester-Putnam School Boards Association.
Published Wednesday, Mar 22, 2017