Committing to "The Most Humane Profession": Samantha Sikder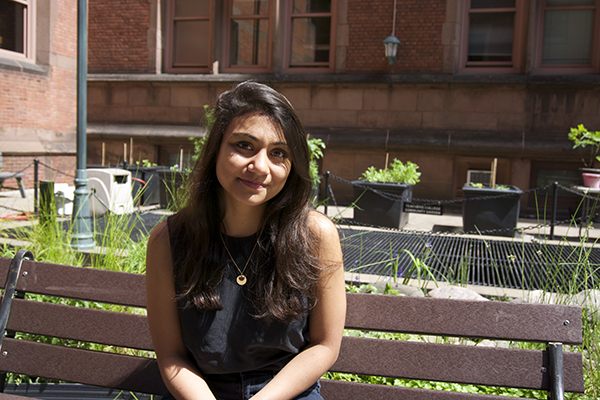 Growing up on eastern Long Island, Samantha Sikder patrolled her neighborhood on her bike, looking to "save any animal in despair." She couldn't bear to see a cat, a squirrel or a bird endangered.
Today, Sikder, who graduated this May with a master's degree in Elementary and Inclusive Education, realizes that her need to protect was born of her own sense of vulnerability.
Sikder's father, who was from Bangladesh, left her family when she was still a baby and her mother couldn't work. She and her two sisters grew up "beneath the poverty line," and school was where she found a sense of sanctuary.
At 16, through an exchange program, Sikder lived in Chandigarh, India, where as part of an initiative of the Indian government, she taught some of the nation's poorest students.
"My heart churned for these poor children, who'd sleep at their desks, eat a bowl of soup and play outside," she recalls. But in retrospect, she felt uncomfortable with her approach to the work. "I had this world savior complex, which made me a bad ally," she says.
Aided by a nonprofit that helps low-income students in college, Sikder attended Wesleyan University. She majored in government and planned on being a diplomat until a subsequent experience teaching abroad led to an epiphany.
In 2012, as part of Middlebury College's Schools Abroad Program, Sikder lived at the University of Jordan. She was told repeatedly that if she was really interested in social justice, she should visit the West Bank, so when her program ended, she taught English to young children in Nablus, through Project H.O.P.E. The following summer she taught at an environmental education center in the Aida Refugee Camp, just outside of Bethlehem.
"When I lived in the West Bank I saw how the injustices there echoed what's happening in American cities," she says. "In both places, I witnessed the mass incarceration of young men. I wondered how I could be a good ally to people who are oppressed by governments and realized that I could be most effective by becoming a teacher, at home in New York City."
While at TC, student-teaching in two very different Brooklyn neighborhoods – affluent Park Slope and low-income Sunset Park – she received a crash course in the inequality in America's schools.
"The segregation of New York City schools is very stark – inequity is a real problem, just like abroad," she says. "In one of my classes, we were talking about how segregation is over, but I was looking around and it's a classroom with only brown children."
In the end, she says, TC helped her integrate a sense of social activism with her passion for education.
"Teachers College was such a great place for me because I'm so passionate about urban education and equality in schools. Teaching is the most humane profession. I've been righteous and upstanding about defending people, and when I see something that outrages me I act. And that is what TC is passionate about. I am really proud of the educator I've become and truly look forward to leading the examined life of a lifelong learner." -- Robert Florida
Published Wednesday, May 31, 2017