Finding Her Voice – and Her Wings: Patricia Gonzalez (M.A., Higher and Postsecondary Education)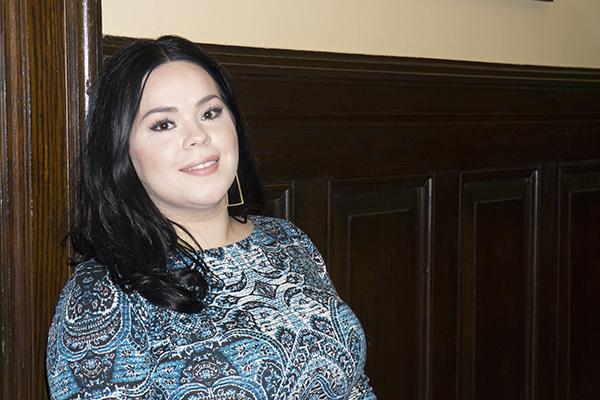 Before coming to Teachers College, Patricia Gonzalez didn't know how to integrate her ethnic and cultural background into her scholarship.
"I lacked the confidence to embrace my voice as a Spanish-speaking Latina from a working-class background," says Gonzalez, who received her master's in Higher and Postsecondary Education in May.
As an undergraduate at Franklin and Marshall College – the first in her family to attend college – Gonzalez felt a pervasive sense of otherness. Most of the students she knew came from affluent families, had attended private high schools and drove expensive cars.
Gonzalez's own parents immigrated to Los Angeles from Mexico, but when she was three, her mother took her and most of her 10 siblings back to Guadalajara Jalisco, while her father, a construction worker, and an older brother stayed in L.A. to work. In Mexico, took in babysitting at home while her older siblings worked part-time while going to school.
"My mother had to ask the local store to allow her to pay for the groceries on the following month," recalls Gonzalez. "We struggled financially."
By the time she was seven, Gonzalez's father had saved enough to bring the family back to Los Angeles. Gonzalez later attended one of the city's most violent public high schools. Her older sisters forewent college, working to help the family.
"My older sisters are my heroes – they worked and helped so that I could go to college," says Gonzalez, who won Gates Millennium, William Gray and One Voice Scholarships to attend Franklin and Marshall. (The Gates Scholarship also contributed to her TC education.) "Getting my master's degree from TC is about them, for the enormous emotional support that they gave me. I thank them for believing in my dreams. I love them all with all my heart."
As a teen and young adult, Gonzalez became increasingly committed to working for social justice. In high school, she joined both the Community Coalition, a nonprofit organization that works to transform social and economic conditions in South LA, and South Central Youth Empowerment through Action, through which high school students work to improve public education. She also interned with The Children's Defense Fund Freedom Schools, a literacy enrichment program inspired by the 1964 Freedom Summer.
In college, she interned for a summer in Khayelitsha, a black township in Cape Town, South Africa, mentoring 150 youth ages nine through 19. "In spite of Apartheid ending years ago, I was still able to witness the injustice in the black communities," she says. "Students had to walk miles to get to school. A majority of the children grow up not seeing their parents often. Due to the lack of jobs nearby, a majority of the adults have to travel to Cape Town to work. The living conditions are disheartening – even running water is a serious problem. Yet a few miles away from Khayelitsha you can see beautiful homes."
When Gonzalez first arrived at TC, she didn't know whether experiences should bear on her studies. She credits Noah Drezner, Associate Professor of Higher Education, with "helping me to see that my lived experience was worth embracing.
"Professor Drezner did a beautiful job of empowering me," she says. "In his class for the first time I realized that the kind of life I had lived, was for most students, something they only read about in books."
This summer, Gonzalez is working again with the Children's Defense Fund, based at the University of Southern California. Longer-term, she intends to find a job in multicultural affairs in higher education, with a focus on helping first-generation students get into and finish college.

"Promoting and building social justice awareness on campus is my main mission in life, and Teachers College has better prepared me to carry out that mission," she says. "I found my wings at TC." – Robert Florida
Published Tuesday, May 30, 2017