In the Wrong Hands: An authority on mass gun violence describes an unholy trinity of violence fostered by America's gun laws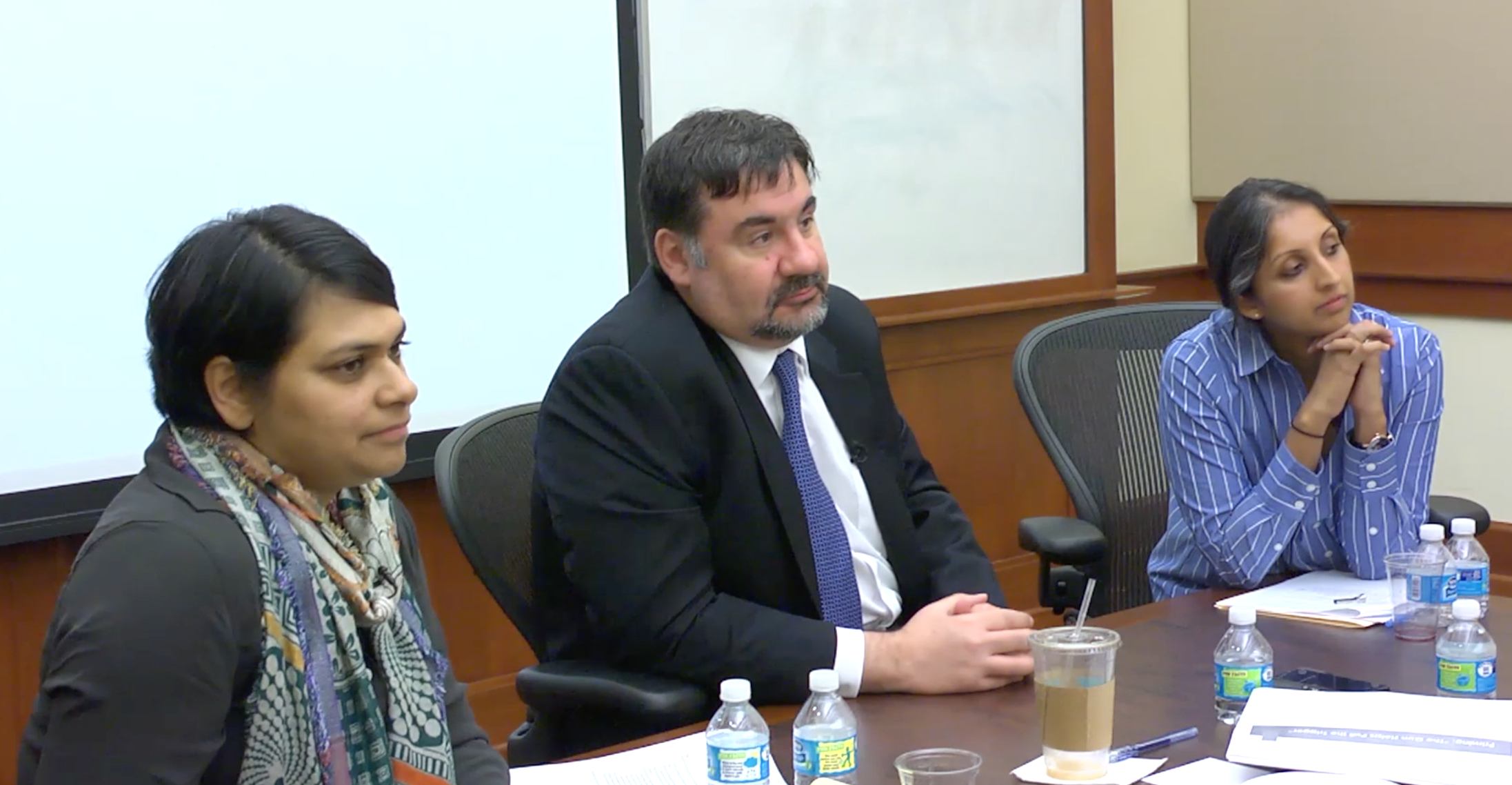 The timing of a Teachers College book talk on mass shootings and gun violence, just two weeks after a lone shooter killed 58 people and injured hundreds more at a Las Vegas concert on October 1st, was coincidental. The talk, by University of Massachusetts- Boston faculty member Louis Klarevas, author of Rampage Nation: Securing America from Mass Shootings (Prometheus Books 2016), had been scheduled long before that horrific event.
"You can't have a mass shooting without a gun. It's simple."
— Louis Klarevas
Then again, as is made abundantly clear in Rampage Nation – a 50-year-history of shooting events that have killed or injured four or people – tragedies like the one in Las Vegas have become so commonplace that the odds increasingly favor such coincidences. Gun violence in the United States on average ends over 31,000 lives a year by accident, suicide, individual and multiple homicide – and there have been 307 mass shootings thus far in the 309 days of 2017, including yesterday's killing of at least 26 people in Sutherland Springs, Texas.
The product of more than three years spent mining daily newspapers and scrutinizing data, Rampage Nation attributes those numbers to a "trinity of violence" formed by the confluence of a weapon, a target and a perpetrator. Perpetrators are for the most part men of working age suffering from mental health issues. Typically, these rage-induced shooters possess a discordant combination of high self-esteem and "extreme sensitivity" to "criticism and ridicule." They are "primed" to act by the ability to procure a firearm – or, as Klarevas put it, "the mere presence of a weapon, [which] is enough to spike" the anger of shooters "to do something [they] normally wouldn't do."
The last point is critical, because it speaks to both the simplicity of the formula for prevention and the nation's persistent refusal to put that formula into practice.
"You can't have a mass shooting without a gun. It's simple. No gun, no mass shooting," Klarevas said. And the corollary – that greater gun availability leads to more killing – appears to be equally true. Multiple shooting deaths of six or more individuals have risen exponentially since Congress permitted the assault weapon ban to lapse in 2004, Klarevas reports in Rampage Nation – including a 40 percent rise in the last ten years alone.
Not surprisingly, these findings on firearm violence, voiced on Huffington Post and social media as well as in his book, have made Klarevas a pariah in the eyes of gun rights advocates. Yet he steadfastly refutes an argument repeatedly put forth by the National Rifle Association (NRA).
"It really is a myth that a good guy with a gun can stop a bad guy with a gun," he said. "[Aurora gunman James Holmes and Sandy Hook gunman Adam Lanza] were good guys 30 seconds before they started shooting.
Klarevas reports that 83 percent of multiple shootings unfold in venues where guns are allowed and that 23 civilians have stopped worse carnage by non-armed means, while only four people have used personal firearms to bring down a mass shooter.
Yet the antidote to the bloodshed does not reside in the repeal of the Second Amendment, he said. Rather he favors stringent enforcement of existing laws and an expansion of the social safety net as a starting point for a preventive framework that includes:
Gun violence in the United States on average ends over 31,000 lives a year by accident, suicide, individual and multiple homicide – and there have been 307 mass shootings thus far in the 309 days of 2017.
Toughening statutes to keep guns out of the hands of individuals with histories of domestic violence.
Discouraging the prosecutorial practice of pleading gun cases down from a felony to a misdemeanor, a legal maneuver that places perpetrators and their weapons back on the streets.
Banning large capacity magazines.
Reopening research into the study of gun violence as a public health threat.
A Global Affairs instructor and expert, Klarevas began focusing on firearm violence in the aftermath of the 2007 shootings that took the lives of 32 students and faculty on the Virginia Tech campus.
"I remember thinking to myself that (post-9/11) this is going to be the biggest threat to national security," he said.
But it was a massacre five years later, the 2012 Sandy Hook Elementary School shooting that claimed 26 lives, including 20 first graders.
"I knew at that moment I had to write this book," said Klarevas.
His sense of urgency has only grown. The morning after the talk, not 12 hours after Klarevas concluded his presentation, three people were killed and two others wounded in a multiple shooting at a Maryland office park. – Stephen Giegerich
The October 17th book talk was co-sponsored by TC's Media and Social Change Lab (MASCLab) and The TC Gun Violence Prevention Working Group, with support provided by the Office of the Provost. The subsequent discussion was moderated by Assistant Professor of Health Education Sonali Rajan, who has written extensively on youth gun violence, and Professor of Technology & Education Lalitha Vasudevan, MASCLab director. Click here to link to the MASCLab posting with links to video of talk and commentary.
Published Monday, Nov 6, 2017