This year's recipients of Teachers College's 2018 Distinguished Alumni and Early Career awards, who were honored at Academic Festival, represented a particularly broad range of expertise and experience.
The 2018 TC Distinguished Alumni Award winners were:
Louise Ada (M.A. '84), Emeritus Professor of Neurological Physiotherapy at the University of Sydney.
Louise Ada (M.A. '84)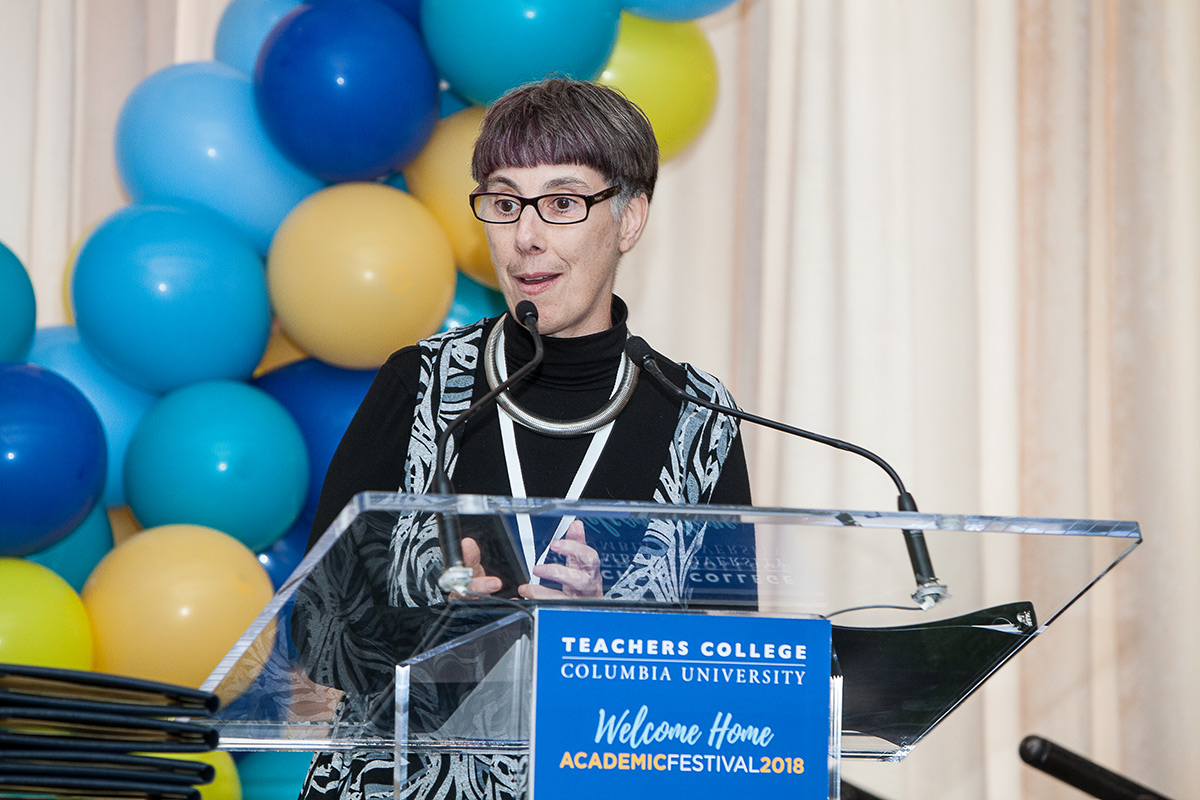 Ada said that when she arrived at TC in the 1980s, " New York had just discovered Australia" via the film Picnic at Hanging Rock and the band Men at Work. from the 1980s.
Since the world has discovered Ada, who has revolutionized stroke recovery through an emphasis on movement to combat loss of strength. TC had an "enormous effect on my career," said Ada, whose mentor was the late TC movement scientist Antoinette Gentile, adding that when she designed a master's program in Sydney, "I very much modeled it on here."
Gabriela Simon-Cereijido, Professor in the College of Health & Human Services' Department of Communication Disorders at California State University-Los Angeles.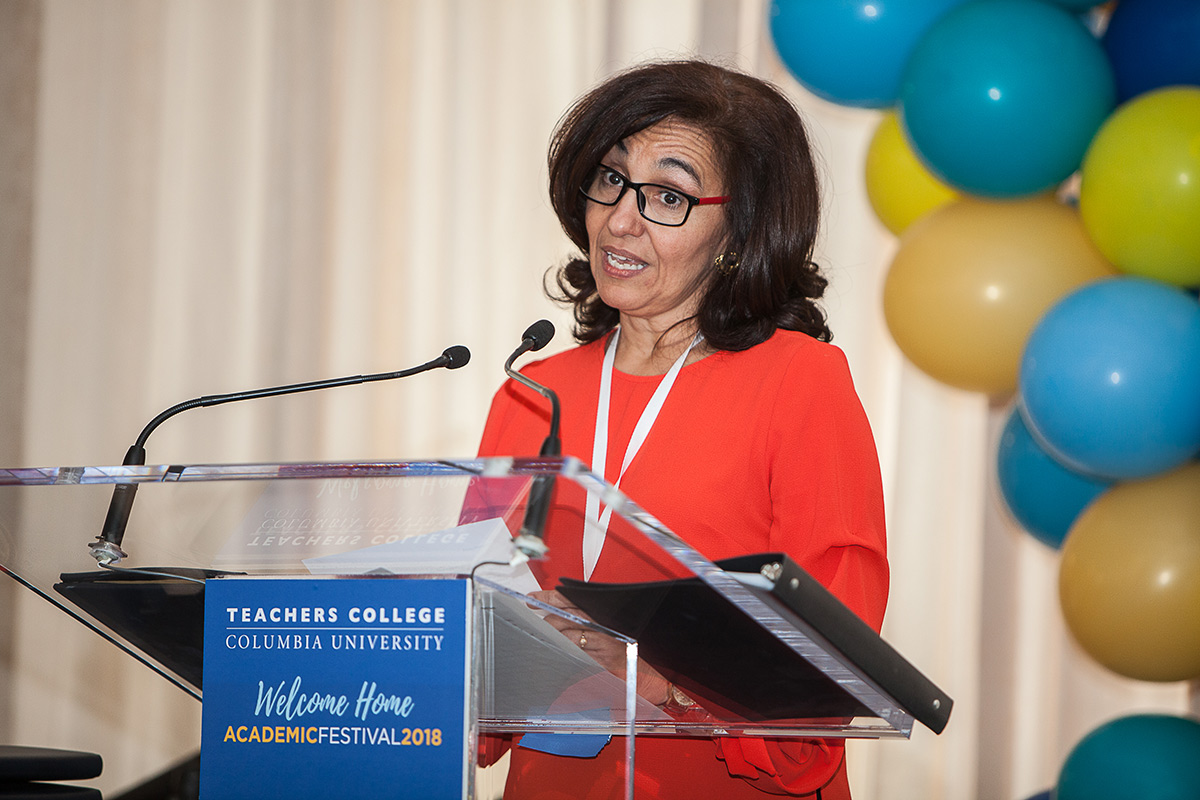 Simon-Cereijido is a bilingual speech/language pathologist whose research has demonstrated that restricting language choices can have harmful and long-lasting effects on children with language disorders. She has conducted important studies on services for children with autism in Saudi Arabia and on Italian-English immersion programs, and has developed socially just language policies and formalized ethical, harm-reducing standards in the field.
"In the speech and language pathology program at TC I found my sense of purpose: To be a professional who supports and advocates for individuals with communication disorders," Simon Cereijido said. "Regardless of the frontiers that people have or have not crossed, language choice is an inviolable right. Educators should protect from policies [that take that away]."
Sybil Jordan Hampton (Ed.D. '91, M.Ed. '82), who was part of the second group of students to integrate Central High School in Little Rock, Arkansas.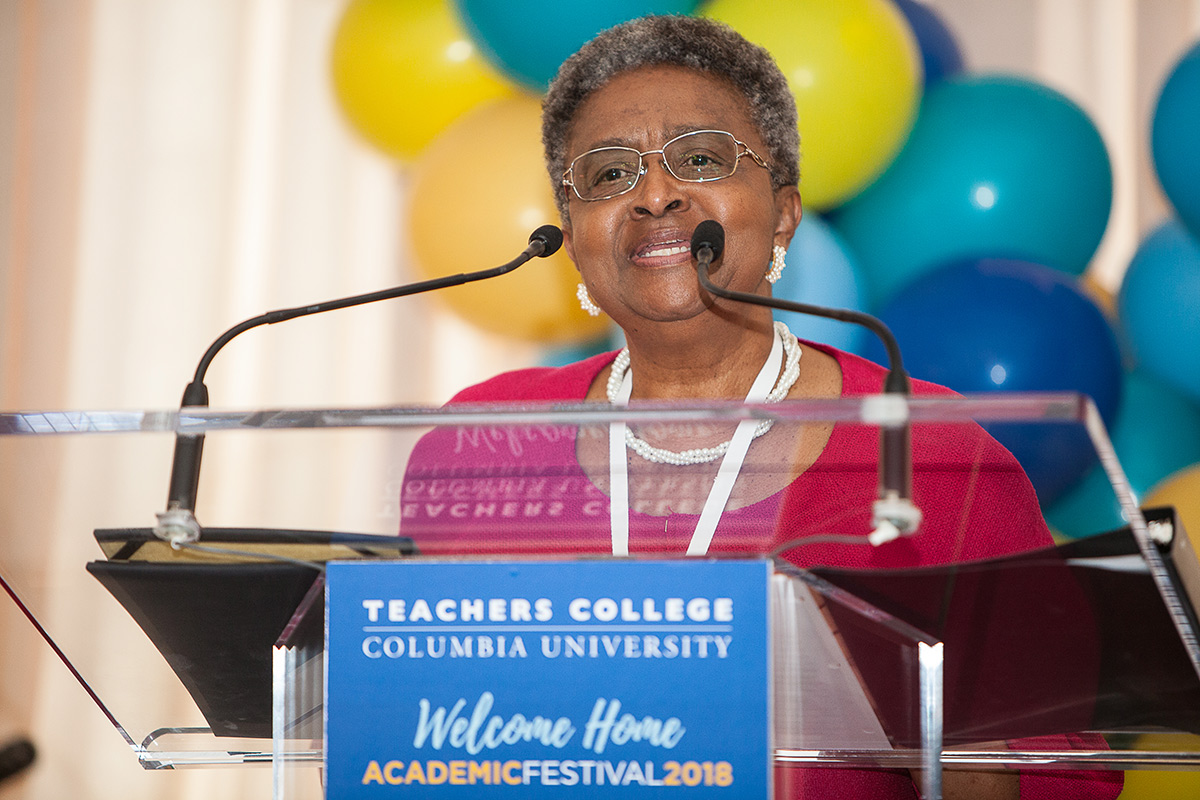 Unlike the original Little Rock Nine, she was largely spared direct violence – but as the only black person in a 10th a grade of more than 600 students, she spent three years in near-total silence, ignore and ostracized by her peers.
"The most important reason why I came to TC was because as a little girl in segregated schools, I had teachers who talked about TC," said Hampton, who went on to head the Winthrop Rockefeller Foundation and be named to Arkansas Business's Top 100 Women and the Arkansas Black Hall of Fame. "I was taught by people who had come here because they had no opportunities in Arkansas." She added that while much has been said about her time at Little Rock Central High, her "pivotal learning experience" came at TC. "Thanks to Dr. Lawrence Cremin I came to understand that education takes place in so many settings. Foundations and philanthropic institutions can be critical locations for change."
Etta Kralovec (Ed.D. '89, M.Ed. '85), a noted teacher educator at the Unversity of Arizona South and co-author of The End of Homework: How Homework Disrupts Families, Overburdens Children, and Limits Learning. A former East Los Angeles high school principal, Kralovec has also established teacher education program in Zimbabwe, studied that same field in Finland and prepared STEM teachers for Title 1 schools in Arizona-Mexico border communities.
"I first heard of TC from a high school teacher who had her TC diploma displayed. – however, she failed me for making a mockery of her final exam," Kralovec recalled. She added that she graduated from high school with a 1.67 GPA. "I didn't do homework. I preferred the beach. The only place I excelled was debate."
She became "committed to being a teacher who could make high school less boring" as a result. "An educational path is never straight," she said. "The job as an educator is to open doors, not close them. I want to leave you with the thought of persistence, the most important character trait of all."
The 2018 TC Early Career Award recipients were: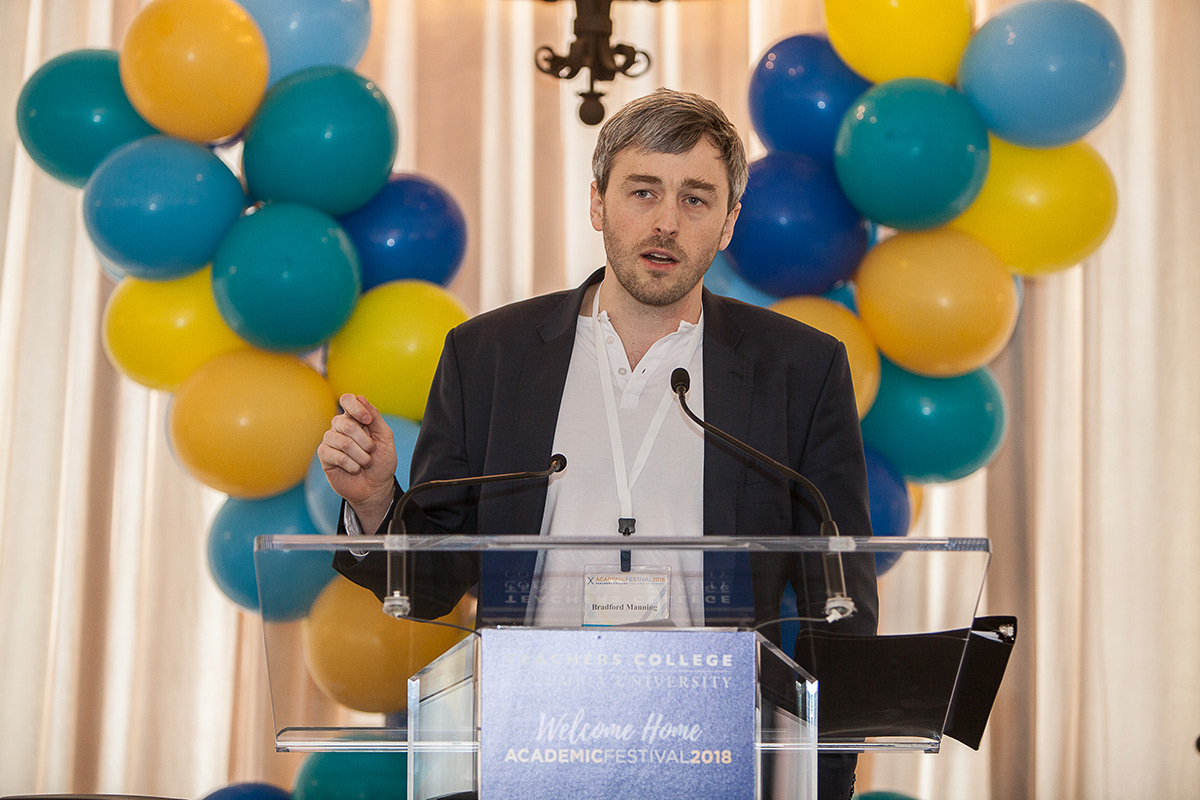 Bradford Manning (M.A. '10) and his younger brother, Bryan, are the founders of Two Blind Brothers, which creates clothing designed for the sight impaired. (The materials are ultra-soft, and shirts have words such as "Brother," "Vision" and "Feel" woven into the sleeves in Braille. One hundred percent of profits are used to support research on blindness.) The Mannings, who as children were diagnosed with a genetic disorder that has left them legally blind, have appeared on "Ellen" and NBC.
"Our stories start when I was five years old when the doctor said [to take me home and teach me Braille," Bradford Manning said. "It was a rough moment, but the story isn't a sad one. We were fortunate to have the right parents and resources. And I came here to TC to act further on that mission and help others."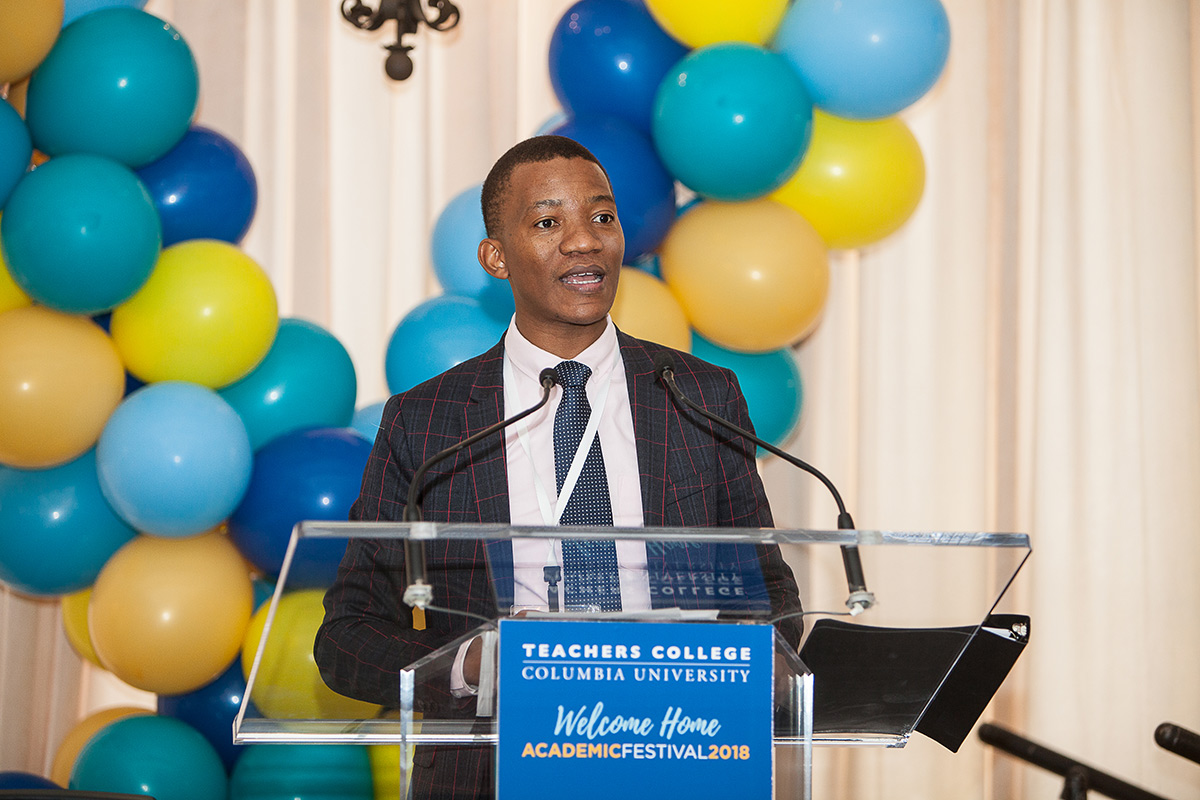 Thabo Msibi (M.Ed. '08), Dean and Head of School at the University of KwaZulu-Natal (UKZN) in South Africa. En route to becoming his nation's youngest university dean, Msibi survived childhood under apartheid, a complicated family life and a lonely adolescence among wealthier white peers. As an undergraduate at UKZN, he created a leadership program for teen in rural secondary schools and prompted the university to improve its curriculum. He has since become known as an advocate of "transgressive education," speaking out in favor of breaking taboos around sexuality and gender in Africa and urging teachers to incorporate into their practices the politics, narratives and identities that shape their students' lives.
"I tried to commit suicide, I had a bad gambling habit -- my parents wanted the police to come and beat me up and lock me up," Mbisi recalled. As a result, he said, "I want to take every opportunity you get with a person who is seen as criminal or sideline, and use that opportunity to give them a chance." – Siddhartha Mitter
Read more about Academic Festival 2018:
"Every Teacher is a Civics Teacher": At Academic Festival, Eric Liu calls on educators to lead a democratic renewal
"X" Marks the Future: Academic Festival 2018 spotlights the world at a crossroads
Academic Festival 2018 Sessions
Student Research Poster Competition