Last year at this time, Asha Owens and Rebecca Kwee were master's degree students preparing for the fall semester at Teachers College. The two, who had never met, were unsure of their paths following graduation in May 2018.
What a difference a year makes. Today, Kwee and Owens are riding a success story that began shortly before Christmas, when they, together with another student, Danielle Llaneza, took top honors in the inaugural TC EdTech Innovation Showcase for their proposal for a smartphone app to help aspiring first-generation college students learn more about the realities of campus life.
Things have moved quickly since then. In February Owens and Kwee created a company, BestFit, Inc., and are working to bring their app (also called BestFit) to market. A month later, Owens presented the concept at the South By Southwest conference and festival in Austin.
"I keep thinking this is just the beginning, but when I look back I realize we've done quite a bit in just a little bit of time."

Asha Owens (M.A. '18), Chief Executive Officer, BestFit, Inc.
And now BestFit has notched another first-place finish, in mid-July netting a $100,000 cash prize (and access to guidance from ed tech industry experts) in the "Algorithm for Change" contest held by New York University's Social Entrepreneurship Program. The competition, which drew 70 entries from young, tech-minded teams from around the country, promotes the development of technological access and college-success models for low-income, underrepresented minority and first-generation students.
"I keep thinking this is just the beginning, but when I look back I realize we've done quite a bit in just a little bit of time," says Owens, who serves as BestFit's Chief Executive Officer.
"It's amazing how we started out with an idea, and now people from around the nation are looking at it," Kwee says.
"We're excited because people trust in our ability to do this," Owens adds.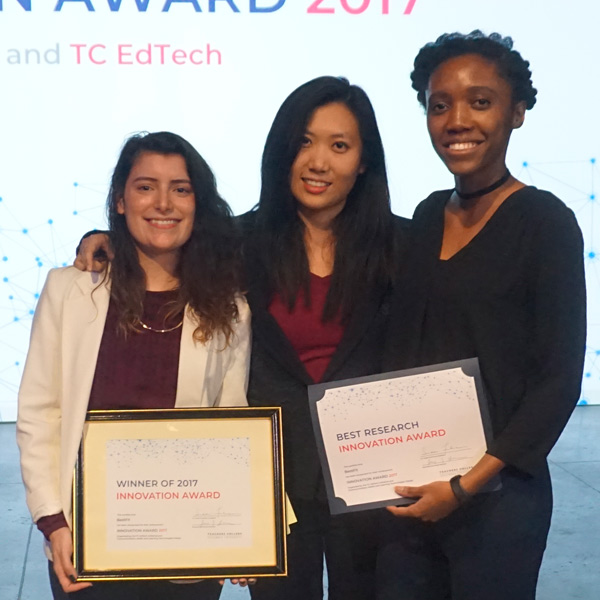 Positioned as the "Tinder + Snapchat of college discovery," BestFit uses videos from current college students to help first-generation, low-income, and underrepresented students identify colleges and universities that are an academic, social, and financial fit. The idea was inspired by a study that found that up to 40 percent of potential low-income students fail to follow through on college acceptance notifications.
The success of BestFit reflects the different strengths of all three original team members, all of whom graduated in May. Kwee received her master's in Higher & Post-Secondary Education; Owens earned hers in Instructional Technology & Media; and Llaneza, in Developmental Psychology. Llaneza, who received her M.A. in Developmental Psychology, is applying to doctoral programs in the same field this fall and continues to be involved in the start-up as an adviser.
Bolstered by institutional grants (BestFit has also garnered a $10,000 fellowship from "4.0 Schools," a non-profit that grants funding to projects working to shape the future of education in the United States, and the fledgling company is conferring with foundations, colleges and other institutions with interest in supporting the project financially as well as operationally), Owens and Kwee are preparing to bring in app developers to help move BestFit off the drawing board and into a pilot program.
"I'm really looking forward to getting it in the hands of high school students," said Owens.
Meanwhile, the lives of the two TC alumnae have been upended, in a positive way, by an idea that – like their business partnership and friendship – didn't exist 12 months ago. Owens has shelved her original goal of moving to the Bay Area following commencement. And both have put another plan on hold as well. Says Kwee: "Three months later, we still haven't celebrated graduation."