Teachers College, Columbia University – the nation's first and largest graduate school of education, psychology and health – must "write a new chapter" in its 130-year history by working across fields and disciplines to develop truly comprehensive solutions to the world's most pressing problems.
[ Click here to visit the Inauguration website ]
That was the central message delivered by Thomas R. Bailey, inaugurated today as the College's 11th President in a ceremony in Manhattan's Riverside Church. Bailey, a labor economist regarded as one of the nation's leading authorities on community colleges, detailed a plan for Teachers College to better marshal its resources to "build smarter, more productive, and more just societies" and create "a world with pathways for all to flourish." Success is imperative, he told an audience of nearly 1,000 alumni, students, faculty and friends of TC, "first, because our nation and our world need our knowledge, expertise, and graduates more urgently than ever before, and second, because we face many challenges as an institution."
VALUING OTHERS' PERSPECTIVES Bailey called for an appreciation of others "not just in spite of how different their experience and political views might be, but because of those differences."
Bailey called the current moment "unquestionably troubling times – not a period of 'we,' as it should be, but rather one of 'us and them.''' He cited global issues such as the rise of repressive regimes, growing intolerance and the othering of fellow human beings, and domestic ones such as a widening gap between haves and have nots, and the de facto re-segregation of American schools.
[Read the full transcript of President Bailey's Inauguration remarks. Read an original poem composed and delivered by TC faculty member Yolanda Sealey-Ruiz. Read a gallery of quotes by other speakers.]
In addition, he said, American higher education is facing "unprecedented skepticism" about its value and purpose. "A substantial portion of the country sees higher education as lacking intellectual diversity, while soaring student debt is falling most heavily on those students least able to pay it off. Many critics and citizens are asking: Is college really worth it? Do public institutions deserve the funding they receive? Do private colleges and universities earn the ever-increasing tuition that they charge?"
CO-WRITING THIS STORY Yolanda Sealey-Ruiz (M.A.'95), Associate Professor of English Education, composed and delivered "Creating Pathways Where There Were None Before," a poem in honor of the new president.
Bailey argued that Teachers College should view meeting its own challenges and addressing the world's problems as one and the same endeavor. The College "stands at the forefront of new knowledge about learning and human development across the lifespan" and has been a leader in shaping inquiry and practice in education, health and psychology. Still, "by building a stronger and more effective Teachers College, we will strengthen our ability to build a stronger and more just world," he said, "and by truly marshaling our resources to achieve our broader social goals, we will become a stronger and more effective and sustainable institution."
Carousel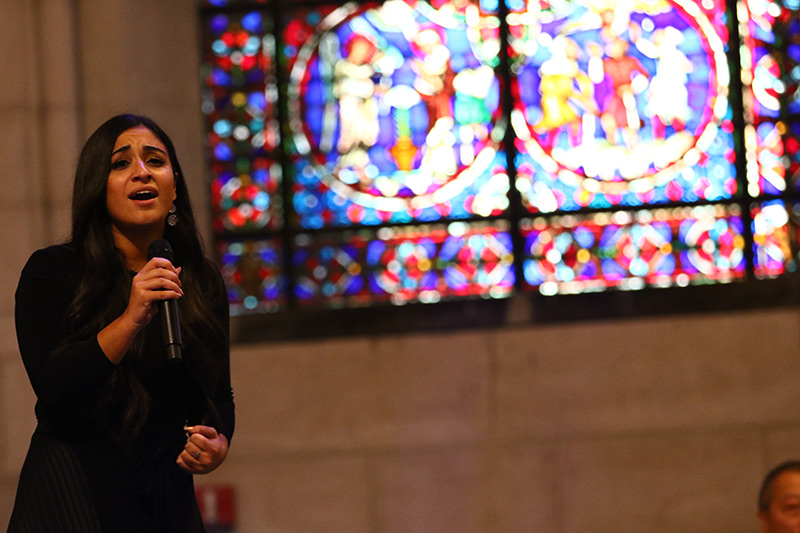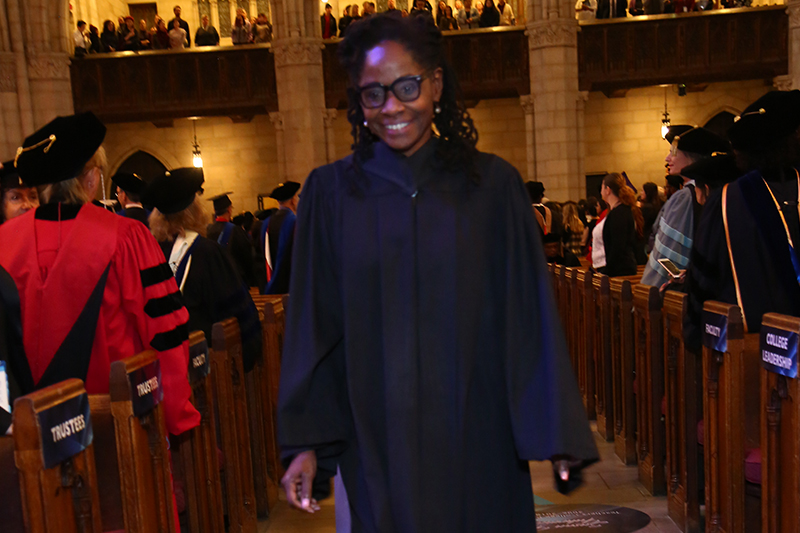 In offering a blueprint for achieving what he called "the power of we," Bailey drew on his own past experience in leading TC's Community College Research Center, which, during his tenure, played a major role in shifting the nation's two-year colleges from merely providing education access to a focus on ensuring that students complete their degrees and emerge with the skills to succeed in work and life. After years of studying different strategies, and helping to pilot-test many of them, Bailey and his associates developed Guided Pathways, a comprehensive strategy (since adopted by more than a fifth of the nation's community colleges) that addresses all of students' needs.
HISTORY LESSON FOR THE FUTURE William Rueckert, TC Board Chair and descendant of the College's founder, reminded listeners of TC's enduring values and proclaimed, "Teachers College and the dream of its founders are in terrifically good hands."
Teachers College, too, must focus on creating comprehensive solutions, Bailey said. To that end, he proposed "a guided pathways model" for the College that will require "the courage to make difficult choices" but ultimately enable TC "to take full advantage of all of our great strengths and flourish well into the future."
REAFFIRMING A BOND Columbia University President Lee Bollinger paid tribute to the longstanding relationship between Columbia and the College, adding: "Education is where it's at, and you at TC are where it's at."
First and foremost, Bailey said, TC must better support its own students' pathways, from recruitment, through programs and internships, to career services, placement and beyond. The College must also develop its many small programs "so that they work in concert and are synchronized and conducted with reference to one another"—improvements that will make TC "a place that our students and funders can better understand, navigate, and support" while also enabling stronger "recruitment and continuous professional development of our faculty." And TC must do more within its own walls to ensure "respect for equity, diversity, and a commitment to collegiality," including valuing others' perspectives "not just in spite of how different their experience and political views might be, but because of those differences."
IN PRAISE OF INTERESTING TIMES Eloy Oakley, Chancellor of California's Community Colleges, said that we are fortunate to be living at a moment when "issues of race, ethnicity and historically left behind communities are being forced to the surface – when we are being forced to confront those issues."
The inauguration ceremony also included remarks by New York City Council member Mark Levine (7th District); Adriano Espaillat, New York Congressman (13th congressional district); Columbia University President Lee Bollinger; California Community Colleges Chancellor Eloy Ortiz Oakley; and Teachers College alumna Belinda Miles, President of Westchester Community College. From within the College, speakers included William D. Rueckert, Chair of TC's Board of Trustees (and descendent of TC founder Grace Hoadley Dodge); and representatives from TC's faculty, staff, union employees, students and alumni. Yolanda Sealey-Ruiz, Associate Professor of English Education, delivered an original poem she wrote in Bailey's honor, titled "Creating Pathways Where There Were None Before."
The inauguration ceremony capped off a week of celebratory events and activities that included an Academic Symposium. New York City Schools Chancellor Richard Carranza delivered the Phyllis L. Kossoff Lecture, followed by panel discussions featuring TC faculty. View Chancellor Carranza's keynote address and response discussion with TC faculty.
Twitter: @TeachersCollege and #TCinauguration