Seven TC students advocated for student aid in Albany, New York's state capital, on February 13th.
The students rallied with close to 1,000 others from around the state as part of the New York Student Aid Alliance, organized by the Commission on Independent Colleges and Universities.
They also met with three legislators and staff to detail how student aid has helped them pursue their careers. The students emphasized that higher education, and graduate students in particular, are facing unprecedented challenges.
"TC students are amazing. They are our best spokespeople."
— Matthew Camp, Director, Government Relations and doctoral student, Politics & Education.
TC's Bobby Robaina, a master's degree student in the Higher & Post-Secondary Education Program, got on the microphone during the rally and, after highlighting the importance of graduate education, exclaimed, "Cut the crap, bring back Grad TAP!", referring to a tuition aid program for graduate students that was cut in 2010.
Robaina was joined by Christopher Sanacore (International & Transcultural Studies), Michelle Burris (Politics & Education), Brad Campion (Higher & Post-Secondary Education), Miguel Torez (Health Education and Behavioral Studies), Houming Jiang (Klingenstein Center for Independent School Leadership), and Matthew Camp, TC's Director of Government Relations (and a doctoral candidate in Politics & Education).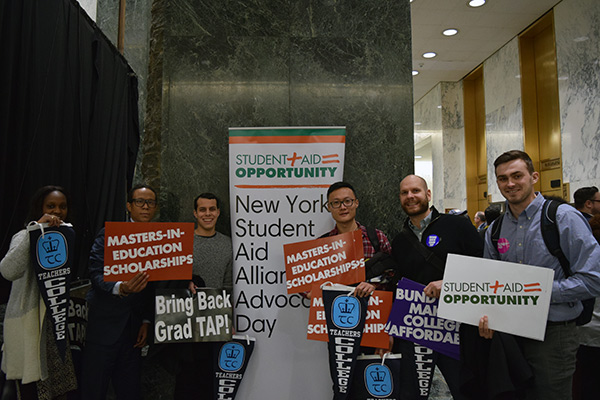 "TC students are amazing," said Camp. "Their stories help educate legislators on the importance of student aid and TC's contribution to education locally, nationally, and internationally. They are our best spokespeople."