Life-long learning is about refusing to be defined by a single set of ideas or experiences. But for TC doctoral student Ayesha Rabadi-Raol, it has also been a refusal to be defined by a single, horrific moment.
Born to a middle-class family in Mumbai, Ayesha, at age 13, survived a horrific car crash that killed both her parents and left her older sister paralyzed with multiple injuries.
After her own recovery, Ayesha worked odd jobs, including tutoring, to support her sister and grandmother. En route to earning an undergraduate degree in Applied Art, she began working part-time at a child development center.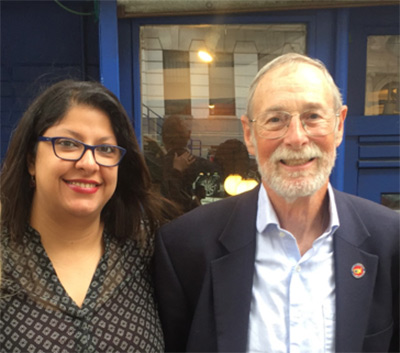 "I worked there for 14 years before I could gather the courage to apply for a master's degree," she recalls. "By then, my sister was married, and my grandmother had passed away. I applied for 40 scholarships in India and was fortunate to have enough funding to get to TC."
The College was Ayesha's first choice, in great part because of its commitment to social justice, diversity and equity – and it was that same commitment, in the form of scholarships during her second year, that enabled her to complete her master's degree.
"I have been surrounded by faculty and staff who are immensely supportive and kind," she says. "My individual needs as a student were prioritized and I felt very safe here. Never had I imagined that I would have an M.A., and here I am pursuing a doctorate!"
Now Ayesha is returning the favor.
"Because I received kindness and a warm welcoming environment at TC when I arrived, I want to pay it forward and create more spaces and opportunities for new doctoral students to find a place of belonging at TC," she says. "Many first-generation students and international students find it hard to navigate academia, so I am working with the faculty and students to make this process easier."
More specifically, Ayesha is interested in the experiences of "transnational" immigrant student teachers, and – in the current political climate -- in helping them "take advantage of TC as a place of activism and change to provide a platform for socially and historically marginalized populations." She hopes to become a teacher educator herself after completing her dissertation.
"I am ever-grateful to all the donors who have made it possible for someone like me to be at an institution like TC, which supports my lifelong learner identity and sees me for who I am," Ayesha says. "They have made my educational dreams possible, and for that I am deeply thankful."
If you are interested in establishing an endowed scholarship or contributing to one, please click here to find out more. Your gift can change a TC student's life.