Digital learning has been thriving at Teachers College since the 1980s, when the College led efforts to wire the New York City school system. There's been a major acceleration in recent years though, including a big investment by TCs Board of Trustees and the hiring of a Vice Provost of Digital Learning, Steven Goss; the addition of scores of younger, digitally-minded faculty members and the creation of new institutes, labs and programs; the construction of smart classrooms; and, of course, the annual infusion of new students, digital natives who generally have the most precise idea of where "it" may be "at."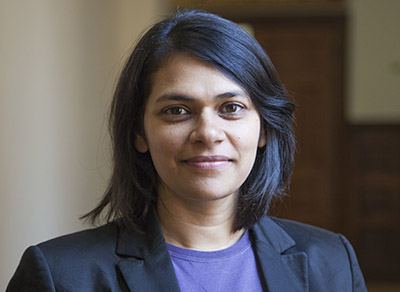 To get a feel for just where the revolution stands right now, be sure to check out the Teachers College Digital Learning Exhibition, an interactive showcase that will go live on April 4th in TC's new Smith Learning Theater on the fourth floor of the College's Gottesman libraries. Curated by Lalitha Vasudevan, Professor of Technology & Education, and students in her Media and Social Change Lab (MASCLab) in collaboration with Goss and the Office of Digital Learning, the exhibition consists of six exhibits that "suggest the range and variation of how people have taken up the idea of digital learning, from novices to people who are experts in designing learning environments."
[ Click here to learn more about The Teachers College Digital Learning Exhibition ]
"People are really looking for guidance in what this thing called digital learning could be. By and large, the field has offered a relatively narrow-minded understanding of what learning looks like when you create distance between the teacher and student, so our hope is that this exhibition really reflects the much more expansive understanding that's been taking shape at TC."

— Lalitha Vasudevan
"People are really looking for guidance in what this thing called digital learning could be," says Vasudevan, who is a faculty member in the College's program in Communication, Media & Learning Technologies Design within the Department of Mathematics, Science & Technology. "By and large, the field has offered a relatively narrow-minded understanding of what learning looks like when you create distance between the teacher and student, so our hope is that this exhibition really reflects the much more expansive understanding that's been taking shape at TC."
MASCLab, founded in 2013, has been a hub for multimodal productions at TC, reflecting its philosophy that beyond critiquing media in education, students should become producers of culture.
[ Read a story on MASCLab's recent Podfest. Listen to an interview with Vasudevan on WNYC radio and read her opinion piece in The Hechinger Report, both on youth activism against gun violence. ]
The Teachers College Digital Learning Exhibition will open at 10:00 with remarks from TC President Susan Fuhrman. Faculty members will hold informal plenary conversations at 11 and 12. No registration is required and viewers can enter, leave and return at will. The exhibition will remain up through the College's Academic Festival on Saturday, April 7th.
Each component exhibit will blend interviews with faculty members and students with relevant "artifacts" – art work, videos, performance pieces and other multimodal works that have been produced by different TC programs. Rather than focusing on a single program or faculty member, the exhibits are thematic, dealing with issues such as materiality, technology, performance space, virtual reality and embodiment, design of the learning environment, and the metaphor of digital learning as a window. Spotlighted efforts include a virtual reality chemistry lab, the College's Creative Technologies Program, Trustee-backed programs in financial literacy and the preparation of teaching artists.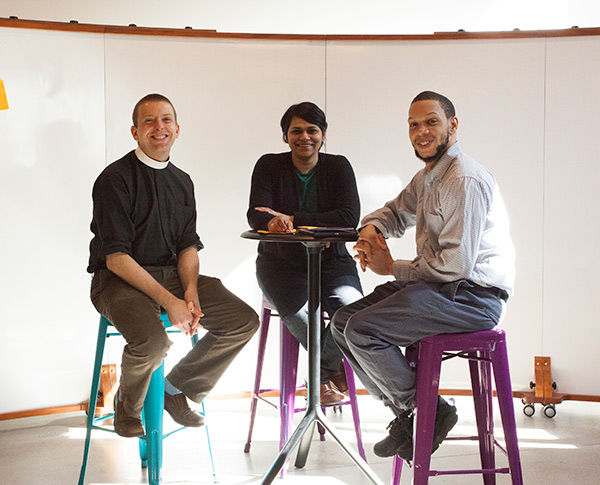 Throughout the day, MASC Lab students will be on hand to provide additional background about the exhibits. Vasudevan expects to subsequently produce a microsite of the exhibition and work with students on journal publications stemming from it.
"There's such a rich tapestry of approaches at TC demonstrating what a degree program or a certificate program can do, and how people approach digital learning from a pedagogical perspective or a research perspective." Vasudevan says. "The exhibition really shows how it's baked into TC, and how we're exploding the notion of what digital learning can be."