When Charo Uceda was a little girl growing up in Arequipa, Peru, she made her three older siblings sit while she pretended to be an English teacher named Ms. O'Brien. She used the back of her bedroom door as a blackboard.
"I still don't know where I got the name from," says Uceda (M.A. '08), laughing. "Probably TV, because we used to watch American shows."
A talented singer, Uceda participated during her teens in musical groups, even recording a Christian song that has remained very popular in the Peruvian Mormon Church. She also made TV appearances and sang the debut performances of original songs for a well-known Peruvian composer. Much later, in the 1990s she got involved in several successful business ventures, including parking garages, a print shop and laundromats in New York City.
Still, Uceda always continued to channel Ms. O'Brien. In 1988, not long after bringing her immediate family to the States, she, her father Juan J. Uceda and sister, Doris, founded Uceda English Institute, an accredited organization that teaches English as a Second Language (ESL). The company, which serves students from all over the world, now encompasses more than 25 locations, including campuses in New York, New Jersey, Florida and Nevada.
In 1989, Uceda launched a series of ESL textbooks that were used by the Uceda Institutes, followed by Charo Uceda English at Home, millions of copies of which are in circulation.
"I've realized that the main focus of someone's character is the degree to which your convictions shape your actions and how much you are prepared to love others whom you don't know. And that is because Susan Fuhrman has opened my heart."
—Charo Uceda (M.A.'08)
Uceda could easily have coasted on those impressive accomplishments. Instead in 2006, convinced that "education was my passion" and eager to enhance her schools, texts and research, she enrolled in TC's Applied Linguistics master's degree program. She followed that degree with another master's, in Educational Technologies, from Harvard and eventually sold her stake in all other businesses to remain focused in education.
Things were moving in the right direction, but Uceda says the real turning point came in the restroom of New York City's Carlyle Hotel, on the day she graduated from TC.
"My Dad and I had gone to the Carlyle for a celebratory drink, right after the Convocation ceremony, while I was still wearing proudly, my robe, like a kid," she recalls. In the restroom she got into conversation with a woman in a striking maroon hat, a beautiful dress and pearls, who seem to know at once that Charo had graduated from TC.
"She asked me what I planned to do, and I said, 'Something good, but I don't yet know what.' And she said, 'Well, give me your information and I will see what I can do.'"
Some months went by, and then one day Uceda got an invitation to a TC gathering in Manhattan. Arriving in the lobby and stepping into the elevator, she found herself facing the woman in the maroon hat. A moment later, in the host's apartment, she was shaking hands with TC President Susan Fuhrman, who said, "I know you – you're Charo Uceda, the one with the schools all over the place." And the woman in the maroon hat, who turned to be alumna Phyllis Kossoff, a leading TC donor and a member of the Fuhrman's President's Advisory Council (PAC), said, "Well – I told you I'd see what I could do, and here you are."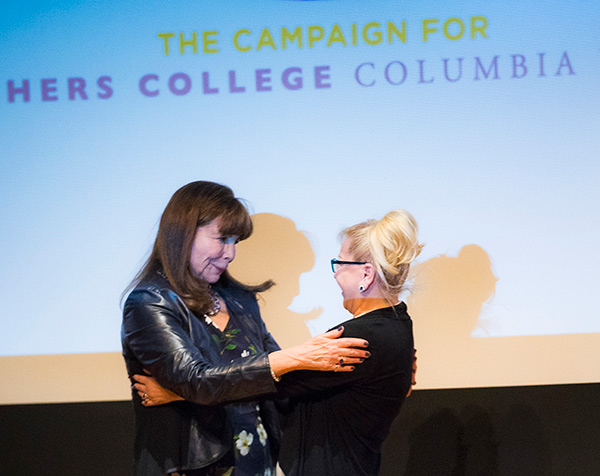 At Fuhrman's invitation, Uceda, too, joined, PAC. The experience has been a revelation – particularly connecting with Fuhrman herself, who she says has inspired her to put her own mark on the College. Uceda has since created a named scholarship and donated to the Susan H. Fuhrman Scholarship Fund.
"I've realized that the main focus of someone's character is the degree to which your convictions shape your actions and how much you are prepared to love others whom you don't know," she says. "And that is because Susan Fuhrman has opened my heart. As I told her at Academic Festival, people talk about her leadership of TC, but she also has been an active agent in mentoring so many people who have gone on to touch thousands and even millions of lives. And I wanted to represent all those voices in thanking her."
Now Uceda has created The Charo Uceda Women's Empowerment Lecture Series to advance the conversation about issues affecting women in the areas of educational policy, nutrition and psychology. The goal of the series is "to raise awareness, provide possible solutions to women's challenges and inspire actions from students, alumni and faculty" by bringing national and international speakers to TC who will "share their experiences about topics that promote and celebrate women's achievement over diversity and overall empowerment."
In a sense, Uceda has come full circle to Ms. O'Brien and that make-believe blackboard of long ago. As she puts it, Teachers College "isn't just a place to study and get your degree. It is also a place of powerful human stories, which are what people react to most of all. Each of us has a story, and hopefully mine will inspire others to pursue their dreams."