2018 Convocation: Masters I
Heavy Responsibility - 1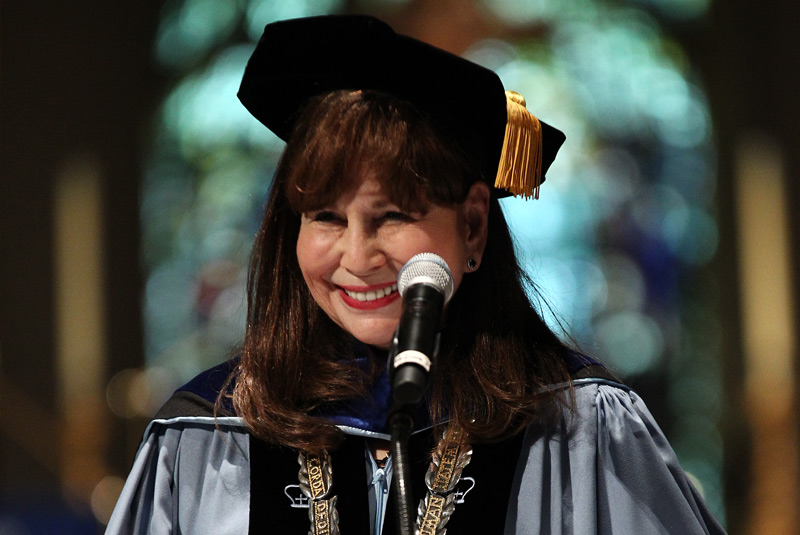 Calling on graduates of Teachers College's programs in the Departments of Arts & Sciences and Curriculum & Teaching to "expand educational opportunity for everyone, including our most marginalized and vulnerable fellow human beings," Susan Fuhrman opened the final Convocation week of her 12-year tenure as TC's President.
Research, suggested Fuhrman – herself a TC alumna – had brought the graduates to this point in their careers and would be their best means for furthering TC's commitment to learning, compassion and social justice.
"Attending a research-based school is critically important because emerging research prepares you for tomorrow, not just today," she said. "Confining professional training to just observing current good practice is profoundly shortsighted – particularly when knowledge is increasing exponentially."
Fuhrman spoke on Monday afternoon in the Cathedral of St. John the Divine at the first of the College's three master's degree ceremonies. She will lead the other two master's ceremonies today and a hooding ceremony for doctoral students on Wednesday afternoon.
"This generation of teachers is faced with no less a task than shoring up American democracy and the fundamental decencies, tolerance and understanding that makes it possible."

—Jelani Cobb
"This is your time," Fuhrman concluded. "Keep bright the chain of social justice and the pursuit of knowledge for the public good that began with the founding of Teachers College. And as researchers, remember the physicist David Deutsch's observation that 'all failures – all evils – are due to insufficient knowledge.'"
Heavy Responsibility - 2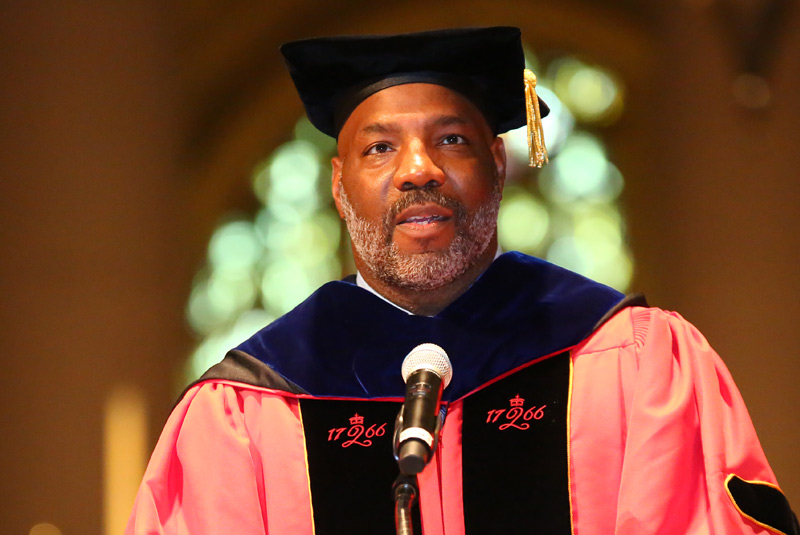 Journalist and historian Jelani Cobb, one of four recipients of TC's Medal for Distinguished Service, told graduates that they are arriving as professionals at a crucial juncture for U.S. education.
"This generation of teachers is faced with no less a task than shoring up American democracy and the fundamental decencies, tolerance and understanding that makes it possible," said Cobb, the Ira A. Lipman Professor of Journalism at Columbia University, and a 2018 Pulitzer Prize for his New Yorker columns describing a current federal attack on civil rights. He said his own path to success has been facilitated by public institutions and more fundamentally by "the sense of civic commitment that led people to fund those institutions so they could carry out the life changing work they do."
Cobb shared a moving story of boarding a commercial flight not long after the 9/11 attacks and feeling fears escalate – including his own – as a tall, unmistakably Muslim man made his way down the aisle. After a moment, he recognized the man as an old friend from the high school he attended in Queens, which enrolled students from a wide range of ethnic and cultural backgrounds.
Citing his own initial reaction to his friend, Cobb told graduates that "Education is called upon to stand within the breach now in a way that it seldom has been. The roiling conflicts, the ease with which the most base instincts can be appealed to and hostilities exacerbated is stunning. Our schools – and our teachers – are central to this ideal of we, the people particularly in an era where we have witnessed such an exaltation of the first person singular."
Heavy Responsibility - 3
Student speaker Amanda Najib, receiving her master's in Elementary Inclusive Education, added that "education is the most powerful tool we have to change this world, and once you have it, it cannot be taken from you."
A second-generation Palestinian-American who is TC's Meredith McGraime Scully Annual Fund Scholar, Najib described her father's reaction to learning that she had been selected to speak at Convocation.
"Like any child seeking their immigrant parents' approval, I called my father and shouted in excitement, 'Baba, I got it! I'm going to speak at graduation,'" she recalled. "And, like most immigrant fathers might, he lovingly responded 'You better not mess this up!'"
He needn't have worried.
To sustained applause, Najib called on her fellow graduates to "make this world tremble," saying "I stand here, a product of intentional and transformative education, unwaveringly committed to educating youth across the globe." – Steve Giegerich
Related Stories:
"Change the Culture": Graduates at TC's second master's ceremony are charged with shaping a future free from inequity
Optimism in the Face of Daunting Challenge: At TC's third master's ceremony, graduates are urged to embrace the unexpected