What does a tree mean to a city kid? You might be surprised by the range of answers, which you can see when dozens of New York and New Jersey kids show artwork about their environment in an exhibition at Macy Art Gallery at Teachers College from Nov. 15 to 29, 2018.

An opening reception, free and open to the public, will take place on Thursday, November 15th, from 5 p.m. to 7 p.m. at Macy Gallery, Room 444 in Macy Hall, corner of West 120th Street and Broadway, New York, NY 10027.

The exhibition is the local installment of the third annual 2018 No-Boundaries International Art Exhibitions sponsored by Columbia University's Global Centers. The exhibition features 150 artworks by children in grades K-12 from 15 countries, including 52 artworks by kids from the New York City area and across the United States.

"We hope to cultivate socially responsible and caring global citizens who will be able to impact the future with nuanced perspectives through visual arts education," said Baitong Yan, who founded the No-Boundaries Committee in 2015 while she was a student at Teachers College.

This year's theme, 'One Tree, One City,' encourages exploration of the bond between cities, trees and nature through art. No-Boundaries is a multi-city project that aims to build an international art and educational platform by connecting young artists regardless of nationality, languages or culture. The artwork will be shown in galleries open to the public in the host cities of Beijing, Paris, Nairobi, New York and Rio de Janeiro.
"The No-Boundaries exhibitions exemplify Columbia University's educational mission by showcasing the artistic talent of young people from many cultures who are actively engaged with issues that affect all peoples regardless of their locale," said Safwan Masri, executive vice president in charge of the Columbia Global Centers. "This presents a unique opportunity to leverage the power of the arts as a lingua franca that connects human beings across geographical, linguistic and cultural borders."

A partnership between Columbia and the No-Boundaries Committee, the project debuted in Beijing in July 2018. Each of the five cities will exhibit artwork created by local children, and will also display digital representations of artwork by children from the other regions. The exhibitions will be accompanied by public lectures and arts activities with leading scholars and experts in childhood education. These events are designed to help raise young citizens' understanding of environmental protection, enhance their sense of global awareness, and encourage them to express their ideas through art and actions.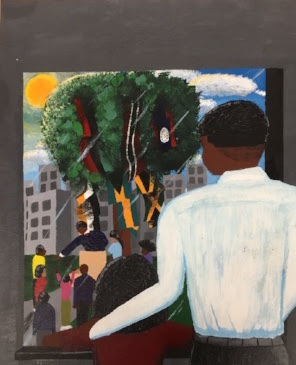 Several local schools and art studios in the New York area will be represented, including Brooklyn High School of the Arts, Millennium High School in Manhattan, Waldorf School in Garden City, N.Y., Journey Prep School in Commack, N.Y., Garden State Art Studio in Brick, N.J., plus Fordham High School for the Arts and Renaissance High School, both in the Bronx.

"My students responded enthusiastically to the 'One Tree, One City' theme" said Sailesh Varadan, an art teacher at Renaissance High School (Bronx). "They understood the concept right away, and then we discussed their ideas before they started painting. One student, Kelly Crizanto, portrayed a parent and child observing a public speaker addressing a growing crowd echoed by a large beautiful tree in the background, including flags hanging from the tree as leaves, symbolizing the various cultures of color in the neighborhoods."

Varadan and Yan will attend the reception on Nov. 15 and are available for interviews before or after that event. Also available will be high- resolution files of selected artworks. Contact Robert Hornsby, r.hornsby@columbia.edu or 212-854-9752.