As a master's student studying health education and nutrition at Teachers College, Yemi Amu studied "all the nuanced factors that can influence how someone eats," reports a recent Vogue profile.
When she worked at a facility for formerly homeless, mentally-ill adults, Amu cooked healthy foods for her clients. She wanted to increase their access to fresh vegetables, even when she wasn't around.
Then Amu discovered the symbiotic system of aquaponics, a virtuous cycle of farming in which fish waste is used to fertilize plants grown in water. The plants, in turn, filter toxins from the water that is then safely returned to fish.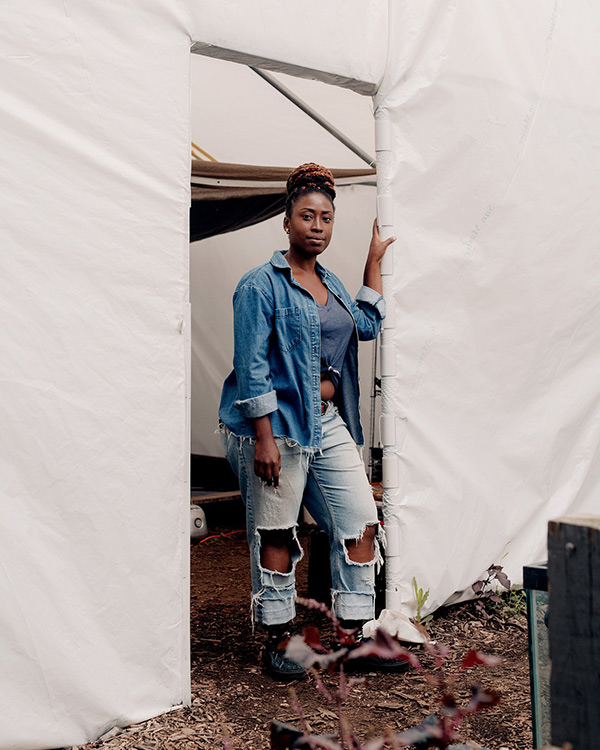 "I fell in love with that efficiency," Amu, who grew up in Lagos, Nigeria and graduated from TC in 2008 with a master's degree in Health Education, tells Vogue. "That source of locally raised sustainable protein, nobody is doing it."
Nobody, that is, except Amu, who co-founded and runs Oko Farms, an aquaponic farm that grows vegetables for local consumption in densely populated Bushwick, Brooklyn.
Amu tells Vogue that Oko Farms is an experimental venture in which she allows herself to fail, and to leverage that failure to support the community in learning about agriculture. Oko Farms either gives away or sells most of its produce to community restaurants and consumers, and it hosts workshops for school groups and other visitors to learn how food is grown.
Amu takes pleasure in educating city-dwellers about agriculture. "You can't make intelligent decisions about what you eat and how you eat if you don't even know how food is grown," she tells Vogue. "How would you know if somebody didn't show you? How would you know if you were not exposed to it?"
So far, Amu and co-founder, Jonathan Boe have kept Oko Farms small. She says she "appreciates the huge impact that can be made in her small enterprise." But Amu and Boe have been so successful that they're "currently looking to expand into a larger space," Vogue writes.
To read the full story in Vogue, click here.