The Grace Dodge Society, named for Teachers College's founder, is all about planned giving, recognizing those who have provided for the College through their wills, trusts or other longer-term venues.
But after its annual luncheon this past spring, perhaps the Society should consider expanding its charter to include "unplanned giving" – which more or less describes what happened to longtime friends Katie Embree and Marie Volpe.
Embree, TC's Vice Provost, and Volpe, a faculty member in the Adult Learning & Leadership program, were seated at the same table when TC Board Chair Bill Rueckert got up to deliver his welcoming remarks. Rueckert, who is Grace Dodge's great nephew and a perennial speaker at the event, talked, as he often does, about his famous ancestor's long-term vision and the fact that she created a scholarship that continues to fund students to this day.
This time, though, he added a new twist: Thanks to a recent unrestricted bequest, if anyone present could endow a $50,000 scholarship before August 31st, the College would match it, dollar for dollar.
The ABCs of Supporting Students
Pledge $50,000 to create a new endowed scholarship in your name or someone else's
Contribute to an existing tribute or program fund scholarship
Support a TC Fund Scholar or designate your TC gift to financial aid
Contact Linda Colquhoun at 212 678-3679 or colquhoun@tc.columbia.edu
"I looked at Marie afterward," Embree recalls, "and I said, 'Well, I can't afford fifty, but I could do twenty-five. What do you say? And Marie said, 'I'm in. But what do we call it?' I said, 'The Marie Volpe-Katie Embree Endowed Scholarship.' And she said, 'Well, it doesn't seem fair to you that my name comes first. Let's flip a coin.'
"That's the joy of Marie, and of how things can happen at TC. We were able to make this gift in the blink of an eye, because that's how much we care about the College."
Disproving the notion that no good deed goes unpunished, the gift also ended up being significantly larger, because ExxonMobil, where Volpe worked years ago, kicked in a three-to-one match on part of her portion.
Volpe and Embree both have long track records of supporting students.
That's the joy of Marie, and of how things can happen at TC. We were able to make this gift in the blink of an eye, because that's how much we care about the College.

– Katie Embree
Volpe has made literally dozens of gifts and pledges over the past 30 years. In 2005, she created the Carmela and Marie F. Volpe Fellowship for International Service in Education, which supports students in TC's International & Comparative Education program to travel internationally with a research focus on the education of orphans, street children, child laborers, or other marginalized children. In addition, Volpe has included TC as part of her estate plans, with a designation of a named endowed scholarship for students in the field of Adult Education.
Volpe – coauthor with Linda Dale Bloomberg, of Completing Your Qualitative Dissertation: A Road Map from Beginning to End (published by Sage, and now in its third edition) – is also known for her mentorship of doctoral students across a wide range of TC programs.
A few years ago, Embree (Ed.D. '01) created the Wendy M. Dressel Student Emergency Fund, commemorating her mother. The idea for the fund grew out of Embree's work with TC students who, due to emergencies, were in dire financial straits.
"Students would come into my office and make me cry," she recalls. "Terrible things had happened to them; fires where they had to move out of their houses, or theft. Sometimes, the students didn't even have lunch money or train fare to get home."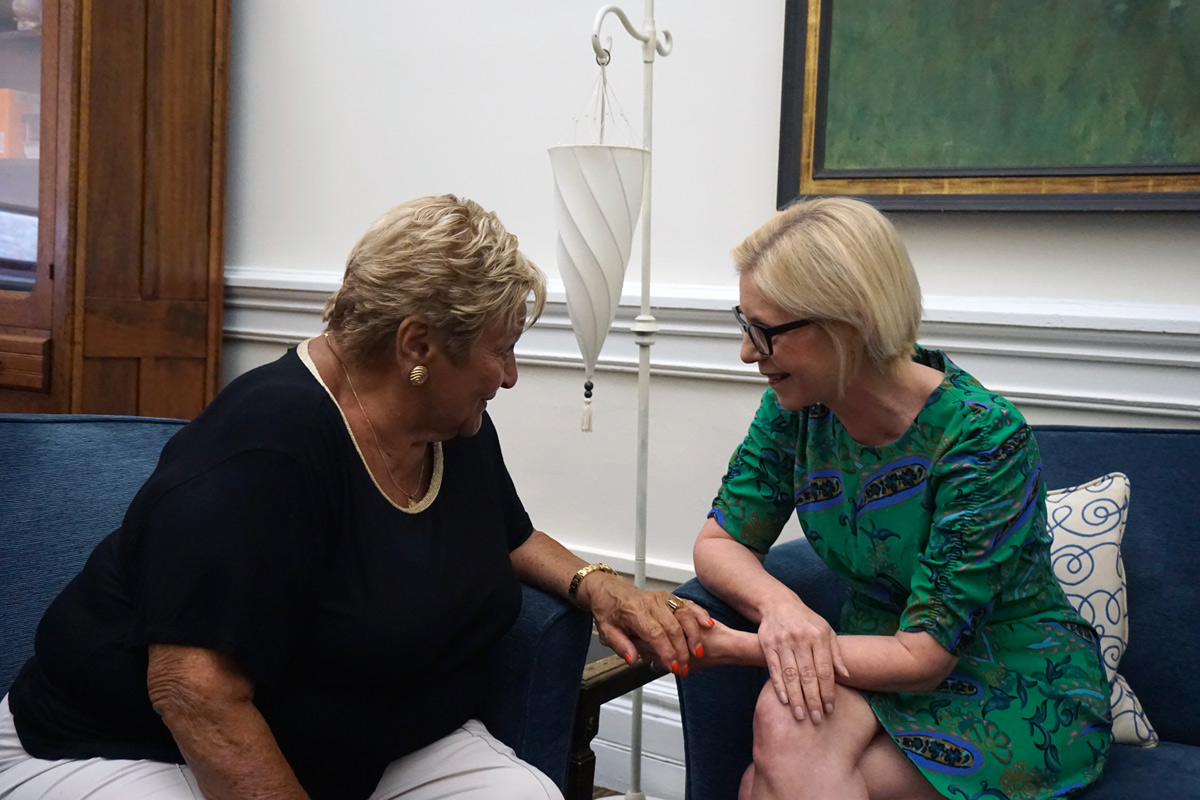 Thanks to the Wendy M. Dressel Fund, any student dealing with a documented emergency is now eligible to receive a gift of $250. The student will get cash quickly, without bureaucracy slowing the payment.
Embree also created the Morton T. Embree Award for Outstanding Contribution to Student Learning, honoring her father. The Award is given to a Course Assistant who has done outstanding work in helping other students. Faculty or students can nominate a student for the award, and twice a year two winners receive a cash award of $250.
Clearly addressing need is a priority for both women, and indeed, their joint gift is targeted to doctoral students with dire financial need, with preference given to those in the Adult Learning and Leadership Program.
But Embree confesses to another motive as well.
"I really did want our names together on a scholarship," she says. "Marie has done so much for students here, and it's an honor for me to share something with her."
Which may be why they never did quite get around to that coin toss.