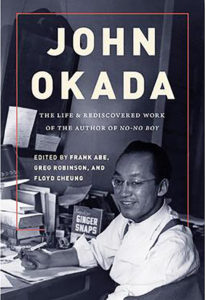 The late Teachers College alumnus John Okada, author of No-No Boy, the classic novel about the Japanese-American experience following World War II, once described himself as "endowed with a larger capacity for normalcy than most people," according to a new biography by Seattle journalist and filmmaker Frank Abe.
But that unassuming demeanor hid the "drama and strangeness" Okada felt growing up in Seattle, "in the shadow of the Depression and [Japanese] exclusion laws, enduring family separation and mass incarceration in the war, and [Japanese families'] rebuilding their lives in the repressive 1950s," writes Vince Schleitwiler in a review of Abe's book, John Okada: The Life and Rediscovered Work of the Author of No-No Boy, in the International Examiner.
Unlike the "no-no boys," or draft resisters, Okada joined the military in World War II and flew 24 reconnaissance flights as an MIS translator, Schleitwiler writes. After the war, he studied English at the University of Washington and Teachers College. He later became a technical writer at Chrysler Missile and Hughes Aircraft, and then an advertising copywriter. He died at age 47 (he would have been 95 this year) of a heart attack, leaving "two kids in the Southern California suburbs."
Despite Okada's modesty and untimely death, No-No Boy became a founding text of Japanese-American literature, Schleitwiler writes.
His review is here.