She has made her mark at the University of Michigan, Juilliard and the Lincoln Center Festival. And in early December, pianist SiYi Fang added Milbank Chapel to the list. Along with her Music and Music Education classmates, Fang joined in at a musical interlude in the week-long series of events to commemorate the inauguration of Thomas Bailey, TC's 11th president.
With Bailey and longtime TC supporters Enid ("Dinny") and Lester Morse in attendance, Fang, who is the 2018-19 Enid and Lester Morse Jr. Music Scholar, capped off a performance of "Daisies" by Sergei Rachmaninoff with an impromptu encore rendition of the Waltz in C sharp minor by Frederic Chopin -- the new TC president's favorite composer.
The pianist remained on stage to complement a pair of fellow Ed.D candidates, the violinists Lindsey Castellano and Leong Cheng (Katy) Ho, in performances classical pieces by Franz Schubert, Joe Hasaishi and Wolfgang Mozart along with an adaptation of a song by the rock band Coldplay.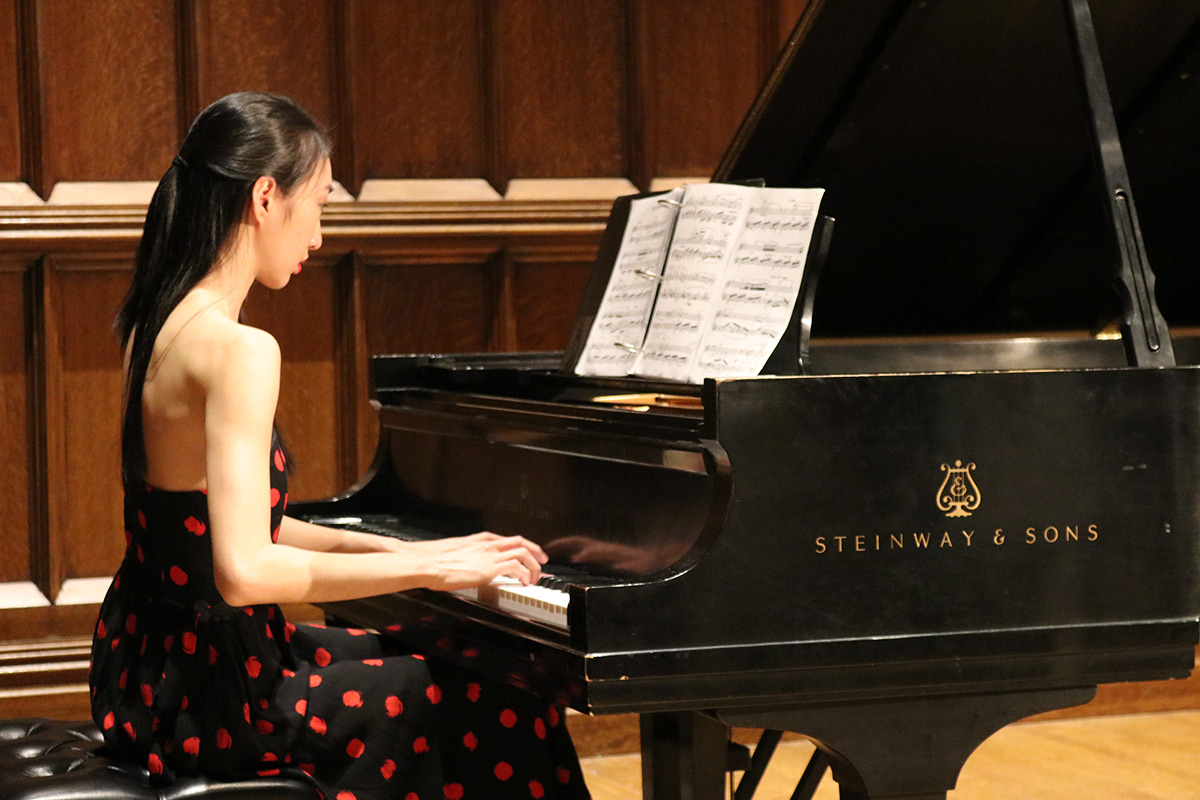 She also accompanied the TC Chamber Singers in a revue that included selections by Rodgers & Hammerstein, Irving Berlin and Harold Arlen.
Originally from China, Fang comes to music naturally.
Her mother, a graduate of the prestigious Central Music Conservatory in Beijing, filled the family's home with the music of the world.
"I remember listening to opera from a very young age. As a child I thought Italian opera in particular was hilarious – It was so fast!" Fang recalls.
The language of music served Fang well upon arriving in the U.S.
"I remember when I first came to the United States I didn't speak a word of English. The only way I could stay connected and express myself was through piano," she says. "One day I was playing piano and realized that I could express my frustration and sense of isolation through music. That day was the moment I knew I wanted to pursue piano professionally."
Fang departed the University of Michigan with a music degree in Piano Performance and headed to The Juilliard School, where she earned a master's in Collaborative Piano.
"I remember when I first came to the United States I didn't speak a word of English. The only way I could stay connected and express myself was through piano."

—SiYi Fang
Her credentials now include collaborating on opera premieres at the Lincoln Center Festival and Spoleto Festival USA in Charleston, South Carolina. She has also held an adjunct faculty position at SUNY-Binghamton and served as a staff pianist at Juilliard, and she continues to teach piano privately.
Fang says the faculty at the University of Michigan, Julliard and TC have opened her eyes to her full potential on the stage, in the studio and as an educator. "My teachers are teaching me to learn without them," she says. "Thanks to my training here I feel I can walk away knowing how to solve the next problem."
The language of music meanwhile continues to empower Fang in new, exciting and challenging ways through her work with The Canales Project, a non-profit advocate for the arts and creative expression.
"Individuals need to connect with themselves and find beauty in their lives and the lives of others," she says. "I believe music has the ability to cross boundaries, bring people together and touch hearts."
By contributing or creating a TC scholarship, you can help support talented scholars like SiYi. Click here to find out more.