By her own admission, JoAnne Williams knew little about Teachers College before a recruiter friend called her up one day last year and said, "I've got the perfect job for you."
"Really?" Williams remembers saying. "How do you know?"
"Trust me," said the recruiter. "I know."
So Williams began scouring TC's website, and was immediately struck by two things. "First, I realized the name 'Teachers College' is a bit of a misnomer, because there is so much other wonderful stuff going on here. And second, there seems to be a real desire to do intentional things to improve the world – a combination of the fundamental and the applied. There's a real focus on getting people out into the workplace to contribute directly, and without a huge learning curve."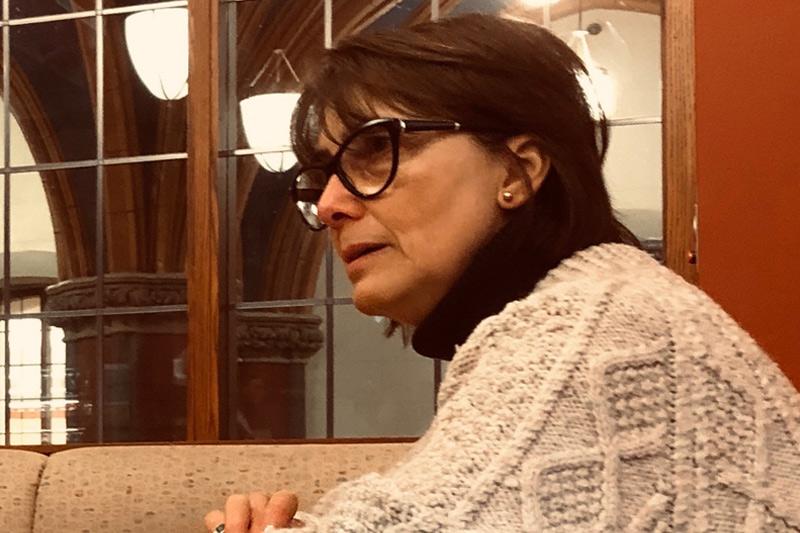 With a resume that rivals the College's own breadth, Williams, who begins work in late February as TC's new Vice President for Finance & Administration, does indeed seem an ideal fit for the job.
Born in Costa Rica, Williams, whose father worked for Pan American Airlines, grew up and worked in countries throughout South America and Europe. She earned a law degree at University of Detroit Mercy; worked for General Motors, Electronic Data Systems and Siemens handling issues related to product development and research, intellectual property rights, initial public offerings, computer-aided engineering design and business ventures worldwide; and eventually decided to switch to academia. Initially she thought about teaching, but rather than navigate the tenure system at mid-career, she went the administrative route instead, serving first as Clemson University's Assistant Vice President for Research & Economic Development, and then as Associate Dean of Administration for Cornell University's College of Engineering.
In her most recent role, Williams was Vice Dean for Administration for Rutgers University's School of Arts & Sciences in New Brunswick, New Jersey. Her responsibilities included fiscal planning, administrative services and facilities, and she also oversaw the Office of Human Resources, the Office of Finance and Business Affairs, and the Office of Information Technology.
"The great thing about being in a school of arts and sciences is that it's a really nice collection of everything – humanities, social and behavioral sciences, math and physical sciences, and also the life sciences folks," she says. "It was an interesting challenge for me, because I had to figure out the uniqueness of every discipline, understand their research requirements, figure out the touch points."
While Williams has worked in different fields and different kinds of jobs, her philosophy is consistent.
"I believe in empowering the people who work for me, because they generally know how to do their jobs very well," she says. "I live by that."
She believes in seeking first to understand the priorities and the decisions that need to be made and then working with the most qualified people so the end result has buy-in from those who are responsible as well as those who are accountable for a successful outcome.
Williams is particularly enthused about TC President Thomas Bailey's desire to better coordinate and leverage the College's many strengths.
"I believe in empowering the people who work for me, because they generally know how to do their jobs very well, I live by that."

—JoAnne Williams
"My perception of Tom, in the short time since I've met him, is that he listens, pays attention, and is very thoughtful about the changes he decides to make and the people who will be impacted," she says. "I believe he's not motivated by a desire to create a legacy or to simply do something different. Instead, his desire is to leverage the use of the College's assets to achieve the maximum impact to society."
That focus is part of what drew Williams to the job. "I've been at other institutions during similar times of change, and that's really the best part of this kind of work," she says. "It's what I love to do. Just maintaining something that's already working perfectly is nice, but it's not as much fun."
Away from work Williams likes to read and work out ("I used to run until my knees started giving me trouble"), cook, paint, and drink good wine. She's also an avowed dog lover.
Her message to the TC community: "Talk to me! There's so much I have to learn about Teachers College and I want to hear from you!"