One small consolation during the COVID pandemic is that some other looming societal ills have at least temporarily lessened. Pollution levels are down; global terrorism has waned.
But the temperature is still on boil regarding gun violence in America. Gun sales have jumped over the past few months, and as schools slowly reopened this fall, some were arguing for for socially distanced lockdown drills.
So, "What if we took this moment to reimagine our collective response to the decades-long persistence of school gun violence so that we could offer schools some concrete steps that would keep our children safer?"
That's the central question posed by Teachers College's Sonali Rajan, Associate Professor of Health Education, and Charles Branas, Gelman Professor and chair of the Department of Epidemiology of Columbia University's Mailman School of Public Health, in a new column in The Hechinger Report, the TC-based nonprofit, independent news organization.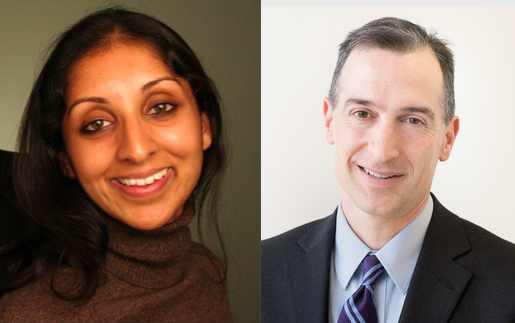 [Read the full column by Rajan and Branas in The Hechinger Report. Read a story about SURGE, a new Columbia-wide collaboration focused on preventing gun violence, which was cofounded by Rajan and Branas.]
Current safety efforts — which include active shooter drills, arming teachers, and providing students with bulletproof backpacks — "focus almost entirely on how to respond in the moment of a shooting," write Rajan and Branas. Meanwhile, an estimated 240,000 children in the United States "have experienced gun violence at school," meaning they have witnessed gunfire or knew a classmate who was injured or killed.
What if we took this moment to reimagine our collective response to the decades-long persistence of school gun violence so that we could offer schools some concrete steps that would keep our children safer. What if, instead, we invested in stopping these tragedies from happening in the first place?

—TC's Sonali Rajan, Associate Professor of Heath Education, and Charles Branas of Columbia University's Mailman School of Public Health
"What if, instead, we invested in stopping these tragedies from happening in the first place?" the authors ask. They suggest measures that range from involving school nurses in educating families about how to store guns safely and securely to replacing punitive discipline strategies with trauma-informed practices, to changing policies at the state and federal levels to make it fundamentally harder for youth to access guns. Conclusion: "Let's challenge the notion that school gun violence is inevitable and, instead, seek better ways to prevent it."