At a moment when "social distancing" has become a strategy for survival, the phrase "Love from the Vortex" seems almost transgressive — an invitation to venture into unknown spaces. That, indeed, is precisely the kind of territory mined by Yolanda Sealey-Ruiz in her new volume of poetry that centers on the fraught world of romantic involvements that once were, might have been or still, perhaps could be.
Yet for its author, the ultimate goal of Love from the Vortex & Other Poems (Kaleidoscope Vibrations, LLC), a book of free-form verse that explores her relationships with six men, is healing.
"I wrote from my own pain, and from my own need for self-care and self-love," says Sealey-Ruiz, Associate Professor of English Education at Teachers College. "And my hope is that if this was healing for me, perhaps it can offer healing for others as well."
[This past Friday afternoon, Sealey-Ruiz read from Love from the Vortex in an online performance that can be accessed on the recently launched site TC Comes Together, Right Now…Virtually. Love from the Vortex debuted in early March as the #1 release in African American poetry on Amazon for both print and Kindle editions. The writer Jacqueline Woodson, author of Red at the Bone has written that "Sealey-Ruiz opens a world to us in which we are reminded of the importance of speaking truthfully with both love and rage — about our past and the lovers and loved ones who bring us to the present — and home."]
Indeed, if there is an underlying message to it is that healing can only come from taking risks — especially the risk to be emotionally vulnerable.
"The vortex can mean different things for different people," Sealey-Ruiz said in a recent interview. "For me, it's a learning place, a place to deal with vulnerability, humility, fear. If you break through, you learn something. I learned quite a bit about myself and my ability to love."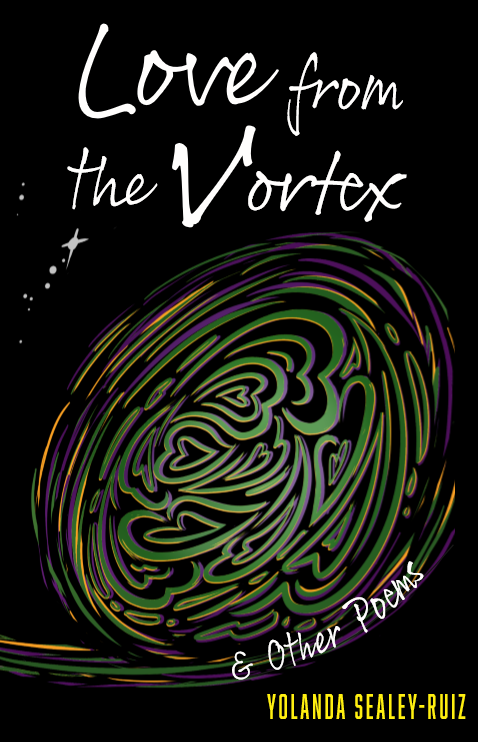 "I'd been married for 26 years, and when I divorced, I waited for another seven years before I talked to anyone. I was raising my daughter, taking care of my mother. But then I jumped into it. And the vortex was this space where I was learning about myself. I met my husband when I was a teenager — at 15, and now I was entering the dating world as a woman. I had no clue what to do — I only knew I had an open heart."
The result, as the poems in Love from the Vortex makes evident, was both great joy and great pain.
"We reacquainted ourselves with desire and pleasure — old friends! They invited us to a party, a celebration in remembrance of what it feels like to be alive," the narrator enthuses in a poem about a lover named Ean. (The names of the six men in the book were chosen by their real-life counterparts, whom Sealey-Ruiz informed and corresponded with about the project.)
Indeed, it seems that in each of these relationships, there is a point of no return that inspires both joy and sadness.
"A friendship like ours can only exist if we agree to never look into each other's eyes," the narrator says in the opening poem, addressing Joseph, a past lover. In another poem, also addressed to Joseph, she speaks of "the forbidden places that exist only in my mind. A place not even safe to discuss during a private conversation with myself."
The writing of such poems has itself been "a vulnerable project of liberation," said Sealey-Ruiz, who cites the writers Toni Morrison, Maya Angelou, Nayyirah Waheed, and Rupi Kaur as influences. "I began with trepidation, because I was baring all my business. I talk about my miscarriages, about my husband's and my own infidelity. But what, really, am I to fear? Do I care if the academic community looks down on me and says this isn't scholarly? I've done my academic work, I have nothing to prove. I want to help my fellow man and woman. That's my work."
The honesty of her poems will come as no surprise to anyone familiar with the author's teaching and academic writing. Known for inviting students to "bring their lives into the classroom," Sealey-Ruiz, who composed and read an original poem at the inauguration of TC President Thomas Bailey in 2018, has urged teachers, in particular, to conduct an archaeology the self, in which they examine their own biases and beliefs. She has similarly challenged students who participate in her Racial Literacy Roundtables Series.
Ultimately, she said, "it comes down to how I want to live in the world. When I talk about humility in teaching, vulnerability, not being afraid to talk about love — love for our students, unrequited love, reciprocated love, what's most important to me is living my life in an authentic way. I can't ask other people to do that without practicing it myself."
— Joe Levine