Teachers College will present its 2020 Distinguished Alumni Awards, Early Career Awards, and Alumni Awards for Outstanding Service at its 12th annual Academic Festival, which this year will be held virtually from October 20th through October 24th. The awards will be presented by TC President Thomas Bailey on Saturday, October 24th between 9:30 and 10 a.m.
[Read a story about the College's 2020 Academic Festival. Visit the Academic Festival website at www.tc.edu/festival.]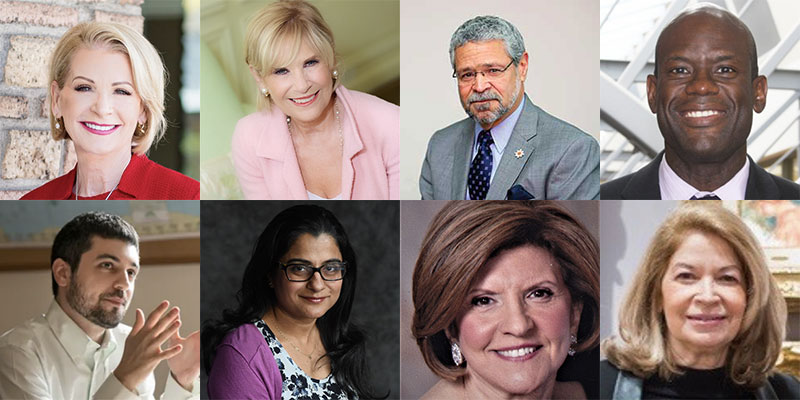 Receiving TC's 2020 Distinguished Alumni Award are:
Deborah Antoine (Ed.D. '91), Chief Executive Officer of the Women's Sports Foundation, which has awarded more than $80 million in programming to advance participation, research and leadership in sports and physical activity for girls and women.
The psychologist "Dr. Dale" Atkins (M.A. '72), who has advanced her concept of "balanced living" through her private practice, numerous books and articles, and frequent appearances, on NBC's "The Today Show," CNN's "Headline News," "Good Morning America," and "The Oprah Winfrey Show," among others.
David Gómez (M.A. '82), former President of New York City's Hostos Community College, who devoted his 40-year career in the CUNY system to maximizing success for students from marginalized backgrounds.
Preston Green III (Ed.D. '95), John and Maria Neag Professor of Urban Education and Professor of Educational Leadership and Law at the University of Connecticut's Neag School of Education. Green is an authority on the legal and policy issues pertaining to educational access and school choice, and has created groundbreaking programs of study that combine education and the law.
The 2020 Early Career Award winners are:
Benjamin Dickman (Ph.D. '14), a K-12 New York City mathematics teacher who publishes his research on teacher education in peer-reviewed journals.
Radhika Iyengar (Ph.D. '11), Education Director of Columbia University's Earth Institute and Associate Research Scholar at the Institute's Center for Sustainable Development.
Two alumni will receive this year Alumni Award for Outstanding Service, which honors contributions to the College. They are:
Jinny Goldstein (M.A. '93), a pioneering education technology visionary who, in addition to her career at PBS and as an independent consultant, has served for years on TC's President's Advisory Council and staunchly supported financial aid the College's Annual Fund scholars and students in TC's Education Leadership program.
Debra Heinrich (M.Ed. '84), former Assistant Director of Nursing at Montefiore Hospital and faculty member at Hunter College School of Nursing and Columbia Presbyterian Hospital. Heinrich is a longtime member of TC's President's Advisory Council and has established scholarships supporting students in Nursing Education and Health Education, and also students working at TC's Resilience Center for Veterans & Families.