In a ringing speech delivered virtually at Teachers College's 2021 Convocation, Stacey Abrams — the Georgia politician who in 2018 became the nation's first Black female candidate for governor and subsequently the leader of a national movement to safeguard voting rights — told graduates, "I'm here today because education saved my life."
Abrams, who received the Teachers College President's Medal of Excellence with introductions by President Thomas Bailey and Trustee Valerie Rockefeller, vividly described how, as young children, both of her parents overcame lives of poverty with support from teachers who saw their potential. Her mother went on to become her high school class's valedictorian. Her father, who had suffered from undiagnosed dyslexia, became the first man in his family to attend college. In their forties, both attended divinity school at Emory University to become United Methodist pastors.
In the face of an ongoing pandemic, economic upheaval and systemic injustice, Abrams told graduates, the world needs leaders who — like her parents' teachers — "believe in the people they serve.
"You believe that 'more' is possible for all of us — and you have been trained to make 'more' a reality," she said.
Taking a page from her own experience, Abrams warned her listeners that their greatest endeavors "will falter, and the failure will seem permanent.
"I know what I'm talking about, because in 2018 I ran for governor of Georgia and I lost," she said. Yet ultimately, Abrams said, she realized that "the work of protecting voting rights, ensuring that every community is counted and broadening economic power in the South still endured" — and that "not receiving the position I wanted did not absolve me from the responsibility to do the work."
Abrams continues to persevere, she said, "not because I'm an inherent optimist, but instead because I am determined to be worthy of the legacy of my parents' hardships and those teachers who saw their promise. To be a fighter for my grandparents and great-grandparents' dreams. To be a testament to the wonders that resilience can reveal."
In conclusion, Abrams urged TC's graduates to "be the ones who teach the world that joy and progress do exist, despite how dim the future seems. And as the world grapples with existential questions of who we are and who we will become, you are here today because you understand the deeper calling of obligation."
In introducing Abrams to the virtual audience of graduates and well-wishers, Bailey said that "through her work to empower voters, Stacey Abrams galvanized the state of Georgia and then the nation." Her hard work, he added, is a reminder that "leaders everywhere are working to create a better planet and that their brilliance and perseverance — and our own — can lead to better days ahead."
Reading aloud from the President's Medal of Excellence Citation, Rockefeller told Abrams: "You have devoted your career to — in your words — 'not allowing traditions to continue and perpetuate the consequences.'"
Rockefeller noted that the struggle against inequality of representation at the polls and elsewhere "of course . . . goes on. As you argued in the wake of this past winter's armed insurrection on the U.S. Capitol, "We can either engage in collective amnesia about what we have just lived through . . . or we can rise to meet this moment by fixing the broken social compact".
Rockefeller closed by hailing Abrams for "your own brilliant and steadfast efforts to mend that compact and hold our nation to the values that truly make it great."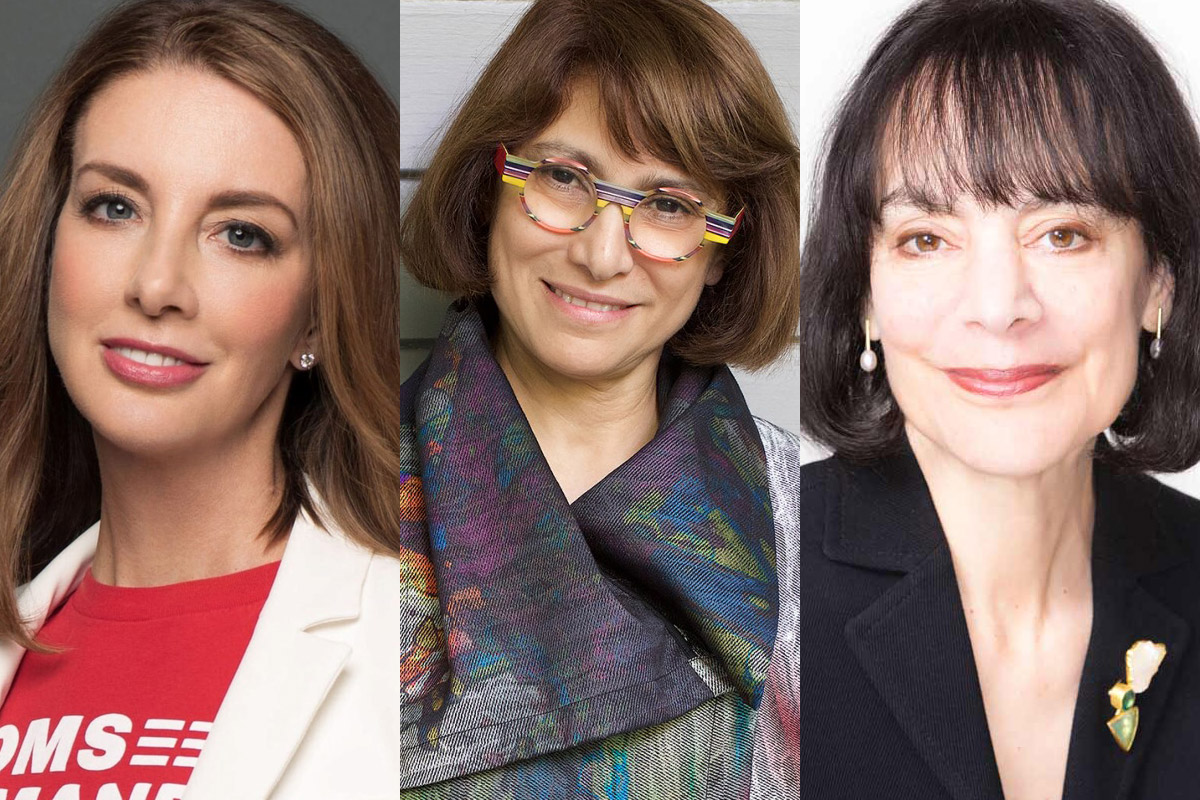 Abrams's address culminated four days of online Convocation ceremonies that honored some 2,200 masters and doctoral graduates in education, health, psychology and leadership. The ceremonies included conversations in which three 2020 recipients of the Teachers College Medal of Distinguished Service "whose honors were postponed by the COVID-19 pandemic" spoke with TC faculty members:
Shannon Watts, founder of Moms Demand Action for Gun Sense in America, who spoke with Sonali Rajan, Associate Professor of Health Education;
Mahzarin R. Banaji, Richard Clarke Cabot Professor of Social Ethics at Harvard University, who spoke with Caryn J. Block, TC Professor of Psychology and Education; and
Carol Dweck, Lewis and Virginia Eaton Professor of Psychology, and Professor, by courtesy, of Education, Stanford University, who spoke with Nathan Holbert, Assistant Professor of Communication, Media and Learning Technologies Design.
[Read a story on the conversations with Watts, Banaji and Dweck. Visit the 2021 Graduates Gallery to read about some of TC's stellar 2021 graduating students. Read a full report on Convocation 2021. Watch all of the recorded proceedings on the Teachers College Convocation website.]