Forging strong relationships with students, keeping cultural inclusivity at the forefront of learning, and integrating social-emotional development into lessons are just a few of the priorities for current students and alumni of TC's Teacher Opportunity Corps (TOC II).
Designed to support aspiring teachers from underrepresented backgrounds as they prepare for careers in New York City area schools, the Teacher Opportunity Corps is a State Education Department initiative that in September renewed its commitment to TC with a $812,500 grant across five years.
"This grant allows us to offer 25 eligible TC students tuition support, seminars with top faculty, professional development opportunities, and internship experiences in local schools," said Katie Ledwell, Associate Director for Specialized School-Based Support Services in the Office of Teacher Education. "Perhaps just as important, the TOC II program functions as a space for aspiring teachers from underrepresented backgrounds to be in community with one another as they reflect, grow, and cheer each other on through their time at TC."
The grant to TC, one of 17 allocations to New York colleges and universities, is part of a five-year, $3.45 million package aimed at increasing the percentage of underrepresented and economically-disadvantaged individuals teaching in New York classrooms.
"Unfortunately, in many cases, our workforce of educators does not reflect the diversity we see across the state," said State Education Commissioner Betty Rosa. "Students taught by teachers that look like them benefit both academically and emotionally. We must continue to support programs like TOC II that can deliver a more diverse workforce to schools across the state."
Cultural relevance is at the core of all we bring to the students.
Under the direction of the Office of Teacher Education, the TC program offers eligible students enrolled in teacher education programs a variety of supports, including internships at schools serving under-represented populations.
"An understanding of culture helps us identify with students and shows them we're on a level playing field," says Blanca Franck, a second-year student in the Applied Behavioral Analysis program. For Franck, the Teacher Opportunity Corps "develops us as individuals to understand different worlds and systems of teaching so we can adapt to diversities such as spoken languages and help students navigate the boundaries they might encounter in other classrooms."
TC also supplements the state contribution with scholarship funding to defray tuition costs for program participants, who are required to teach in a New York State public school for a period of two years following graduation. Teacher Opportunity Corps advisors continue their relationship with the graduates throughout the 24 months and often beyond.
The current Teacher Opportunity Corps was established in 2016 partly in response to research that shows that all children benefit from attending schools with a diverse teaching force, and the impacts are particularly powerful for children of color.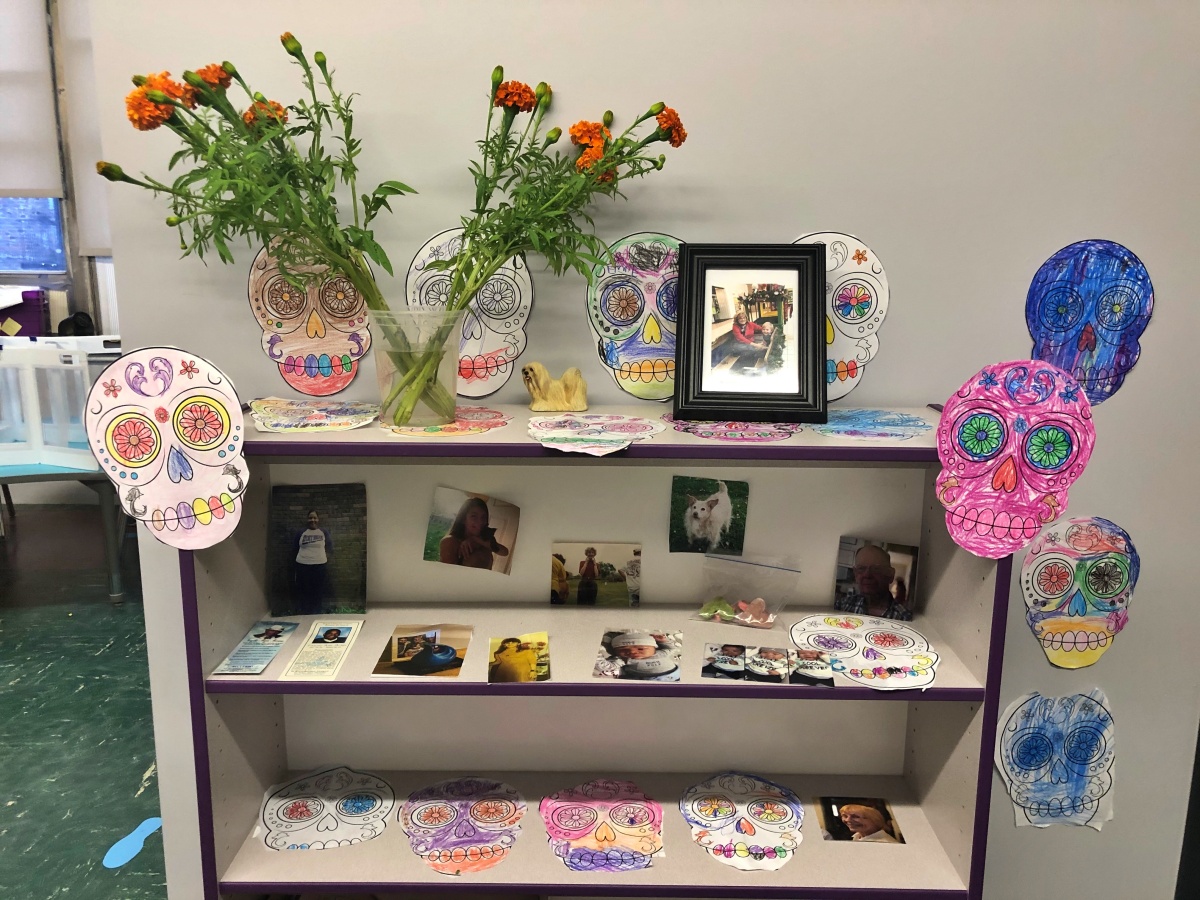 "Cultural relevance is at the core of all we bring to the students," says Roxana Ochoa, who during her 2020 internship in a Washington Heights classroom, was inspired by TC faculty like Yolanda Sealey-Ruiz, Associate Professor of English Education, and Mariana Souto-Manning, now President of the Erickson Institute, to embrace multicultural celebrations. Ochoa, instead of leading a Halloween celebration typical of American classrooms, facilitated learning around "El Dia de los Muertos" in an interactive experience that embodies the culturally inclusive teaching at the heart of the TOC II.
Beyond creating diverse experiences in the classroom, the Teacher Opportunity Corps instills another principle into teachers who will be entering some of the most historically underserved schools.
"[TOC II] reminds us that it's less about the content – and that is very helpful," says Mahamadou Jagana (M.A. '20), who now teaches government and economics at a Bronx high school. "[The program] makes me very conscious of what I'm doing, particularly in terms of social-emotional learning."
For the 2021-2026 grant cycle, the TC Teacher Opportunity Corps will build on its successes in the 2016-2021 cycle. The program will grow to include 25 students per year, deepen its partnerships with local schools and community based organizations, and include two new TOC II faculty members: Marcelle Mentor, a lecturer in the English Education program, and Limarys Caraballo, Associate Professor of the English Education program. Students must be enrolled in a TC teacher certification program in order to be eligible.
"TC is grateful for our partnership with the New York State Education Department, which supports us in meeting our deep and longstanding goal of preparing outstanding teachers of color for work in New York City public schools," said Aimee Katembo, Director of the Office of Teacher Education. "TC's TOC II Program is open to students across teacher preparation programs at the College and is a unique space that brings together students preparing to teach across various age groups and content areas."
The TC TOC II program is currently accepting applications.