Four years of dedicated scholarship and nearly 24 hours of travel brought TC doctoral student Joshua DeVincenzo to one life-changing opportunity. At the United Nations Global Platform in May, DeVincenzo presented research from his team at Columbia Climate on the economics of disaster preparedness to policy leaders and scholars from throughout the globe.
Through his work, the Adult Learning and Leadership scholar leverages his expertise in curriculum design and business background to consider critical questions of how governments, businesses and individuals can not only financially prepare for climate change mitigation, but also involve business and community leaders in solving perhaps one of the greatest challenges of our time.
"Instead of identifying people as problems in the climate solution, we look to work with those individuals to become the problem solvers," DeVincenzo explains. "We're looking at their context to understand how they can meaningfully contribute. We need to be all-hands on deck with [addressing] climate change."
DeVincenzo, who works closely with TC alumnus and Adjunct Associate Professor Thomas Chandler (Ph.D. '09, MA '00) at the National Center for Disaster Preparedness of Columbia Climate, presented on disaster preparedness and financial literacy. But in addition to sharing his expertise with the global community, the passionate scholar had the opportunity to learn from fellow thought leaders and researchers at the forefront of addressing climate change from an interdisciplinary perspective.
"When you're part of this global system, we might have our own frameworks, but there's so much from the world-stage that we could learn," said DeVincenzo, who also serves as an adjunct lecturer and instructional designer at Columbia Climate.
Carousel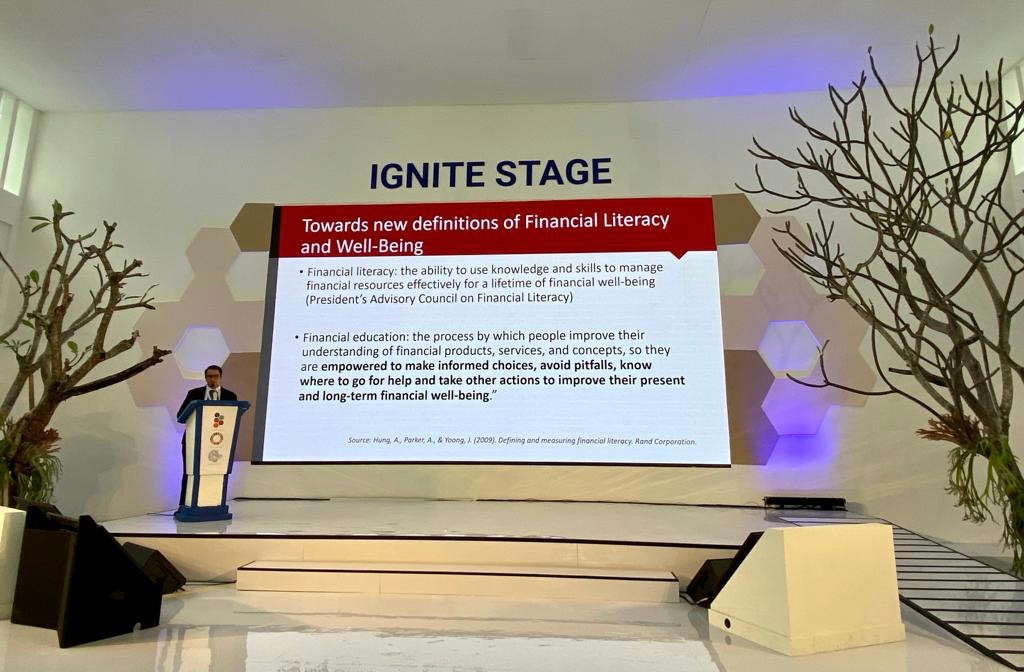 DeVincenzo's journey to the UN and international climate change circles is inextricably tied to his expertise in adult learning and economic recovery.
Businesses can't just be an obstacle for climate action, says DeVincenzo; it has to be part of the solution. The cost of climate change in the U.S. is estimated to reach $2 trillion each year by the end of the century, according to a recent White House report. Business leaders don't have time to waste to prepare for climate impacts.
"We have to look in the mirror with adults and prepare them as best as we can," says the doctoral student, who is currently working with colleagues to develop in-person and asynchronous, online training programs for the U.S. Federal Emergency Management Agency (FEMA).
As for what's next, DeVincenzo is committed to continuing to leverage his experience in education to address climate change. With the globe facing "challenges and problems that [one] can't put parameters around," researchers like DeVincenzo must prepare policymakers and the public for a wide variety of chronic issues and disasters.
But hope isn't lost. "As a true student of all the research and experience that came before me, I get to regularly witness so much promise for the future," says DeVincenzo, whose optimism for the future is shaped by colleagues throughout the field.
Another great year in VT with students as part of the Columbia Climate School in the Green Mountains. Despite a backdrop of events/ setbacks in the world in real-time, these high school students were attentive, passionate and ready to innovate @columbiaclimate @columbia_ncdp pic.twitter.com/64ZmMRfeKN

— Josh DeVincenzo (@j_devincenzo) June 30, 2022
"A lot of my hope – but even more so energy to continue to engage – comes from the opportunity to work on climate change in so many different contexts, from spending annual Earth Months with middle school and high school students – to teaching and learning from scholars and practitioners around the world," says DeVincenzo. "Part of this energy stems from being part of a dynamic and integrated network where everyone plays a key role in problem-solving."
After returning from Bali, DeVincenzo was soon on another journey, needed in Vermont for a climate action training with high schoolers. This – the building of a climate-conscious global community – is a key part of the path forward.
"What is hopeful is that we are seeing more and more people engaging than ever before," DeVincenzo says, "and significant strides in access to climate information and education."
[Read DeVincenzo's op-ed calling for school curriculum to help students prepare for natural disasters, which was published in The Hill.]