The decade that economist Satoshi P. Watanabe (Ph.D. '00) spent earning his doctorate at Teachers College – the 1990s – during his long odyssey from son of a small-town police officer in Japan to an international career in academia overlapped with a pivotal time back in his native country.
As he studied on the Columbia campus with his faculty adviser — now TC President Thomas Bailey — Watanabe also watched back home as Japan's post-war economic boom turned into a long period of fiscal stagnation. He said he grew determined to use his education in pursuit of solving societal problems, and he credits his work with Bailey in opening his mind to the possibilities.
"He really broadened my horizons and gave me a lot of advice in terms of becoming an economist," Watanabe — married to his wife Nicole with two sons, Daichi, an undergrad student at UC Berkeley and Sean, a high school senior at Hiroshima International School — said recently in a phone interview from his current hometown in Hiroshima. With ambition that became less about making his mark in academics, Watanabe "wanted to be someone who was focused on policy solutions, whether that was in the United States or Japan."
Earlier this year, Watanabe began a project that could fulfill that grad-student's ambition beyond his wildest dreams — working as a policy adviser to Japan's energetic new prime minister Fumio Kishida on his sweeping agenda to remake that nation's economy by addressing income inequality and stagnant wages for workers.
Watanabe — whose government portfolio also includes serving Kishida's cabinet as a senior fellow for science, technology and innovation — said he has been tasked with boosting Japan's moribund start-up culture, working with experts on both sides of the Pacific about the eventual possibility of a major new campus.
"Global competition is really harsh," said Watanabe, referring to Japan's rivalry with powerful Asian neighbors such as China and South Korea. "Japan had not been making economic investments when I came in, and I have been working with the government on, how do we change that status?"
It was a different economic showdown – that between the U.S. and Japan in the latter 20th century, when the industrial culture in Watanabe's homeland was challenging American supremacy — that sparked his youthful interests in coming to the United States to study.
Watanabe — son of a police officer in Fukushima, then a quiet coastal town in northern Japan, now famous for the nuclear accident that occurred in 2011, recalled his youthful vision of wanting to learn how to reduce tensions between the two nations that he saw on TV, maybe as a diplomat. "People in Detroit were smashing Toyota cars and Toshiba boom boxes," he said. "I really wanted to do something about that."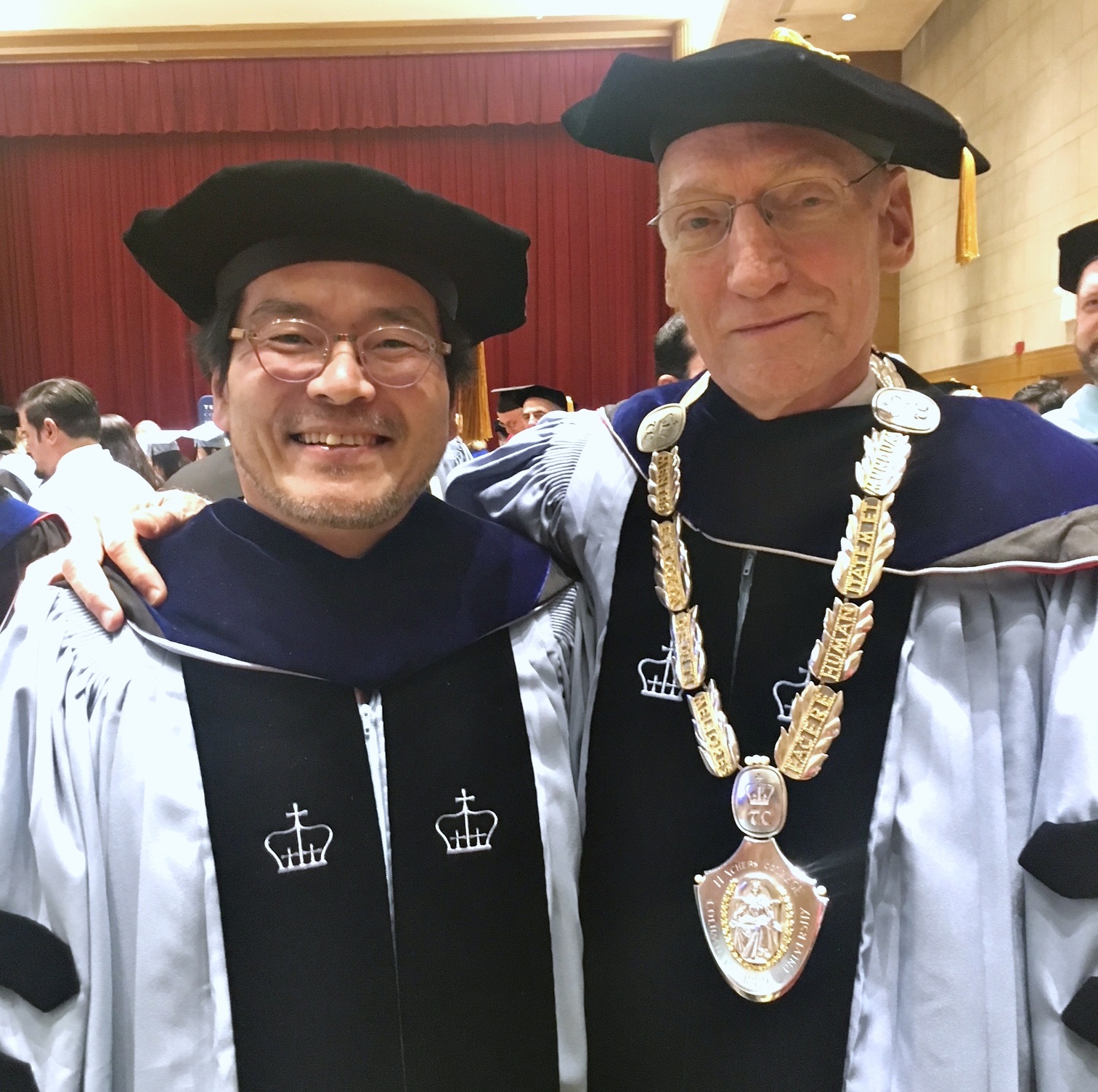 His odyssey started in the unlikely, mountain-ringed big-sky country of Ogden, Utah and Weber State University, where he sharpened his interest in ways that technology and economics could improve people's lives. In 1991, he arrived on the TC campus to earn his master's degrees in economics, education and philosophy while working closely with adviser Bailey on his doctoral dissertation, which focused on the relationships between post-school training for young workers and their earnings growth.
"That was a fun time," Watanabe recalled of his economics studies with the future TC president, who is still a friend and mentor who instilled a lifelong lesson on how academic research can influence public policy. "He really broadened my horizons."
Bailey, an economist with specialties in education, labor economics, and econometrics, has enjoyed cheering on his former student. "Satoshi's trajectory in shaping economic policy on the world stage has not only reflected the strength of his scholarship and thoughtful insight in the face of complexity, but has also been emblematic of the kind of work Teachers College graduates are called to do," said Bailey. "It's nice to know that there's a little bit of TC embedded in the fabric of cities across the world, including Tokyo."
Since earning his Ph.D. on 120th Street, Watanabe has continued to keep one foot planted in both the United States and Japan. He was a senior analyst at Washington, DC-based think-tank, served a full professorship and senior administrative role as an executive vice president for global strategy at Hiroshima University, and was also on the faculty of Arizona State University, where he is still consulting.
Now, Watanabe is spending a lot of time on the bullet train between Hiroshima and Tokyo as he works closely with Kishida and his cabinet, which took over the reins of the nation and its Liberal Democratic Party in the fall of 2021. The new prime minister promised "a new capitalism" that relies more heavily on government intervention, with a goal of reducing Japan's income inequality by raising wages at the bottom of the pyramid.
The economist's work on revitalizing an innovative start-up culture in the style of America's Silicon Valley or Kendall Square also brings the much-traveled Watanabe back to the United States to meet with experts on entrepreneurship from schools like Stanford, MIT and Carnegie Mellon University.
"We want to bring brilliant minds to Tokyo," said Watanabe of the goal of a new start-up campus, still very much in the early stages. It is, in many ways, the career-defining work of uniting the brainpower of two nations that he could only imagine as a teen.